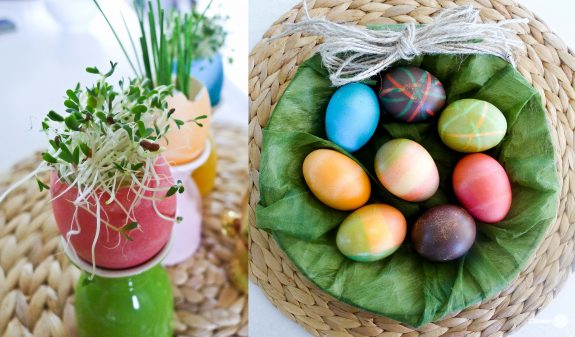 With Easter only a week away, it's high time to decorate the house with some beautifully coloured eggs and prepare (edible!) table decorations for the Easter weekend celebrations.
My favourite way of decorating eggs is by using food colouring or special powdered dyes. While I'm normally against food colouring in foods, this way is a lot less-time consuming and "boring" for the kids and the eggs are generally unaffected by the food colouring apart from on the shell. The colours are rich and vibrant and you can achieve some amazing patterns and color combinations by using these simple dyes together with a few household items or just your imagination.
It's a whole lot of fun for everyone! And it's a lot less work than it looks from the below, as prep should only take 10 minutes and can be done while the eggs are cooking. Click here for an egg rissole recipe if you would like to turn your creations into a fancy starter or a main meal.  Or here for my most up to date list of 77 Easter egg deocarting tips list!
The history
The custom of decorating eggs, a symbol of new life, goes back many centuries – coloured egg shells dating from 10th Century AD have been found at various archeological sites across Europe. In the middle ages, it was customary to present acquaintances with elaborately decorated and sometimes gilded eggs at Easter to remind them of Jesus's resurrection. In Italy, kids dyed eggs using onion skins, while in Eastern Europe it is still common to dye eggs the same way then scratch spring-themed motifs onto the shell using sharp quills.
Egg types and preparation
You may need to look around for white or light shell eggs as they are not a very popular type in Australia, but the colours look much more vibrant on lighter shells. I raided a non-local Woolies for my eggs, swapping out the lighter ones out of a bunch of cartons. Hey, judge me all you want, at least I made sure they all had the same expiry date, thank you very much.
Certain independent grocers carry white-shelled eggs leading up to Easter, but I am yet to find any this year… Quail eggs are also great for this and look very cute as a table decoration, but again, they seem to have disappeared off the shelves about a week ago and not yet re-appeared.
What you will need:
6-12 eggs (quail or chicken)
1 tbsp white vinegar
enough cold water to cover eggs in a saucepan
Place eggs in cold water, add vinegar. Bring to a boil then simmer for 9 minutes for chicken eggs, 3 minutes for quail eggs. Drain water away.
Workspace preparation
It might get messy, especially when working with kids, so if you like, line your workspace with old newspapers.
What you will need:
old newspapers
small tray or platter
6-8 paper towels
4-5 heatproof glasses
1 tablespoon
(plastic gloves)
Line tray or platter with paper towels – this is where you will pop the eggs out of the dye. Reserve a couple for wiping eggs clean and dry. If you're keen to dip the eggs to achieve patterns, I recommend having plastic gloves handy, the colour likes the porous nature of nails… NOT a pretty look.
Dyes
Whether you're using powdered dyes or food colouring, preparation is similar. Although for powdered dyes always follow instructions specific to the brand and included on packaging. Generally this means dissolving  the powder in 1/2 cup of boiling water and add 1 tbsp white vinegar.
What you will need:
4 vials of Rainbow food colouring (yellow, red, blue, green)
4 tbsp vinegar
2 cups of boiling water
Empty vials into 4 separate heat-proof glasses. Top with 1/2 cup of boiling water and add vinegar. Mix. You're ready for dyeing.
Dying and creating patterns
Single colour
From pastels to rich hues, dazzle your family and guests with beautiful eggs in all the colours of the rainbow and more. Mix and match colours. Double dip. Have fun with it! To achieve a glossy finish, rub in some vegetable oil into the shells after they've been coloured and dried.
Lower each egg into the desired glass and let it steep for about 10 seconds. Lift egg with a spoon to check how strong the colour has gotten. White eggs and darker colours will become richer quicker, but the shades depend on how long you leave the egg in. For dark, rich hues leave the eggs in for a couple of minutes, checking progress from time to time.
Dipping – rainbow stripes, half-half and check
Be creative with your dipping and colour combinations. Half half eggs look great, but have you thought about dipping them on an angle?
Start with the lightest colour first, for a rainbow effect use yellow first. Dry egg with paper towel and dip in red to just under half way until it turns red. Wipe and dip blue, but not as deep to create a purple band. Dry. On the other side of the egg, dip yellow part red but hold it for only half the time you did on the side and you'll get orange. Then dip into green to create light green.
For half and half follow a similar process but only dip in two colours, and for check tip the egg on its side for the dip in the third colour.
Rubber band multi-stripes
These are my new favourites I think, the rubber band mutli-stripes. Mainly because people always wonder how I achieved the pattern.
What you will need:
2-5 rubber bands or different sizes and thicknesses
Wrap rubber bands around and across the egg. Dip into a lighter of your two choices of colours. Dry with a paper towel and remove bands, wipe dry. Re-apply bands again over different areas and dip the egg into a different, complimentary colour (yellow / green, red / blue, red / green). Dry with a paper towel and remove bands, wipe dry.
Edible table decorations
While your gorgeous creations will look pretty on their own, if you happen to practice dying eggs in the coming week, save a couple of the shells to make tiny little flower or herb pots for the table…
Eggs are great for brekky and what better way to enjoy them that sprinkle with some freshly cut herbs straight from in front of you. And they will be fun for the kids to maintain as well.
What you will need:
3-6 egg shells
cotton wool
1 packet of alfalfa seeds
1 packet of watercress seeds
1 packet of chives seeds
Ensure all of the egg and membrane has been scooped out of the shell. Place cotton wool (or balls) into the shell up to half-way. Moisten with 2 tbsp of water and sprinkle over 1/2 tsp of seeds into each shell. Stand in shot glasses or egg cups on a window sill for a  few days, watering regularly. Your miniature herbs should be ready to eat within a week.
Cut with food scissors at the table and sprinkle over hard-boiled eggs with mayo.
Have
a
Happy
Easter
!