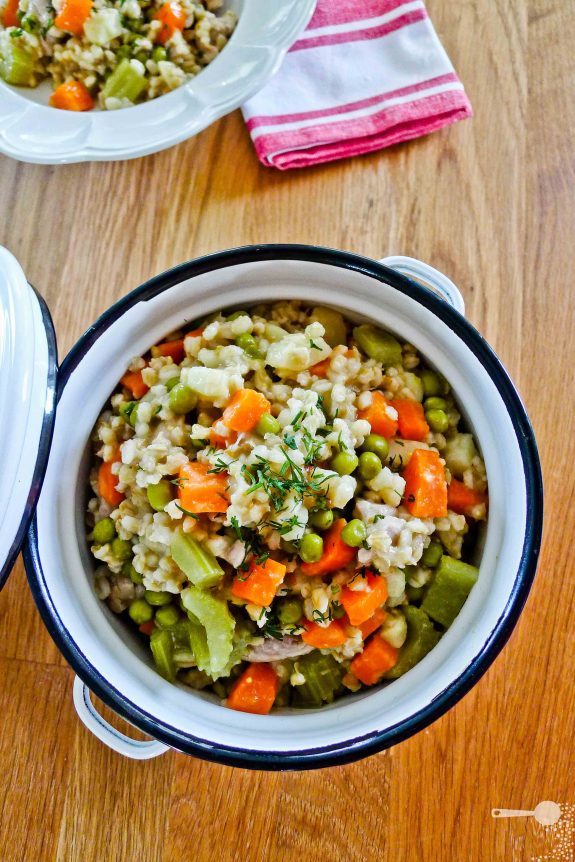 I've always loved all types of cooked grains, but pearl barley has remained my favorite since childhood.
It may be because it's slightly nutty and earthy in flavour, or because it has a lovely sticky consistency that goes oh so well with goulash, mushroom sauce or even as a breakfast cereal. The easiest way to enjoy pearl barley, and the most common, is in vegetable soup.
Barley also makes a good rice substitute in saucy Western dishes, with roasts or even in a risotto! Chicken thighs might be used to enrich the stock and add another, more meaty, dimension to the risotto for non-vegetarians. And if you prefer, add extra stock and turn it into an even lighter version and enjoy as a soup.
Studies have shown that barley helps lower cholesterol and regulate blood sugar levels in the body long after the meal. It is also high in protein, fibre, essential vitamins and minerals, thus having barley for breakfast as you would oats or cereal with milk, is actually a very nutritious choice. Unfortunately barley contains gluten, which makes it unsuitable for those with a gluten intolerance.
Serves 4
Pearl barley 'risotto' with vegetables and chicken
Hearty vegetables and sweet broth-infused barley grains make this risotto a light and nutritious dish. Omit chicken and use chicken-style or vegetable stock for a vegetarian / vegan version.
For the 'risotto':
4 cups salt-reduced vegetable stock
1/2 cup pearl barley
1 carrot, cubed
1 parsnip, cubed
2 celery sticks, cubed
2 waxy potatoes, cubed
1 (220g) can of peas
1 bay leaf
Salt and pepper to taste
(4 chicken thighs, cut in bite-size pieces, try to use organic or at least free range)
To serve:
1 tbsp chopped parsley or dill, to serve
To make the 'risotto': place all risotto ingredients into a large stock pot. Bring to the boil and reduce heat. Simmer for about 35 minutes, stirring occasionally, or until most of the liquid has been absorbed or evaporated. Season with salt and pepper to taste.
To serve: sprinkle with chopped parsley or dill just before serving.
Tip: to make this into a soup, add extra 2-3 cups of stock and cook for a further 5 minutes.
Simple cooked barley
1/2 cup pearl barley (makes 1 cup cooked)
1 cup water
Pinch of salt
Place barley in a saucepan. Add water and salt. Bring to the boil. Simmer for about 30 minutes. You can keep cooked barley in the fridge for 3-4 days and reheat in a saucepan or microwave as needed.
Heat and serve with hot milk and a spoonful of honey as a breakfast cereal, or with your favourite stew.