Povidl (powidła in Polish) is a popular throughout Central and Eastern Europe sticky, tangy, lightly smoky Plum and Prune Jam. I made it sugar-free because the plums and prunes are sweet enough as it is. If I had to describe it in one word, I'd have trouble choosing from delectable, comforting, delightful, but I think I'd settle for my favourite. Ok, that's two words…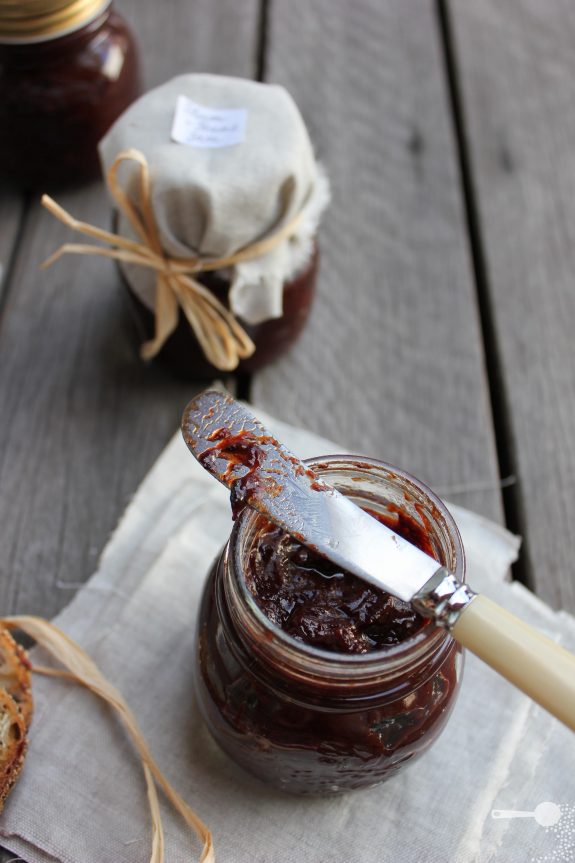 We whipped up a batch on the weekend to take around as a delicious gift to introduce ourselves to all of our new neighbours. Plus a jar for Laura's mum who is a big fan too.
Made with juicy peak season plums which are high in natural sugars and in great abundance at the moment, the spread is sweet naturally, requiring no added sugar. However, for that unique smokiness and a touch of extra natural sweetness, my Mum who makes one of the best povidl I know, has taught me to add some pitted prunes to the mix, it's pure genius!
In terms of texture, I like my povidl showing signs of real fruit, but if you like a smooth almost butter-like spread, feel free to blend the slightly cooled and pitted jam with a stick blender. This is especially handy considering that povidl is not just a sweet spread used on bread or in Danish-style pastires or jam donuts. It works perfectly well with roasted pork or duck as a dipping sauce – almost like a Chinese plum sauce but without added sugar and other nasty additives.
Here are my 5 Tips to the Perfect Povidl:
Use plums that are in peak season, over ripe is good  – you'll usually find them heavily discounted at the grocer's.
Fresh plums can be halved and cooked with pits – those can be removed at the end before transferring into jars, saving you lots of time and plum juice.
Add pitted prunes and a little tawny port to the mix to deepen the sweetness and flavour.
Cook for at least 5 hours, stirring the pot often to prevent the sugars in the jam from catching and burning on the bottom of the pot.
Pasteurise the jars to prolong the jam's life, then keep refrigerated after opeening.
The whole process takes about a day all up, especially if you're thinking of canning (pasteurising the jam into jars), but it's relatively hassle free and so deliciously worth it!
Plum and Prune Jam / Povidl
Use plums that are in peak season, over ripe is good and generally you'll usually find them heavily discounted at the grocer's. No added sugar is required for the spread but if you like your jam sweeter, add 1/2 cup of brown sugar halfway through the cooking.If pasteurised, the povidl should keep in a cool store area for around 3 months. Makes about 1.5 litres.
Ingredients
3

kilos over-ripe plums

500

g

prunes

1/4

cup

tawny port

1/4

cup

brown sugar

optional
Instructions
To make the Plum and Prune Jam: wash plums and cut in half placing them into a large stock pot. Add prunes. Place on the stove over medium high heat and allow to come to a boil. At this stage the juice will start to come out of the plums and it may look like a lot of liquid - don't worry. it will cook down.

Reduce heat to just a simmer and cook, uncovered, for 4 hours, stirring every 15 minutes or so to prevent the fruit from burning on the bottom of the pot. The liquid should reduce by that stage and the mixture should start to become more sticky.

Add port and mix. Lower heat to just below simmer - you do not want it too cook too rapidly as it may spit hot lava-like bits all over the kitchen. Cook for another hour or so, stirring every 10 minutes. Turn off the heat and allow to cool before removing the pits from the jam.

To pasteurise: transfer cooled mixture into specially designed canning jars, making sure there is no air trapped in between spoonfuls. Leave about 1cm jam-free gap at the top, wiping any mixture off with a paper towel. Screw on lids semi-tightly and pasteurise in a pot (according to the jar manufacturer's instructions), cooking for 10-15 minutes from the moment of a hard boil.