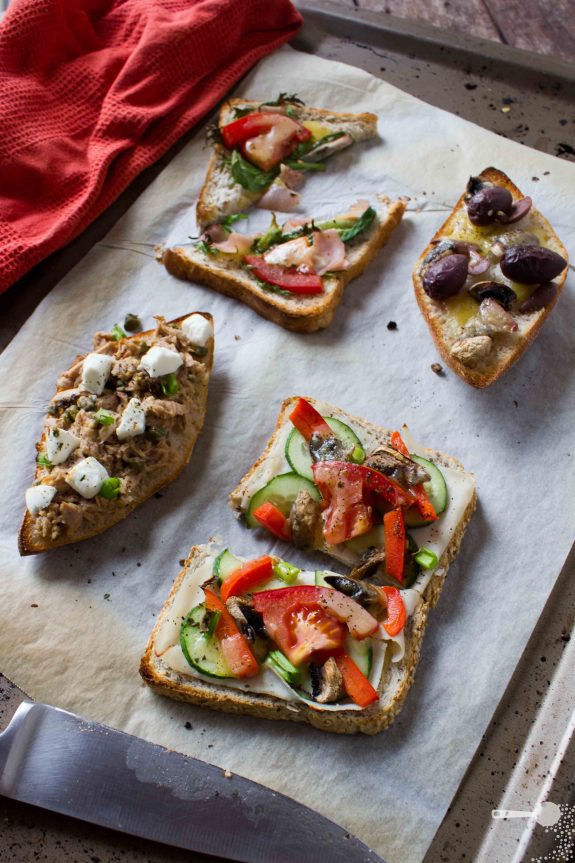 Let's be honest, who doesn't like pizza, especially those custom made for your own tastebuds? I thought so.
Our pizza toasties are healthier than you think and don't require hours of waiting or fancy equipment. And because of the generous amount of vegetables our pizza toasties are pretty much self-saucing. How is that for a win win win win? I've recently introduced them to our supper menus with such amazing results that they have also been requested for breakfasts and lunches, which is great because everyone gets to eat way more vegetables than they would otherwise, and the greasy pizza dough is substituted by slices of wholemeal or multigrain bread. They are already full of flavour like this but we like to add a sprinkling of an Italian dried herb mix to complete the dish.
Oh, and did I mention they are the perfect fridge clean up meal? I'd be interested to hear, what your favourite toppings would be…
Serve 1-2 slices per person
Make your own self-saucing pizza toasties
By all means, the following toppings are only suggestions – let your imagination run wild. Canned fish, cooked seafood, duck, Asian vegetables and even leftover chilli beef are great as toppings. Shave some extra cheese onto the bread to ensure toppings stick to the base better – no more than a tablespoon though if you like it healthy. Cheese = good quality cheddar, or the more traditional bocconcini (baby mozarella) balls.
Bread for the toasties:
slices of wholegrain or multigrain square bread of your choice // thinly sliced sourdough // open baguettes
Our favourite topping combinations:
HAM: cheese, all natural ham, tomato, seeded mustard, mixed lettuce leaves
TUNA: cheese, canned tuna, capers, onion, feta (+ tomato sauce)
CHICKEN: cheese, mushrooms, free range roasted chicken, cucumber, cheddar, sesame seeds
GREEK: cheese, tomato, capsicum, cucumber, olives, onion, feta
VEG: cheese, eggpplant, tomato, capsicum, mushrooms, onion, olives, cucumber, zucchini, cheese
SPANISH: manchego cheese, chorizo, prawns, piquillo peppers, Spanish olives, manchego cheese
Preheat oven grill to 160C.
To make the toasties: prepare all ingredients by slicing or shredding finely, drain tuna if using. Line a baking tray with non-stick baking paper. Arrange bread on the tray.
Sprinkle or layer a little cheese on each piece of bread, then layer all of the ingredients. Top with extra cheese and sprinkle with dried herb mix. Cook under a hot grill for about 4 minutes, or until the cheese has melted.
To serve: remove from oven, cut into traingles and serve.