There is no better way to describe the idea beind Tefal's new Fresh Express mini food processor other than brilliant! It's like an old fashioned grater but quicker, cuter and much safer to use. And, thanks to Kitchenware Direct, I'm giving one away!
I was a little sceptical of it at first, but considering the amount of chopping and dicing and slicing I do in my kitchen, I thought I'd give it a try and, mostly, it didn't disappoint. French made, Fresh Express is a real time-saver in the kitchen. Sliced cucumber slaw is ready in minutes, veggies for salads and soups are ready in no time and you can even slice onion for French onion soup tear-free! It grates cheese for pizza, potato for rosti, green mango for salads, cucumber for dips, zucchini for tempura without you ever running the risk of grating your fingers, which is always a plus! Having said that, some of the jucier fruit and veg tend to turn a little mushy on the finer attachments, but that's fairly predictable even with a regular grater – I've tried green mango and cucumber on both.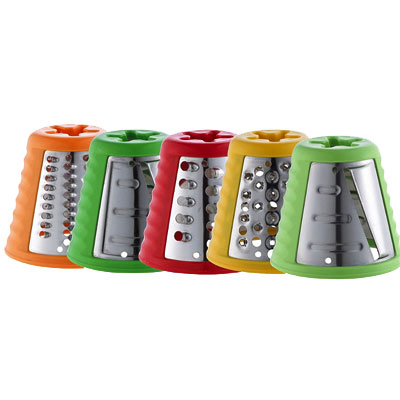 The processor comes with 5 colour-coded drums, each performing a different grating function. Along withthe power cord, they store right within the unit to keep clutter to a minimum. An easy to follow recipe booklet to get you on your way is also included. Set up and clean up are child's play too – just pop the interchangable chopping attachments in, use them then into the dishwasher and you're done. While the two-handed operation of the unit may seem a little cumbersome, I like it as a good safety feature, especially when there are kids around.
All in all, I'm happy to say that this little guy has now become one of the most used appliances in my kitchen. Unlike the meat-mincer, fruit juicer and yoghurt maker I've only ever used once.
To win your own Tefal Fresh Express…(closed, winners announced below)
…simply leave a comment on this post telling me what you would make using Tefal's Fresh Express.

Winner(s)
Wow, thank you to everyone who enetered the competition! You've come up with some amazing usage ideas for this nifty little processor and I have had much trouble picking the winner. So, I picked two!!!
Congratulations to Sneh and Lucy B! Sneh, you charmed me with your Asian thread salad with raw mango – you know exactly what I like and you made my tastebuds dance just at the thought. Lucy B, I love a good coleslaw and I'm happy your daughters have recently disovered it too, but for me your idea of "healthying up" the old sausage roll and wonton bits with veg has sealed the deal. I'll be in touch to get your postal details! Enjoy!