Kale is so en vogue right now! Everyone is talking about it, cooking it and eating it and now so can you. But why should you?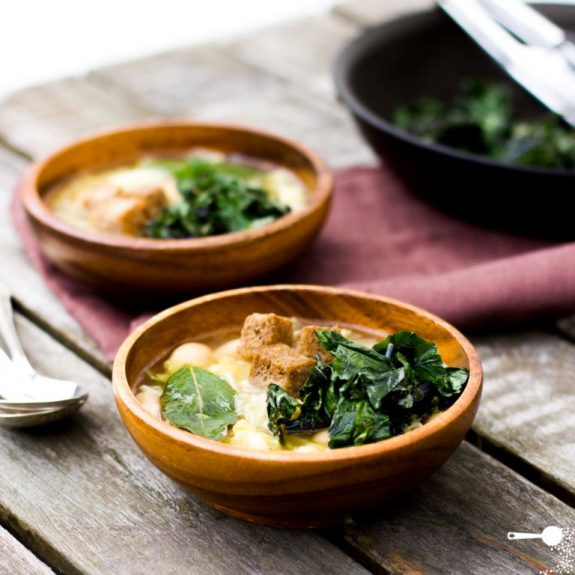 Because, in a nutshell, it is very high in beta carotene, vitamin K, vitamin C, lutein, zeaxanthin, and reasonably rich in calcium. Kale also contains sulforaphane (particularly when chopped or minced), a chemical with potent anti-cancer properties and it is said to help the body in a natural detocification process.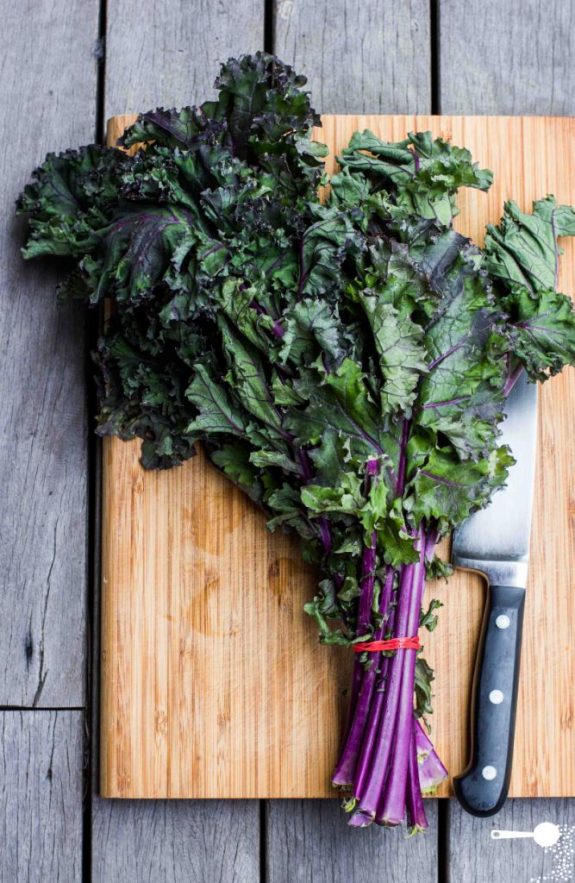 Boiling decreases the level of sulforaphane; however, steaming, microwaving, or stir frying do not result in significant loss. Along with other brassica vegetables (i.e. cabbage), kale is also a source of indole-3-carbinol, a chemical which boosts DNA repair in cells and appears to block the growth of cancer cells, and it is also a good source of carotenoids Wikipedia>.
Those are just some of kale's health benefits, but what about the flavour and texture? We all know how dreadful spinach can taste…
There is a definite nuttiness to the leaves which remain meaty when steamed, but turn beautifully crisp when stir fired in butter or good quality oil. And that's exactly how I chose to cook the leaves for the soup; because it would add a different texture to the soup balancing the softness of cabbage and beans already in the soup.
Now, I'm not sure about you, but I'm impartial to serving many a soups with a hunk of good sourdough or rye, and this soup is no different. However, instead of a fresh hunk, I chose to turn my dark rye sourdough into croutons. It always makes soup so much more fun!
Cabbage, Bean and Crispy Kale Soup
The following recipe is vegan, but please feel free to use good quality (organic) chicken stock and cultured butter if you wish. Hard boiled eggs or shredded chickengo very well in this soup as well. Add extra stock if you'd like more broth. I used fresh bay leaves.
Ingredients
For the Cabbage, Bean and Crispy Kale Soup:
1/4

medium green cabbage

shredded

1

leek

white part only, sliced

4-5

cups

vegetable stock

440

g

(1 can) butter beans

drained

4

whole kale leaves

2

fresh bay leaves or 4 dried

4

tsp

olive oil or butter
For the croutons:
4

slices

sourdough, cut into 1cm squares

(I used rye)

1

tbsp

olive oil or butter
Instructions
To make the soup:
Heat 2 teaspoons of oil in a large stock pot over medium heat.

Add shredded cabbage and leeks. Cook, stirring, until the cabbage has wilted and reduced volume by half.

Add stock and bring to a boil. Simmer for 15 minutes or until the cabbage has softened.

Add canned beans and simmer for another 5 minutes.
To perpare the kale:
Wash leaves and stems under cold running water, shake off excess water. Chop across the leaves into 1cm wide ribbons.

Heat 2 teaspoons of cooking oil in a medium frypan over medium heat. Add kale and cook, stirring, until wilted and becoming crisp.

Turn off the heat and leave until serving.
To make the croutons:
Heat 1 tablespoon of cooking oil in another fry pan over medium high heat.

Add bread squares and cook, stirring, until the croutons are lightly browned and crisp.
To serve:
Divide soup between serving bowls.

Top with crispy kale and serve croutons on the side. Pop a few croutons into the soup at a time so that they can retain their crunch in every bite.