Eton Mess is a traditional English recipe for crushed meringues, layered with cream and strawberries. Ours is made with natural yoghurt and comes with an edible flower twist: fresh pansies! (gluten-free)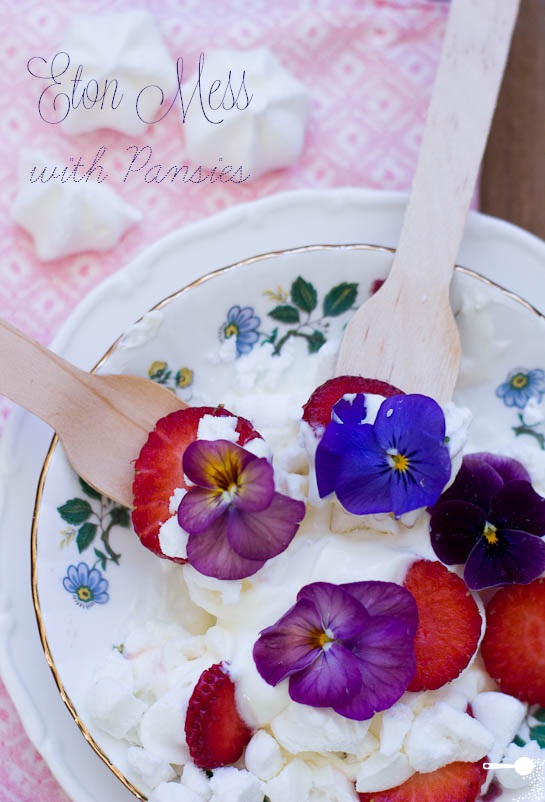 Sometimes I change my mind at the last minute as to what to cook for dinner. And so, I take the kids to our local Harris Farm after school to pick up, be it bean sprouts, or our favourite cheese for supper, fresh rice noodles for dinner or fruit and veg for their morning tea crunch box. In exchange for their attendance, I offer them a little treat that they can enjoy for afternoon tea.
Seasonal fruit is always a hit – mangoes, berries, bananas, melons and kiwi amongst the favourites, as is cheese, yoghurt and sour cherry loaf. A few weeks ago we popped in around the corner to get something I'd missed before, when the little girl found what she described as "the prettiest food ever": edible flowers. Pansies (or Violas) to be exact.
They are in full bloom at the moment and if you have some growing in your garden, they should be pretty safe to eat according to Mike from Backyard Farming. We picked a box for the girl, and some sour cherry loaf for the boy, and began to brainstorm dessert ideas for the evening that would incorporate our pretty and slightly unusual new food find.
We thought of cupcakes, and brownies, and even some ice cream, but most of these were a little too time consuming for us to make and the flowers would probably not fare too well in the process. Considering they do not impart much flavour, we were more after aesthetics. Then I remembered. I had a box of store-bought mini meringues that we could layer with unsweetened natural Lush yoghurt and ripe Queensland strawberries that are in peak season right now. Eton Mess! All decorated with fresh pansies, of course! If you are allergic to dairy feel free to use coconut or soy yoghurt, or try this coconut custard instead.
So, tell me, have you cooked with fresh edible flowers before? What did you make?
5 Other Edible Flower Varieties:
Roses: great for decorating cakes, steeping in tea or making this beautiful rose petal jam (very popular in Poland and often used as jam donut filling).
Carnations: can be steeped in wine, sugar, or used as cake decoration. They are said to be one of the secret ingredients that has been used to make Chartreuse, a very potent French liqueur.
Nasturtiums: add leaves and stems to any green salad for a peppery lift. Flowers can be stuffed with cream cheese, or added to salads. Pickled nasturtium seeds make a cheap caper substitute.
Hibiscus: use petals in salads or as garnish. The flower can be dried to make an exotic tea, or preserved in syrup and added to champagne or sparkling wine.
Marigolds: a budget-friendly substitute for saffron. Can be added to salads as they have a light citrus flavour.
Eton Mess with Fresh Pansies, Plus 5 Other Edible Flower Varieties
Strawberries are the most traditional choice of fruit in Eton Mess, but passionfruit, kiwi or bananas would work just as well. If you are allergic to dairy feel free to use coconut or soy yoghurt, or try this coconut custard instead.
Ingredients
For the Eton Mess with Fresh Pansies:
1

cup

small store-bought meringues

1/2

cup

fresh strawberries

hulled

1/2

cup

natural yoghurt

10

edible flowers such as pansies or vioals
Instructions
To make the Eton Mess with Fresh Pansies:
Crush meringues roughly.

Slice strawberries.

On a plate or in a glass, layer crushed meringue, yoghurt, sliced strawberries.
To serve:
Decorate with pansies (violas) and serve.
Subscribe to receive Recipes to your Inbox: