These Salted "Caramel" Popcorn Squares are a must for any popcorn and salted caramel aficionado. Quick to make and processed sugar-free (fructose-free) plus unlike microwave popcorn, corn popped this way is fat-free and does not contain toxic chemicals.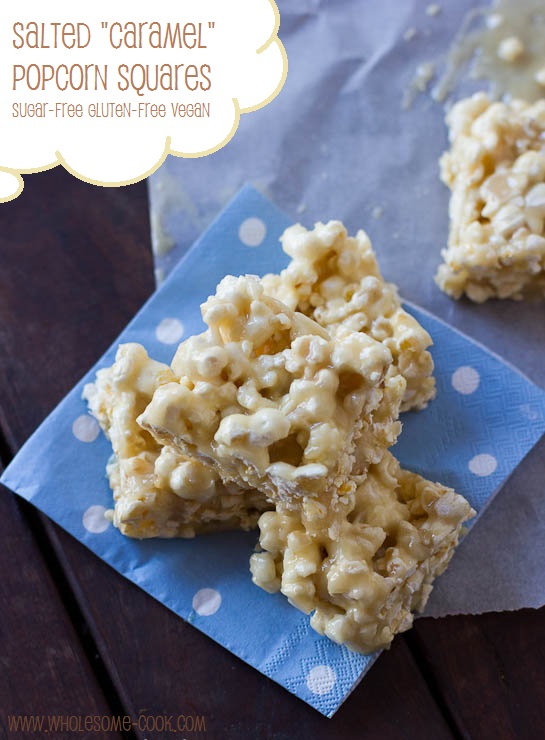 Fact: we love popcorn! Fact: Microwave popcorn can contain almost 50 different chemicals like artificial flavourings, ink and glue (read more here)! Yuck. 
But when prepared right, popcorn makes for a nutritious, fibre-rich snack option that's much better for you than potato chips, savoury biscuits – especially those additive-laden flavoured varieties, or pretzels. And this is where the Kambrook Little Chefs Popcorn Maker comes in.
The Butter Flutter popcorn maker is easy to operate – even for kids though parental supervision is advised for younger kids as the inner bowl can get hot. It pops corn to perfection with no need for fat and little waste or burnt kernels. And it's a breeze to clean too – just give it a wipe once it's cool. For your chance to win one, see the giveaway section below! It comes with a recipe booklet, but since most of the sweet suggestions contain plenty of sugar, I have decided to make my own sugar-free popcorn snack. Inspired by every kid's favourite the Rice Krispies and adapted from Dreena Burton's Nicer Rice Krispies recipe (included along 36+ other sugar-free treats in Guilt-Free Desserts).
Trust me, these Salted "Caramel" Popcorn Squares have a great chance of becoming your family's new lunchbox or snack-time favourite.
Salted "Caramel" Popcorn Squares
These Salted "Caramel" Popcorn Squares are a great sugar-free treat for kids and grown ups alike. Perfect as an afternoon tea or lunch box treat. Sugar-free, gluten-free, dairy-free, vegan. Inspired by a
this recipe
. Makes 8 squares.
Ingredients
1/2

cup

macadamia nut butter

1/ 2

cup

rice malt syrup

1

tsp

vanilla extract

1.5

tsp

sea salt flakes

4

cups

cups popped corn kernels

made from popping about 1/4 cup popping corn kernels
Instructions
Line a loaf tin with some waxed baking paper.

Place macadamia nut butter, rice malt syrup, vanilla extract and sea salt in a large saucepan over low heat. Cook, stirring, until the mixture begins to "melt".

Remove pan from heat and add popped corn. Mix well until popcorn is covered with the "caramel".

Transfer the mixture into the paper-lined loaf tin and press down into the corners with a spoon. Place in the fridge for 15 minutes for the mixture to cool.

When set, remove from the fridge and slice into squares or bars. Serve or store in an air-tight container in the fridge.
Giveaway: Kambrook Little Chefs Butter Flutter Popcorn Maker (CLOSED)
How to Enter: 1) Leave a comment on this post, telling me what popcorn treat / flavour you would make first. 2) Register your entry via Rafflecopter below. Bonus Entries: You can earn bonus points for 1) subscribing via email or being an existing subscriber; 2) plus earn daily entries by sharing this post on social media.
Terms: The prize is 1 Kambrook Little Chefs Butter Flutter Popcorn Maker. Giveaway is open to readers with an Australian postal address. Entries close 11:59pm Sydney time on Sunday 19th May. The prize is provided courtesy of Kambrook and valued at A$34.95. Winner will be announced on this post and contacted via email on Monday 20th May.