This Smoky Chipotle Prawn Salsa on Avocado Mash is the perfect entertainer for seafood lovers. Spicy, zingy and fresh – it's easy to throw together for when unexpected guests pop over. Gluten-free, dairy-free, egg-free, nut-free.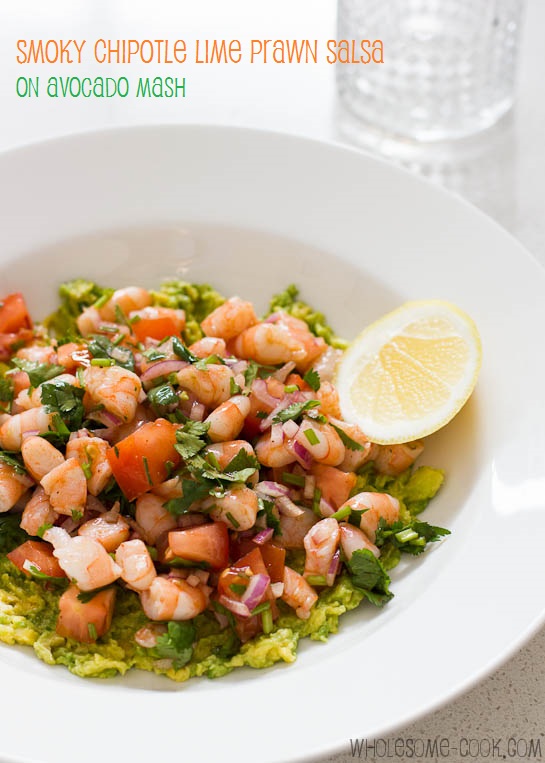 Tips for making Chipotle Prawn Salsa
Chipotle is a type of chilli from Mexico. It's generally prepared as a paste or in adobo sauce. It's warmly spicy with light smoky notes and lends itself well to seafood and slow cooked meats.
When it comes to prawns (shrimp in the US), I try to go for sea-caught rather than farmed varieties. You can generally tell if they've been sea-caught when their flesh and orange markings are slightly more transparent. Rather than bright orange.
Tips for Making Smashed Avocado Mash
Always add some lime or lemon juice to your smashed avocado mash (it's a thing). This helps prevent browning. It also adds a little zing to the mash, as does a good pinch of salt. When in season Shephard Avocados are great as they do not go brown when cut or mashed (or smashed).
A bit of an update
It's been just over a week since our house move – one of the reasons I've been quiet, but we have managed to unpack most things and settle right in.
Our neighbours welcomed us to the street with a selection of homemade Anzac bikkies, a cute hand-drawn card and some cereal slices.
In return we treated them to this platter of gluten-free brownies, gluten-free banana bread bites and sugar-free macadamia nutella (recipe to come) complete with handmade clay gift tags.
So tell me dear reader, would this chipotle prawn salsa tickle your fancy? PS And do you take foodie gifts to your neighbours and invite them over for a cup of tea?
Smoky Chipotle Lime Prawn Salsa on Avocado Mash
If you can't get your hands on smoky chipotle sauce ( I got mine from Harris Farm), feel free to use (gluten-free) Worcestershire sauce with 1/4 tsp smoky paprika.
Ingredients
1

medium avocado

1/4

lemon, juiced

12-15

large cooked peeled prawns

(about 500g / 1lb unpeeled or 250g / 0.5lb peeled)

1

medium tomato

diced

1-2

sprigs coriander,

roots trimmed and the rest chopped finely (or parsley if you prefer)

1

lime, juiced

1

tbsp

finely chopped red onion

1-2

tbsp

smokey chipotle chilli sauce
Instructions
Mash avocado with lemon juice. Spread on serving plate.

Chop peeled prawns into three chunks. Mix together with diced tomato, finely chopped springs of corisnder (or parsley if you prefer), lime juice, finely chopped red onion and hot chipotle chilli sauce. To serve: top avocado mash with prawn salsa.

Drizzle over with extra chipotle sauce if you like the extra heat.

Serve chilled with corn chips, crackers, pita bread, lettuce wraps or on it's own.