You've probably heard this debate a million times before. Fair enough, but before you move on let me say this: what follows has got me thinking about the way we have been eating. Mostly healthily, I thought – I already read labels and avoid most of the common junk foods and additives out there. But now, I will make sure to balance out our Omegas too.
1. Butter is natural, tastes better and is a saturated fat
Unless you are vegan or allergic to lactose and casein, pure butter or lower in lactose and casein ghee – suitable for those with an intolerance, makes for a much healthier choice for your morning toast than any other, especially "vegetable" oil, spread. Butter (or ghee) tastes better, it's all natural and has been around for centuries. Margarines and spreads were only developed a century ago and are highly chemically processed.
On average butter contains only 3 ingredients while margarines and spreads can contain well north of 10, including colouring that gives them the familiar yellow colour of butter. But isn't saturated fat bad for us? Well, while on one hand we are being told so, on the other research suggests to the contrary.
In one study performed at the University of Western Ontario, researchers observed the effects of ten different dietary fats ranging from most saturated to least saturated. What they found is that saturated fats produced the least number of cancers, while omega-6 polyunsaturated fats produced the most. Numerous other studies have also shown that polyunsaturated fats stimulate cancer while saturated fat does not and that saturated fats do not break down to form free radicals. (source)

There are some middle of the road alternatives on the market – spreadable butter blends, which combine butter with a variety of oils to make them soft-out-of-the-fridge, but considering my next point, I probably prefer to steer clear of those too.
2. So, is "vegetable" oil healthy or not?
Firstly, there is no such thing as oil from vegetables. Secondly, research shows that the so called "vegetable" oils promote inflammation and many modern-day ailments. This is where it gets a little technical but the truth is astounding. There are nut and seed oils, unsustainbly harvested palm oil and the genetically modified canola oil. Most of these are super-highly processed (extracted using chemicals, bleached, deodorised) and high in Omega-6 aside from all the, however small, chemical residues they have been processed with. While in Australia hydrogenation – a process of solidifying unsaturated, plant-based fats that creates bad trans fats has been mostly discontinued in favour of inter-esterification, frankly I do not want any of my food chemically processed in a way I cannot understand.
The fact, however, is that our body needs both Omega-6 and Omega-3 to function properly and ideally the ratio should be somewhere in the region of 5g of Omega-6 to 1mg of Omega-3 (source). On average the recommended daily intake of Omega-6 is around 14g for an adult, which should roughly translate to an intake of just under 3mg of Omega-3. Considering that a tablespoon of sunflower oil contains 9g of omega-6 and most of convenience and junk food is made using seed oils and "vegetable" oils (high in Omega-6, see table), it is no surprise that most people get 10 to 15 times more omega-6 than omega-3 in their diet. Many don't even reach 1mg of Omega-3 in a day! This over-consumption of omega-6 over omega-3 has been linked to almost all modern day diseases ranging from heart disease, IBS, diabetes and allergies (see Dr Mercola's article here or Chris Kresser's article here).
All one has to do is look at the statistics. Butter consumption at the turn of the century was eighteen pounds per person per year, and the use of vegetable oils almost nonexistent. Yet cancer and heart disease were rare. Today butter consumption hovers just above four pounds per person per year while vegetable oil consumption has soared–and cancer and heart disease are endemic. (source)
Astonishingly, we are still encouraged to swap out our butter for vegetable oils. And so, a slice of toast spread with margarine will have 15 times as much omega-6 fat as a slice covered in the same amount of butter. Even the bread is a problem, because there are almost no supermarket breads which are made without seed oil, and some contain your entire maximum daily allowance of omega-6 in just two slices without the spread (source: David Gillespie author or Toxic Oil in Good Weekend).
3. How to: avoid excessive Omega-6 consumption
Reading labels, not stocking offenders and cooking from scratch are probably one of the quickest ways to eliminate excess Omega-6 and these "vegetable" oils from your diet. Most convenience food items such as cakes, cake mixes, biscuits, chocolate, crisps, crackers, pastries and junk food are made using those oils and shortenings. They are advertised as the healthier option – think of hot chips or crisps that have "no cholesterol" or "saturated fats" (the fact is that saturated fats are more natural, stable and keep us fuller for longer).
The worst offenders and best to avoid – yes, by reading labels, are:
Grapeseed oil 

Cottonseed oil 

Corn oil

Safflower oil 

Sunflower oil 

Soybean oil (often hydrogenated) 

Canola oil
And so, when an innocently-looking 100g packet of a popular brand crisps claims to contain less saturated fat than before and no cholesterol is it healthy? It's not considering that 35g of the packet's content is "vegetable" fat, which equates to 20 grams of Omega-6 in a single packet! That's 6 grams more than a total recommended daily intake. Yummy? Not so much…
4. Restore the balance: increase intake of beneficial Omega-3
While reducing the amount of Omega-6 to the recommended dose in your diet is beneficial, it is important to remember it's all about the ratio (5:1), because we need both. You can try adding some of these foods and more balanced fats, yes some from nuts too, to your diet to help you keep the ratio in check:
Macadamia oil and macadamia nuts – great for cooking, baking, frying, used in salad dressings and homemade mayo

Extra virgin olive oil – perfect for salads, dressings

Coconuts and coconut oil – great for cooking, frying, icing making (and as a hand lotion!)

Organic butter or Ghee – fantastic for spreading on toast, cooking, icing, cakes

Walnuts – great for salads, cakes, smoothies (keep in the fridge to stop nuts from going rancid)
Grass-fed beef
Organic dairy: cheese, milk, yoghurt
Oily fish: salmon, mackerel, sardines – tinned is fine also, and more convenient!
Fish or Krill Oil supplements can also be taken, but individuals who have disorders involving bleeding, who bruise very easily, or who are taking blood thinners should consult with a medical practitioner before taking supplemental omega-3 fatty acids.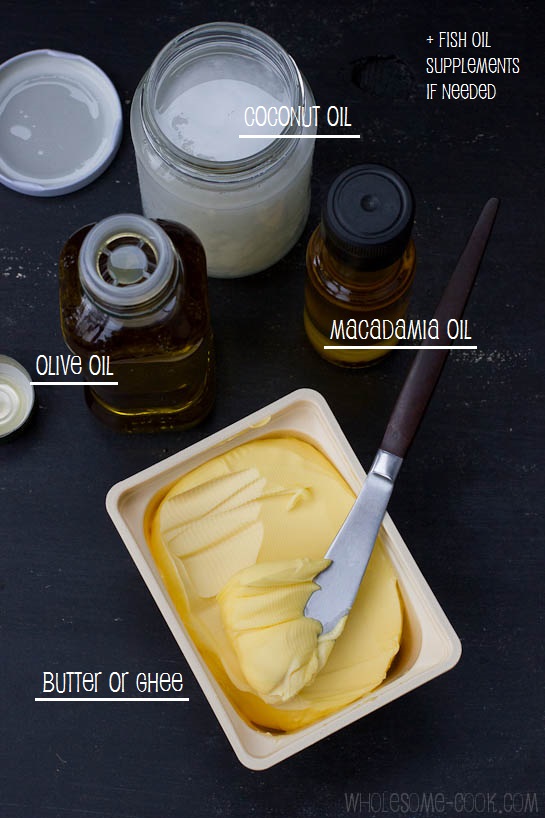 5. My own conclusions: I will increase the amount of macadamia and coconut oils I use for light frying, in place of some peanut oil I've been using of late – that, apparently, is not so good. While I already eat plenty of oily fish, the family is not as enthusiastic about our marine-soured meals. They like beef however, so I will keep buying organic grass-fed beef. Mondays have now also officially become Fish-dinner-day (generally of a favourite Thai curry variety), but in addition to this I've invested in fish oil supplement too. Oh, and yes, butter and ghee will remain our choicest toast spread…
…So, tell me, what do you think about the butter vs margarine debate? Will you be taking a closer look at the facts and fats in your cabinet or fridge? Will you be making some changes or do you thing this is another one of those unsubstantiated trends?