Fish "Tacos" with a Fridge Surprise Slaw | Some News and an Update
Made with homemade fish fingers, these Fish Tacos are a much healthier alternative to their store-bought counterparts. The fish here is baked, meaning less fat and no smell! And, when served in lettuce leaves instead of tortillas with a Fridge Surprise Slaw, they are super-fuss-free and packed with nutrients. (gluten-free, dairy-free, nut-free, soy-free)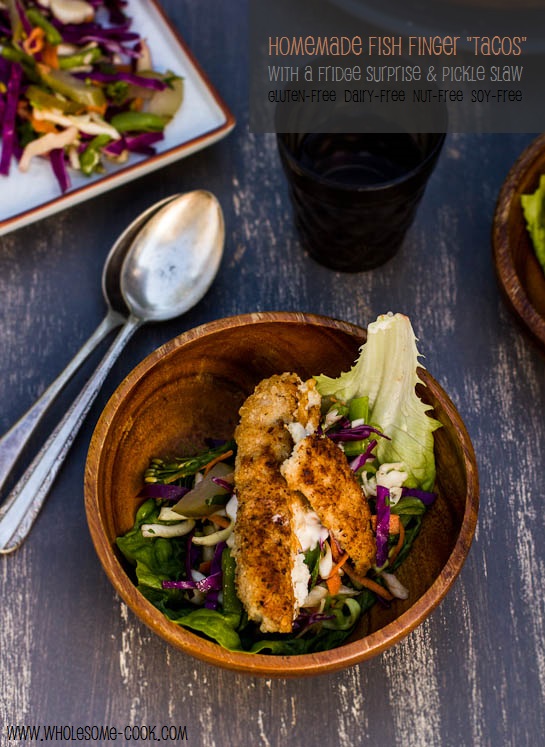 It's been a whirlwind of a few weeks over at Wholesome Cook.
A house move, a little construction here and there, study, impending wedding, honeymoon planning and general family commitments have meant everything and everyone needed a slice of my time. Pronto. Every day I'd wished I had just a few minutes more to share some of the tasty recipes I've been creating for you… Then at the beginning of June, things just got crazier. Exciting crazier. I was invited to work on TWO super-exciting projects that required plenty of outside-the-box recipe ideas and some photography too. The catch still is that while I am loving every day spent in the kitchen and we are all eating much, much healthier for it – enter these Fish and Fridge Surprise Slaw "Tacos" made with all matter of leftovers, I can't quite share anything about the projects with you as yet… 
Ok, so what I am really trying to say is: I'm still around and the recipes are coming. Perhaps a little less frequently over the next month or so, while I keep my head down ticking things off my list. I'm also building a library of useful kitchen tips which I will be sharing with you in posts. In the meantime, much of my daily communication is happening on Facebook and Instagram, so please feel free to follow me there for small doses of Wholesome Cook (and a sneak peek, sometimes, into my personal life).
Lastly, and also last month, while standing in the middle of the busiest my kitchen has been ever, hands covered in all matter food, I opened my email to see that Wholesome Cook has been chosen as the finalist in the inaugural BUPA Health Influencer Awards in the Healthy Eating category. I was stoked, especially since I was shortlisted next to some great blogs and from amongst so many amazing nominees. Thank you so much to everyone who nominated me. Winners will be announced on Friday. 
Back to the "Tacos"… while we haven't quite gone Paleo, most days we don't feel like stuffing our faces with bread, or wraps, or grains in general and this is where the lettuce taco idea came from. Leftover fried fish goes well in this recipe, but I actually like this gluten-free and dairy-free remake of my original healthy fish fingers. A simplified, 5 ingredient baked number that's tasty, smell-free, oil-free fish. In the meantime you make a scrappy fridge surprise veggie slaw from all your fresh veg leftovers. I must add here, that brined pickles make the perfect addition to this as well. Once ready, serve the lot in lettuce leaves and you're done. A nifty way to minimise food waste, too.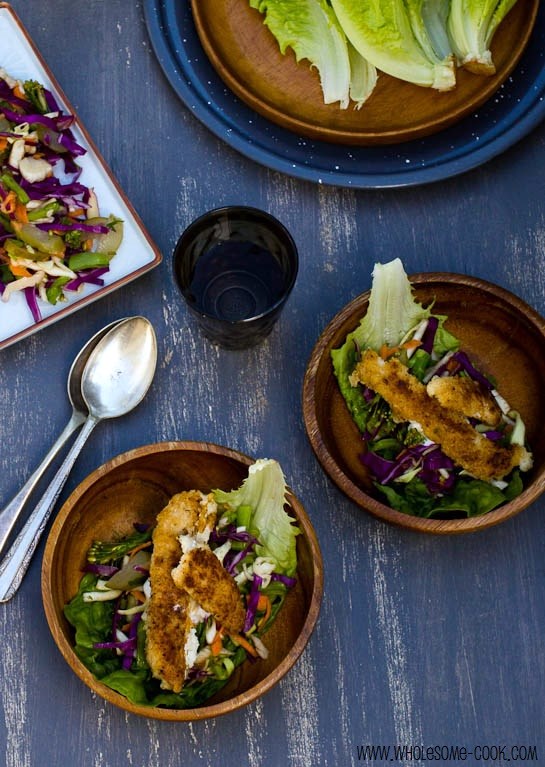 Fish "Tacos" with a Fridge Surprise Slaw | Some News and an Update
Author:
Martyna | Wholesome Cook
Recipe type:
fish, healthy, gluten-free, dairy-free, tacos, salad
A simplified, 5 ingredient baked fish finger recipe that produces tasty baked fish that's both smell-free and oil-free. You can also shallow-fry the fingers in some olive oil if you like, about 4 minutes on each side but the fishy smell may linger. The fridge surprise veggie slaw is perfect for using up all your fresh veg leftovers - below are some suggestions, and with the addition of brined pickles make the perfect base for the fish. If you prefer to use tortillas or wraps instead of the lettuce, please feel free to do so.
Ingredients
For the Fish Fingers:
500g [2lb] skinless bream fillets or other sustainable white fish
1 egg
1 tsp finely ground black pepper
pinch sea salt
½ cup brown rice breadcrumbs (these are gluten-free, I used Orgran brand)
For the Fridge Surprise Slaw - suggest about 1 cup per person:
1 cup mixed undressed slaw (from packet is ok)
½ cup red cabbage or wombok
½ grated carrot
½ cucumber, sliced
a few snow peas, sliced
2 broccolini stalks, sliced into bite-sized pieces
1-2 brined pickles, sliced
½ tbspapple cider vinegar, or to taste
½ tbsp macadamia oil, or to taste
1 tsp fish sauce, or to taste
2 tbsp freshly chopped herbs such as parsley, dill or coriander
To serve:
1 baby cos, leaves separated and washed
optional: a little tartare sauce
Instructions
To make the Fish Fingers:
Preheat oven to 200C (180C fan-forced, 400F, gas mark 6). Line a baking sheet with non-stick baking paper.
Cut fish into rough chunks. In a food processor or chopper attachment of your stick blender, process fish chunks until minced, in batches if necessary. Transfer to a bowl. Add egg, pepper and salt. Mix well to combine.
Using your hands (feel free to wear some food-safe gloves), form 8-10 logs out of the fish mince. Roll each log in brown rice crumbs until coated well and place on the baking sheet. Bake for 15 minutes, then turn over and bake for a further 15 minutes, or until the fish is cooked through. Keep warm in the oven until ready to serve.
To make the Fridge Surprise Slaw:
Mix all our sliced and grated veggies in a big bowl together with the herbs, fish sauce, oil and vinegar to taste. Leave in the fridge to marinade until ready to serve.
To serve:
Serve baby cos leaves topped with a generous amount of slaw, a little dollop of tartare sauce, if using, and top with a fish finger each. Roll up and eat with your hands or use cutlery.
Not yet subscribed? Get posts delivered to your inbox PLUS as a subscriber you will receive 30% off all my eBooks.