This Creamy Peppercorn Sauce for Steak, made with green and crushed black peppercorns, beef stock and a hint of cream is one of our favourites. We find this version particularly good for steaks, roasted chicken, schnitzel or even fish. Print or bookmark to save.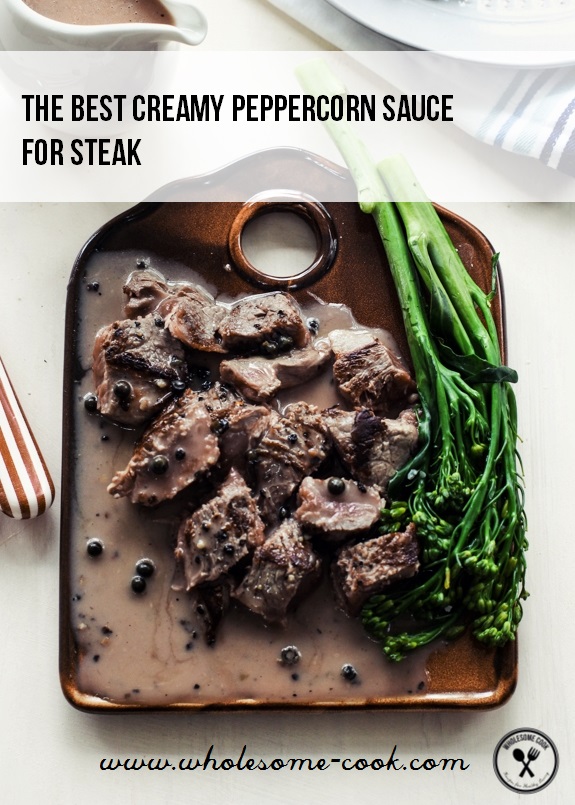 Tuesday is steak night at our local pub. Made even more exciting by the fact that it is only on Monday and Tuesday nights that steak there comes with a choice of either the creamy peppercorn or mushroom sauces.
Both are our equal favourites, second only to our interpretation of Neil Perry's Cafe de Paris butter. So, rather than choosing we quite often just have both. Indulgent, I know.
How to make the Creamy Peppercorn Sauce for Steak?
While a traditional peppercorn sauce is made with beef stock and a splash of brandy, I prefer the ease of using red wine. For steak, I would definitely suggest making the red wine based sauce, adding beef pan juices to further intensify the flavour.
But if you do happen to have a dash of brandy, port or sherry, but no more than a tablespoon it will help lift the sauce further.
Can you serve Peppercorn Sauce wih chicken or pork?
This simple peppercorn steak sauce, just like our favourite mushroom steak sauce, is a tasty addition to many dishes . Yes, it's perfect with beef. Steaks, meatballs, rissoles…
However, it can be served with roasted chicken, pan-fried chicken breast or with pork steaks. It's also delicious stirred through some pasta and served with the meat dotted throughout. Oh and don't get me started on Swedish meatballs with buckwheat!
Other steak sauces to try
If you are interested in other simple and delicious sauces for steak? Try the Creamy Mushroom Sauce, Cafe de Paris Butter sauce, Vanilla Bean Hollandaise or my Asian-inspired Chimichurri.
The Best Creamy Peppercorn Sauce for Steak
Green peppercorns provide another dimension of flavour and texture to this peppercorn sauce. You can also whisk in some onion powder to the sauce before serving, or if you like mushrooms try adding some porcini powder to the sauce as well. Leftover wine frozen into ice cubes is perfect for this sauce recipe and helps stop waste.
Ingredients
1

tbsp

butter

1

cup

salt-reduced beef stock

3

tbsp

green peppercorns

2

tsp

cracked black peppercorns

1/8

cup

white or red wine

2

tsp

brandy

port or sherry, optional

1/8

cup

fresh cream

1

tsp

onion powder

optional

sea salt

to taste

3

tsp

arrowroot

tapioca flour or cornflour as thickener

2

tsp

cold water
Instructions
In a small saucepan melt butter over medium heat. Add green and black peppercorns and cook for 20 seconds in bubbling butter. Add stock, wine and bring to a boil, then simmer for 5 minutes to reduce the sauce and cook off the alcohol. Add cream and cook for a further 5 minutes for the sauce to thicken slightly. Whisk in onion powder, if using, and arrowroot (tapioca flour) mixed in with two teaspoons chilled water. Whisk for a further minute for the sauce to thicken.

Serve over steak, roasted chicken or schnitzel.

You can keep leftover sauce in the fridge for up to 2 days. Reheat on the stove top, adding a dash of extra water if necessary, or in a microwave.