It only takes 5 ingredients to make these delicious Sticky Five-Spice Pork Ribs, accompanied with a light and crunchy Red Cabbage Slaw.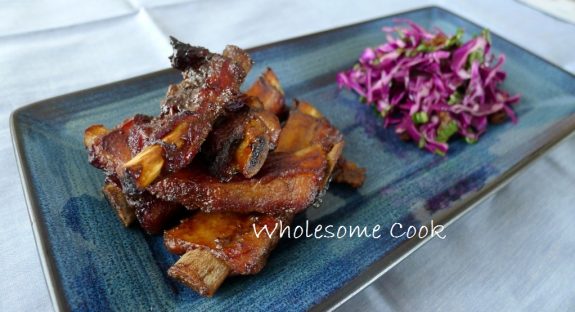 I have to admit these are the best home-made ribs I've ever tasted and I have tried a few different combos in my time. They are sticky, crunchy, beautifully sweet and juicy all at the same time – the meat would fall off the bone if it wasn't for the sticky sauce with just the right balance of exotic spice keeping it in place. Fingerlicking good!
"Damn the ribs smell good" read a text I received from Mr Chipsonnoisseur last night, and for a second I thought the beautiful aroma of Chinese five spice, soy and caramel had spread beyond the apartment…  Then I realised he was wandering home past Darling Harbour and, like every other time, was probably tempted to make a quick dash into Hurricanes for a juicy rack of ribs. Little did he know he was in for a treat at home…
The smoky smell of slow-grilled ribs from the two nearby American-style steakhouses carries over here with the Easterly long before lunchtime and it is impossible not to feel like ribs every time you walk past either of those places. So much so actually that I've had ribs three times in the last week. [Did I just say this out loud?]. It was for research and it has paid off!
Serves 2 and, according to Mr Chipconnoisseur, the meal is more accurately described as serving 1.7, they are so irresistibly good you just keep wanting more. To make the meal less meaty serve sticky ribs with this delicious red cabbage and mint slaw for a hint of acidity and freshness.  
5 Ingredients: Sticky Five-Spice Pork Ribs with Red Cabbage Slaw
If you think one lot may not be enough, use double the ingredients. They can be easily reheated in an oven - covered with foil, or on a barbecue!
Ingredients
For the Sticky Five-Spice Pork Ribs:
500

g

spare pork ribs

1/4

cup

ketjap manis

2

garlic cloves

crushed

3

tbsp

honey

1

tsp

five spice
For the Red Cabbage Slaw:
1/4

small red cabbage

shredded thinly

1/4

cup

raisins

large handful of mint leaves

sliced thinly

1/4

cup

fat-free Italian dressing

1

tbsp

sesame oil

1

tsp

unrefined sugar

freshly ground black pepper
Instructions
To marinade the Ribs:
Combine ketjap manis, garlic, honey and five spice in a large bowl. Add spare ribs, mix to cover and marinade for at least 30 minutes (best overnight).
To make the Sticky Five-Spice Pork Ribs:
Preheat oven to 180C (160C fan-forced, 350F, Gas mark 4).

Place ribs with the marinade in an ovenproof dish, cover with aluminium foil and cook in the oven for 1.5 hours.

After this time remove the foil and roast uncovered for another 15 minutes.

Drain fat and marinade off into a small saucepan and return ribs to the oven for another 15 minutes to dry roast and crisp up.

In the meantime cook down the marinade on low heat until it resembles sticky barbecue sauce in consistency.

Spread over the ribs and allow to rest in the oven for another couple of minutes before serving.
To serve:
Serve with a good helping of the red cabbage and mint slaw ( recipe below).
To make the Red Cabbage Slaw:
Combine all ingredients in a bowl and mix.

Season with black pepper to your liking.

Cover with cling wrap and chill until serving.