These Polish-Italian potato, ricotta and onion ravioli are too good to pass by, especially if you love the cheese and onion flavour combo.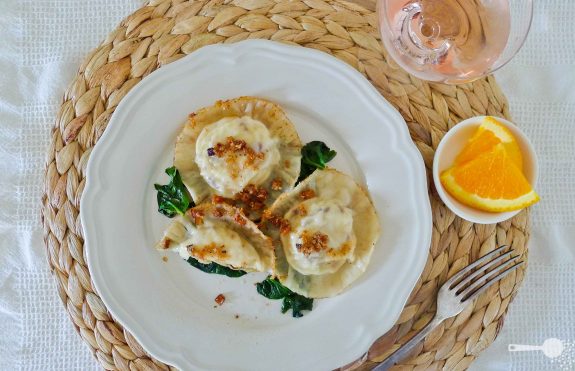 Who ate my props???
Considering the only other living thing in the house at the moment is Mr Chipconnoisseur, it's pretty easy to figure out whodunit… and I don't blame him.
This particular recipe and method is a cultural melting pot: traditional Polish stuffing, wrapped in Chinese wonton pastry for ease of preparation (because yes, you can use wonton pastry for pierogies), shaped as Italian ravioli. Cooked then fried for extra flavour. Making me hungry as I "speak".
If you prefer to make your own pierogi / ravioli dough, you can use the same simple recipe I used for my 5 ingredients blueberry dumplings.
Potato, Ricotta and Onion Ravioli [aka Ruskie Pierogi]
Makes 20, and needless to say, 20 we had. They store well in the fridge for a couple of days. Reheat by frying up. You need to season the suffing well as the spiciness will go away slightly with boiling. The focus here is on stuffing rather than the wrapping, so be generous! Omit bacon for a vegetarian / vegan versions.
Ingredients
For the Potato, Ricotta and Onion Ravioli [also known as Ruskie Pierogi]:
1

packet of wonton wrappers

40 pieces

350

g

full fat ricotta

150

g

potatoes

peeled

1

large spanish onion

diced very finely

50

g

diced bacon

1

tbsp

white pepper

1

tsp

black pepper

1

pinch

salt

To garnish:

200

g

baby spinach leaves

1/4

cup

breadcrumbs of your choice

1

tbsp

butter

olive or macadamia oil
Instructions
To make the Potato, Ricotta and Onion Ravioli [also known as Ruskie Pierogi]:
Boil potatoes until soft and mash roughly. Brown onion and bacon. Allow both to cool slightly.

Combine ricotta, potatoes, bacon and onion and spices in a bowl and mix well. It is best to work in a factory mode here, so spread half the wanton wrappers on a cutting board, place filling on top, then seal each one. Here is exactly how to do it:

Spoon a heaped teaspoon of mixture into the middle of a wonton wrapper, pressing out any air out of the mixture, form a tight round. Brush edges of the pastry with water, cover with another wanton wrapper and press down around the edges firmly, making sure there is no air trapped with the filling.

Using a glass, cut the dumpling to a round shape. Press around the edges with a fork to make it look pretty and ensure the edges are sealed. Repeat with the rest.

Bring a large pot of water and 3 tsp salt to the boil. Since the stuffing is cooked, they will only need about 2 minutes to cook. Drop in 4-5 dumplings in at a time, stir gently to prevent them from sticking to the bottom and each other.

Remove with a slotted spoon and place into a large bowl sprayed with some cooking oil. Spray again over the top. Repeat with the rest.

To serve, wilt some spinach in a colander over the boiling water and arrange on the botton of a plate. Fry dumplings for a couple of minutes or until they turn golden. Melt some butter in another pan, add breadcrumbs and stir to warm though. Arrange dumplings on the plate and sprinkle with breadcrumbs.