When it comes to Aussie food, there are three items on the menu that definitely stand out for me as being quintessentially Australian: sausages, prawns and lamingtons – you could try these mango and lime ones too.
I mean, who hasn't driven to their local hardware store on a weekend for a charity-hosted sausage sizzle? Who hasn't "thrown a shrimp on a barbie" or sat by the ocean enjoying plump, juicy prawns? And which Australian hasn't tasted the wonderfully moist lamington at a local fete? These foods are as Australian as the Sydney Opera House and the tendency to wear thongs anytime anywhere!
Whether you're an Aussie living abroad feeling homesick today or just a visitor curious about Australian culture and food traditions, I hope you will find a recipe or a tip that will make your Australia Day experience this year that much more pleasant.
Have a Happy Australia Day!
1. The Perfect Lamington
I had to start with the lamingtons because I'm completely obsessed with coconut and in love with these little cakes. They are so easy and quick to make! The good thing about lamingtons too is the fact that the can also be frozen for later enjoyment.
This award winning recipe has been adapted from the NSW Agricultural Society's Country Show Cookbook, but as ususal, I have reduced the amount of sugar used.
Makes approx 10 squares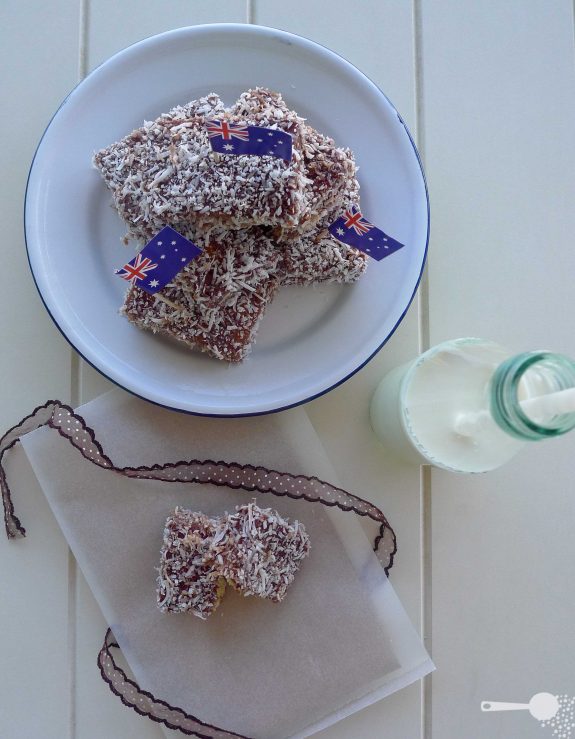 For the sponge
110g softened butter
3/4 cup sugar
1/4 cup milk
2 eggs
1 cup self-raising flour
1 tbsp cornflour
1/2 tsp baking powder
1 tsp lemon juice
1 tsp vanilla essence
pinch of salt
For the icing
45g softened butter
75g icing sugar
1 tsp vanilla essence
1 tbsp cocoa
2 cups dessicated or shredded coconut (I used a mix of both)
Preheat oven to 180C (170C fan forced, 350F, gas mark 4). Line a square 20cm cake tin with baking paper and grease any uncovered sides.
To make the cake, sift flours and baking powder into a medium mixing bowl. Add all remaining cake ingredients and beat using an electric mixer on medium high for about 5 minutes. The mixture will become pale and light. Transfer into the tin and bake for 30-35 minutes or until just golden on the top and cooked through.
Allow cake to cool before placing it in the fridge for about 20 minutes and cutting into fingers or squares. I like to remove the side crusts too, it makes the lamingtons even more meltingly soft.
To make the icing, place all ingredients into a mixing bowl and mix while adding a tablespoon of boiling water at a time. The icing should have the consistency of a slightly runny gravy.
Place coconut on a dessert plate. Dip each cake in the icing turning quickly then drop into the coconut, making sure it sticks and covers the cake well. Repeat with the rest. Keep lamingtons in the fridge until serving time.
2. How to tell your prawns are fresh
Fresh prawns can be bought raw or cooked in the shell. I absolutely love the salty taste of the sea on fresh cooked prawns and Australia is blessed with some of the best prawns in the world. Both cooked and raw prawns are great for barbecues, but it is important to get them as fresh as possible.
How do you tell then if the ones you're getting are straight off the boat? Look for prawns that:
Smell like the sea breaze, not "fishy"
Are bright and vibrant in colour
Have firm flesh and all tentacles, limbs, tails intact – you can tell prawns have been frozen if the long "antennaes" are broken short
Have no dark discolourations, especially at joints
Store on the bottom shelf of the fridge no more than 2 days.
The best way to enjoy cooked prawns is on their own with a little squeeze of lemon juice, or peeled and dipped in sauces such as thousand island or wasabi mayonnaise. Raw prawns taste great marinated with garlic, chilli and lemon juice then cooked on the barbecue in sheir shells or peeled.
3. What to do with leftover sausages
So you've cooked a barbecue lunch and have some sausages left over? No worries! You can make some delicious wholesome sausage rolls or this quick pasta salad using leftover sausages of any kind, including vegetarian snags.
However, if you're not going to use them within 2 days of cooking, most meat sausages can be frozen and used within 2 months of freezing.
Spinach and ricotta-filled pasta salad with sausage and roasted capsicum
Serves 1
1-2 barbecued sausages
100g spinach and ricotta ravioli // agnolotti // tortellini
50g woodfire roasted capsicum in oil
a handful of baby spinach leaves
1 tbsp pine nuts
Cook pasta according to packet instructions. Drain and allow to cool. In the meantime, cut capsicum into strips and sausages into bite-sized pieces. Place all ingredients in a bowl, drizzle with some of the oil from the capsicum jar and mix to combine.
About Australia Day
For those wondering, Australia Day, 26 January, is the anniversary of the arrival of the First Fleet of 11 convict ships from Great Britain, and the raising of the Union Jack at Sydney Cove by its commander Captain Arthur Phillip, in 1788.
Although some 211 years later, it is also the date of my own "arrival and settlement" on the shores of this beautiful country, which I love for its diversity, unique character and the kind-hearted people who live here. Not to mention the unspoiled natural wonders and a great variety of fresh, beautiful, local produce.
But Australia Day is not just another public holiday. It's not just about catching up with mates, throwing a snag on a barbie and sitting back with a drink, relaxing. Australia Day is a celebration of a nation built on mateship, diversity and ongoing community support – extending a helping hand to those in need is what we do best. Many of this year's events will be doing just that; raising much needed funds for the Queensland flood victims many of whom lost everything in this devastating disaster.
That's what Aussies are about. On Australia Day we come together as a nation to celebrate what's great about Australia and being Australian. It's a day to reflect on what we have achieved and what we can be proud of in our great nation. It's the day for us to re-commit to making Australia an even better place for the future.
If you are interested in chipping in to help Queensland flood victims you can make a donation to the Salvation Army Flood Appeal, every cent counts.
Like this post? Comment or share it via Email, Facebook, Twitter and more using buttons above the comment box.