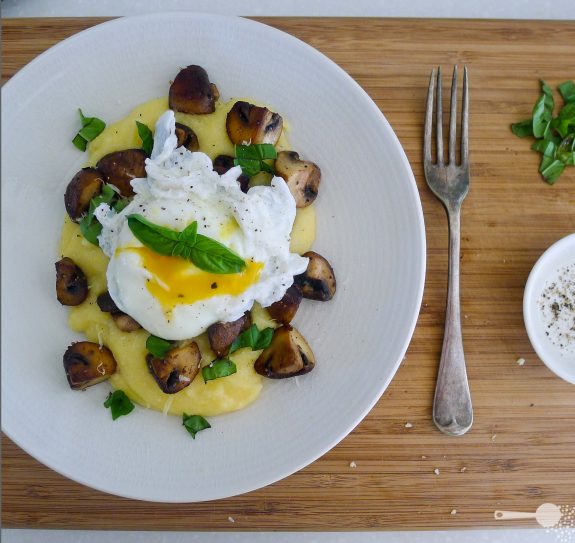 I know many of you are thinking here she goes again but who can resist the gorgeous earthy taste of mushrooms! Not me… As a matter of fact my perfect breakfast could simply consist of butter-fried mushrooms and poached eggs. Simple pleasures.
But then again, I always like to have a little something to "mop up" that runny yolk and butter mixture off the plate. That's where the polenta comes in. With a little added parmesan to sharpen its otherwise bland flavour it is a great gluten-free alternative to the traditional big breakfast toast.   
While I've chosen swiss browns because they are more flavoursome than button mushrooms, you can substitute any mushroom variety for these; button, Asian, wild pine which will be coming into season in a month or so, or even fresh porcini if you can get them!
Aside from the lovely flavour, mushrooms in general are a great source of potassium and B-vitamins which help regulate blood pressure and promote healthy hair and skin cell growth, while being low in calories and practically fat-free. All great news for the girls and our hips! But the mushroom benefits extend to the other half of the population, too. Yes, they are very good for you gents… With high levels of selenium mushrooms have been proven to both decrease the risk of and fight prostate cancer! Not bad for little greyish brown, very unassuming forrest fellows…
Serves 1
Poached eggs with parmesan polenta and  mushrooms
1 egg
100g swiss brown or other mushrooms
50g polenta
2 tbsp parmesan cheese
1 tbsp butter
1 tbsp white vinegar
A handful of basil leaves, torn
Freshly ground black pepper
Place polenta and 1/3 cup water into a saucepan and bring to a boil. Reduce heat to low and cook, stirring occasionally with a whisk until smooth and creamy. Add grated parmesan and mix again.
Chop mushrooms into quarters. Heat a little butter in a pan and when bubbly add mushrooms and stir until just starting to brown and soften. Lower heat to minimum, add basil stir and leave in the pan until serving to keep warm.
Break egg into a small bowl. Bring a small saucepan of water with a dash of vinegar to a gentle boil. Using a spoon stir the water to make a swirl and immediately lower the bowl over the water and allow the egg to slide gently into the swirl. Poach for 3-4 minutes, depending on the egg size and its temperature.
Serve egg over warm polenta, top with mushrooms and freshly ground black pepper.
How to poach two eggs at once: to poach two eggs, slide the first egg in and wait about 20 seconds for it to start setting. Gentlty swirl the water again, ensuring the poaching egg is off to the side and slide in the second egg. Poach both for 3-4 minutes.
You might also like to know how to cook the perfect soft-boiled egg
Like this post?  Comment or share it via Email, Facebook, Twitter and more using buttons above the comment box.