Bigos (pronounced bee-ghos) is a traditional Polish sauerkraut stew. Hearty, sticky and full of meaty flavours of pork, beef, smoked speck and sausages – it's also Paleo. Perfect for the sort of cold and rainy weather you get in the winter.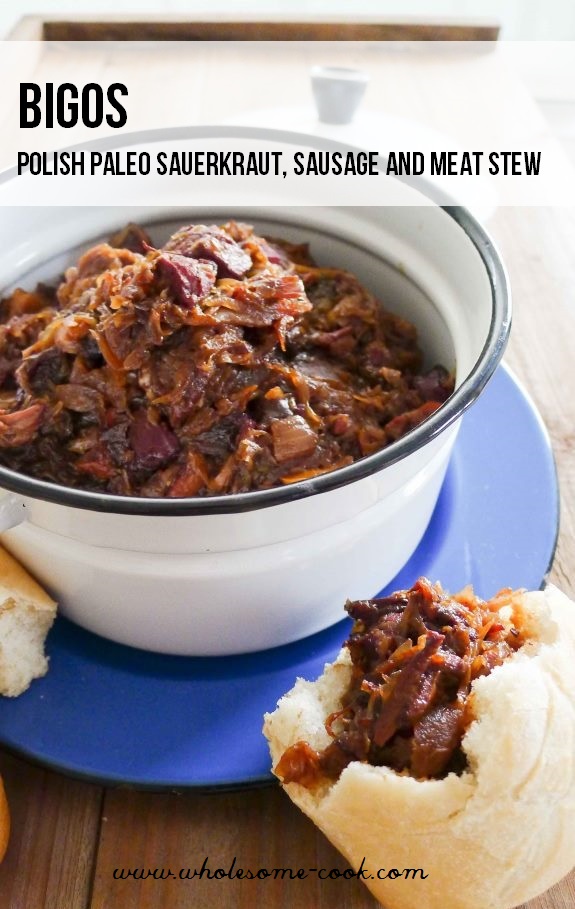 What is Bigos?
Bigos – often called Hunter's Stew – is a traditional Polish stew made with sauerkraut, various meat cuts and smoked sausages.
The recipe was widely used by travelling hunters peasants who fermented cabbage to make sauerkraut for winter. Cuts of meat, farmed and hunted were then added and slow-cooked together, to make a nourishing stew. Often, this involved using leftover meat cuts and cold cuts as well.
The recipe dates back centuries but has had a number of different renditions over this time. Nowadays wine, spices and lemon zest are often added to enrich the flavour.
Traditionally, the Polish sauerkraut stew is enjoyed in the winter months and often served on Christmas and Boxing Day.
Polish Bigos Recipe
The following rendition of the traditional Polish sauerkraut stew has come a long way from its peasant beginnings.
This bigos is spiked with a little red wine for deep colour and flavour. Lemon zest can also help add a layer of flavour. Smoky chorizo instead of traditional Polish juniper or garlic sausage adds a hint of warmth to the dish too. You can also add a handful of diced prunes to elevate the flavour further. Smoked prunes are even better if you can find them. Again, the idea going back to using summer's bounty preserved for winter.
What to serve with bigos?
Serve bigos on its own if you're after a Paleo version of the sauerkraut stew. Otherwise, a hunk of sourdough or steamed or mashed potatoes go very well with it as well.
How long can you store bigos for?
Bigos will keep in the fridge for up to a week. It also freezes well. Since it takes a good couple of hours to make, it pays to make a little extra and save it for another day.
Besides, it is best made a day ahead and cooked again the next day for an extra 30 minutes or so. The flavours and textures are there already, but perhaps not as intense as the would be the next day.  Having said that there is sure to be leftovers so feel free to try both and compare.
Now that you have the recipe and know how to make it, mover Reuben sandwich I say!
Bigos a sauerkraut, sausage and meat stew + giveaway
While the sauerkraut might loose its probiotic properties due to the cooking, it is still a delicious treat with a slightly tangy-sweet flavour, Don't be put off by the long list of ingredients, most get thrown in at the same time. You can buy sauerkraut (or weinkraut) from most major supermarkets and European delis. I like the Krakus brand because the cabbage is actually quite firm and crunchy and not too sour – or make your own using the recipe in
The Wholesome Cook book
. Instead of Polish smoked sausage, I used Chorizo which is very similar and readily available from any supermarket.
Ingredients
2

tbsp

olive oil

1

brown onion

peeled and chopped finely

1

chorizo

diced

100

g

speck or streaky bacon

diced

1

kg

sauerkraut

200

g

diced pork

200

g

diced beef

1/4

cup

dried porcini mushrooms

broken into small pieces

100

g

dried pitted prunes

4

bay leaves

4

whole allpsice seeds

pimento seeds

1

tsp

ground pepper

4

cups

water

1

cup

red wine

1

strip of lemon peel

1

tablespoon

unrefined sugar of your choice

olive oil
Instructions
To prepare the stew:

Heat 1 tablespoon oil in a large stockpot over medium heat. Brown onion, chorizo and speck, mixing regularly. Transfer to a bowl.

Heat the remaining tablespoon oil over high heat and add the pork and beef. Sear on 2-3 sides and cook for a further 2 minutes. Add sauerkraut together with the cooked chorizo, speck and onion and all the remaining ingredients. Mix well. Cover with a lid, bring to a boil then lower heat and simmer for 1-2 hours or until meat is tender and falling apart to the touch.

To serve: Spoon bigos into a serving bowl, serve on its own, with mash, green salad or slices of fresh sourdough bread.
Notes
gluten-free dairy-free paleo