Taking a leaf out of Frank Sinatra's song, when it comes to Chimichurri – an Argentinian herb salsa,  I like to do it my way.
I swap the traditional base of parsley out for coriander, because I'm addicted to its fresh lemony flavour and, to be frank, parsley and I have never really been friends. I also prefer to use peanut oil instead of olive oil to protect the delicate balance of flavours in the sauce – olive oil has a tendency to be overpowering at times.
To finish things off I add fish sauce, lime zest and lime juice and voila! The Chimichurri becomes an amazingly fragrant melting pot of tradition with a modern Asian twist. It is irresistibly good as a dipping sauce or a salsa for any type of grilled meat or even seafood and fish, but marries especially well with steak.
Serves 4
Chimichurri my way
The fresh flavours of the salsa go extremely well with any type of grilled meat, fish or even seafood, but marry best with a well-cooked steak.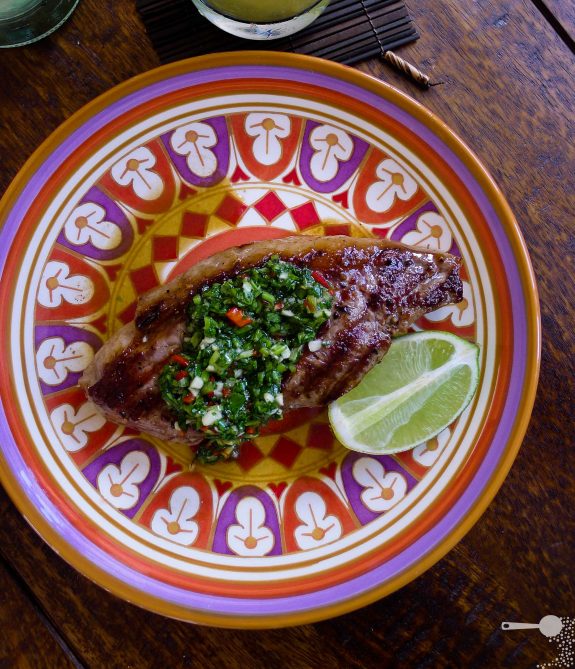 For the Chimichurri:
3 sprigs coriander
1 red long chilli, seeds removed
2 small garlic cloves, peeled
2 tsp fish sauce
4 tsp peanut oil
1 tsp brown sugar
Juice of 1/2 lime
To make the chimichurri: chop the whole coriander sprigs and deseeded chilli finely. Place them in a bowl and add crushed garlic, fish sauce, peanut oil, brown sugar and juice of 1/2 lime. Mix well to combine and set aside for 10 minutes for the flavours to infuse.
To serve: transfer into a serving bowl and serve alongside grilled meats, fish or seafood.