Time flies and it was only last week that I came to truly realise this. I was talking to Mum, who made a comment in passing that my passport was about to expire next year, and so, in a seemingly related way my memory of the wonderfully rich and addictive flavours of the yakisoba noodles, was prompted. It's been almost 10 years, I thought to myself, since I was first introduced to the slinky noodle dish served with my favourite side of char-grilled chilli octopus…
I've been back since, of course. Ducking across the Harbour at lunch time to savour only the best yakisoba I've ever had, enjoying every strand of noodly goodness as if it were the last while hiding from CityRail safety guards on the North Shore line train back into town. It was probably the only time and the only reason why I would put my fate in the hands of the city's rail system even though there were only 2 short stops between me and my beloved sweet and spicy soy noodles, I just couldn't wait that long. It may come as a surprise though, that the dish of such splendour was procured from a little Asian food court spot (Motto Motto – I had to refer to Google to jog my memory) inside Greenwood Plaza, but may I just say, it was worth every minute of that dreaded train trip.
Now, it's been a while, and judging from my Google research above, the place still exists, but at least now I've perfected the recipe to the point at which it resembles the Greenwood noodles so much, I can hardly tell the difference and I no longer have to rely on the trains to get my fix. Win win. Oh, and in case you were curious, yakisoba refers to  the sauce and does not actually mean that soba noodles are used in the original recipe. However, I actually prefer it with soba, "yakisoba soba" drives the spell checker mad!
Serves 2
Yakisoba soba (with chilli octopus)
I like to use organic soba noodles, to make the dish a little more wholesome considering the dark rich soy sauce is quite high in sugar. I also add a dash more chilli to the mix because I like my noodles spicy – Malaysian Sambal paste is great, or just a pinch of the good old chilli powder. Omit octopus for a quicker vegetarian version. One note on octopus: for tenderness in this recipe, flash fry on high heat for no longer than 30 seconds on each side, otherwise stew or braise for at least 30 minutes.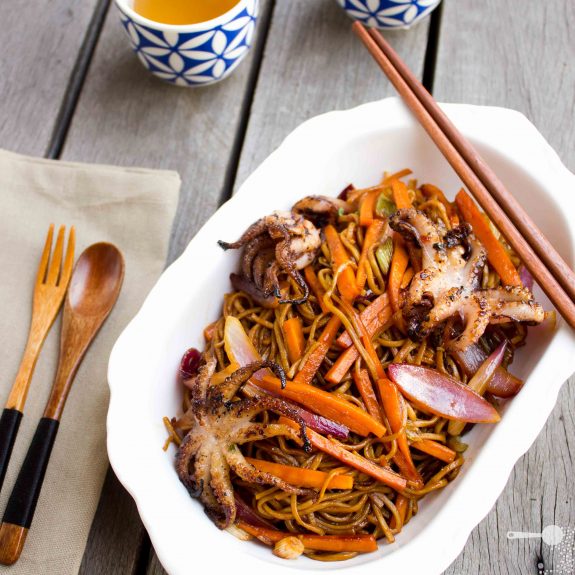 For the yakisoba sauce:
2 tbsp kecap manis (sweet thick soy sauce)
2 tbsp Worcestershire sauce
2 tbsp ketchup // or tomato sauce
(chilli to taste)
For the yakisoba soba:
50g dry soba noodles
1 (120g) carrot, julienned
1/4 red onion, sliced finely
1 sprig spring onion, sliced
3 tbsp peanut oil
For the chilli octopus:
300g baby octopus, cleaned
2 red long chillies, chopped finely
1 sprig coriander, chopped finley
1 lime, juice and zest
To marinate the chilli octopus: combine all ingredients in a ceramic bowl and mix well. Cover with cling film and allow to marinate in the fridge for at least 2 hours.
To make the yakisoba sauce: combine all ingredients in a bowl and mix well. Season to taste with chilli.
To make the yakisoba soba: cook soba noodles according to packet instructions, but a minute shorter than it would in boiling water – see note on packet about stir frying cooking option. Drain, rinse with cold running water and set aside.
Heat 2 tablespoons of peanut oil in a wok until smoking hot. Add carrot and onion and stir fry for 30 seconds or so. Add extra oil and noodles then pour over yaki soba sauce. Stir fry the noodles for about a minute to allow them to soak up the sauce. Transfer to a serving bowl.
To cook the octopus: return wok to heat and add 1 tbsp peanut oil. Heat until smoking. Add octopus and stir fry for about a minute to allow all the pieces to cook through. Trasfer into a warmed serving bowl.
To serve: mix chilli octopus into the noodles, or serve separately as a side.