This pickle soup is tart, sour and delicious with fermented (salt-brined) pickles that help boost gut-health by providing a rich probiotic base.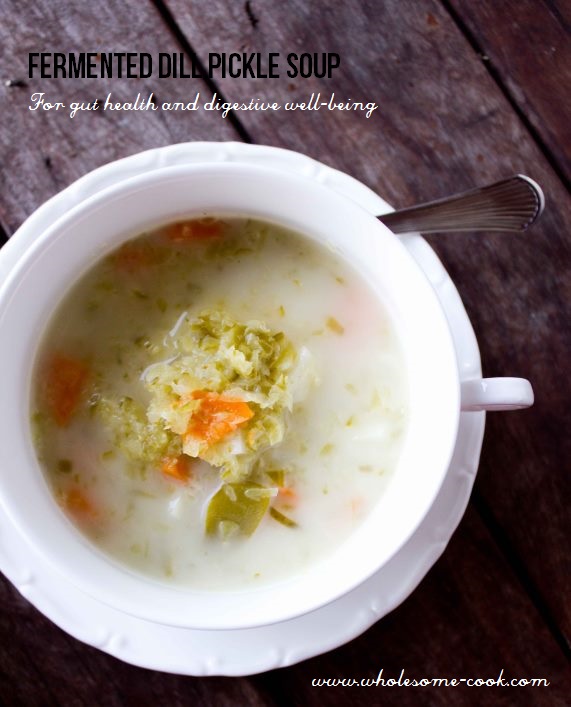 If you're into your pickles, this soup will tickle your fancy – it's bold, and sour and incredibly moreish. A little rustic, steeped in hundreds of years of tradition, it's a recipe my Great Grandmother used to make and one that has been passed on in the family for generations.
One word of advice when it comes to the type of pickles to use. Avoid cucumbers pickled with sugar and vinegar. And don't be fooled by labels – Polskie Ogorki are not the right ones either… just check the ingredients list. You will find a recipe for homemade dill pickles in my cookbook. As far as store-bought ones go, Krakus and Baska Jon make brined pickles available from many grocers. I've found that Eskal's canned dill dickles, pickled with salt, some garlic, pepper and dill, while containing a firming agent and not BPA-free cans) have a good flavour and are most commonly available.
And with that combo of flavours, what's not to love?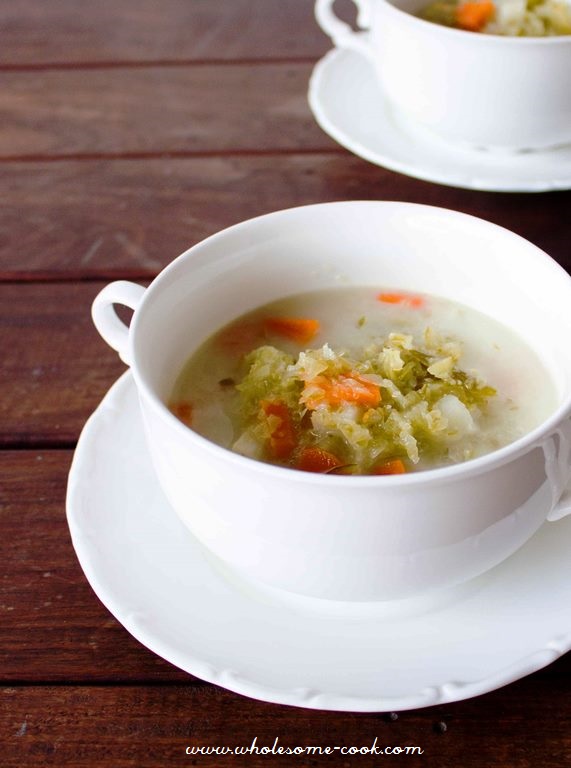 Dill pickle soup | zupa ogórkowa
The secret to the soup is in the pickles! Find ones that are pickled with salt only, such as the Eskal brand's Dill Pickles. Cucumbers pickled with vinegar and added sugar are not suitable for this recipe. Serve with some lightly grilled croutons or hard boiled eggs if you wish. For a vegetarian version, use chicken-style or vegetable stock.
Ingredients
For the stock base:
4

cups

chicken stock

3

small potatoes

peeled and diced

1

small carrot

peeled and diced

1

small parsnip

peeled and diced

1

stick celery

diced

1

bay leaf

3

seeds all spice
For the dill pickle soup:
4-5

in

dill pickles

grated finely or processed to rough pulpa food processor

3

tbsp

sour cream

at room temperature

salt and pepper to taste
Instructions
To make the stock base:
Place stock, diced potatoes, carrot, parsnip and celery in a large stockpot. Add bay leaf and all spice. Bring to a boil and simmer for about 15 minutes, or until the potatoes are almost cooked.
To make the dill pickle soup:
Once the potatoes are soft, turn off the heat and add grated dill pickles to the mix. Transfer 2 ladlefuls (about 1 cup) of soup into a bowl. Add sour cream (at room temperature) to the same and mix to combine. Pour the sour cream mixture back into the pot, stir through a few times.
To serve:
Divide soup between 4 bowls and serve on its own or with some croutons or hard boiled eggs.