Idea 1. Kids' IKEA to the rescue!
It's Easter egg decorating time and considering that it is basically impossible to get white-shelled eggs in Australia, this year I went with a slightly different presentation of the pastel kind. Mainly because last year we spent a gazillion hours at the local supermarket picking through ALL of the egg boxes to get a dozen light beige ones – the closest to white we could find.
And aren't they cute? Serving the little egg and prawn 'cocktails' in these teeny weeny cups and saucers from IKEA's kids section makes them not only look super cute, it saves the hassle of being asked to leave the supermarket…… recipe coming next Monday.
Ideas 2-64. Who else but Martha Stewart…
Discover a myriad of Easter egg decorating ideas ranging from the quirky Ukraininan pysanka, through to gorgeous lace and tissue paper creations, exquisite pearl embellished eggs plus, there's one for the chocolate lovers too!
Ideas 65-69. Good Housekeeping has 5 more!
I couldn't believe there would be more unique Easter egg decorating ideas, but I have found 5 more at Good Housekeeping.  Simple but creative.
Ideas 70-72. But wait, Chica and Jo came up with these 3!
How about a sparkly sequin egg, or those cute black and white marker pen doodle eggs from Chica and Jo craft page? They are sure to be a great convesation starter at the Easter table.
Ideas 73-76. From the archives
Now you're probably all mesmerized and googly-eyed from the beautiful Easter eggs at Martha's and elsewhere, but if you'd like more, in this post you'll find a simple guide to egg dyeing with a couple of basic ingredinets and some pattern making ideas. There's even edible table decorations for  the more advenuturous of you, gardener types even. You should be able to, in the next week, plant and grow these in your dyed, hollowed out shells. They make a perfect addition to the Easter breakfast table.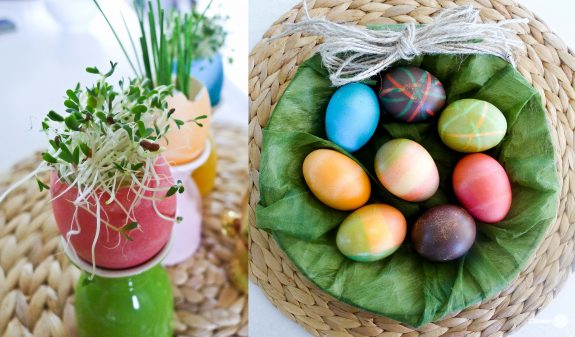 Idea 77. If all else fails…
There's always Egg doodles!
Check out also this post for a few natural dye ideas, a new serving suggetion and a bunch more mindful Easter recipes and inspirations.