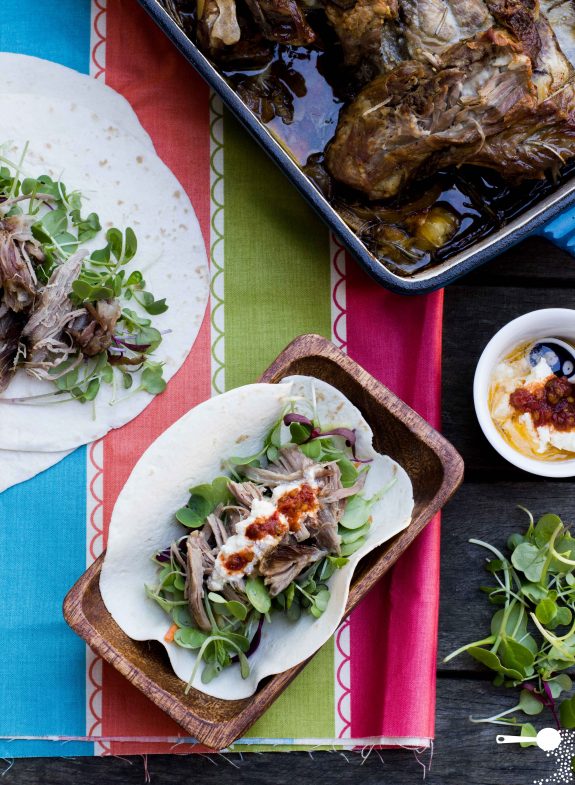 I absolutely adore slow cooked meat like this, because it's not only deliciously tender, juicy and falling apart, but because it also makes a great leftover lunch the next day, or even dinner the night after.
Having said that this is the first time I've cooked a whole lamb shoulder at home, and to get it right I enlisted the help of SBS Food, namely by starting off with Matthew Evans's Greek-style lemon olive lamb shoulder recipe which I adapted slightly by adding a few sprigs of rosemary to the roasting pan.  I also used a small container of wood-smoked olives that I acquired from Orange Grove markets on the weekend. The result was superb.
Considering that Mr Chipconnoisseur gets bored of eating the same things for days on end, inspired by tomorrow's Cinco De Mayo celebrations, I decided to do something different with the leftover, tender threads of the roast lamb: GREEK TACOS! Everyone loves a good taco, and with a little drizzle of crumbed feta oil, chilli and a handful of fresh microherbs (or salad greens), they were as good, and as different as a freshly cooked meal would be. And to be honest, it's a great way to serve the whole roast this way from the start.
Adapted from this recipe by Matthew Evans on SBS Food.
Greek-style smoked olive and lemon lamb shoulder TACOS!
The olive lemon lamb shoulder roast has been adapted from a recipe by Matthew Evans, with the addition of smoked sicilian olives and 3 sprigs of rosemary. Depending on whether you're serving this from a leftover or whole roast, it will make 4-12 tacos. Serve everything separately at the table to make the lamb taco night a shared experience. Serve olives on the side.
Ingredients
For the olive lemon lamb shoulder roast tacos:
1.7

kg

lamb shoulder roast

shredded meat and 1/4 cup of the roasting juices only

12

mini soft tacos

1/2

cup

Persian feta in oil

2

tbsp

Sambal Oelek paste

250

g

micro herbs or salad greens
Instructions
To prep: crush feta in some of the oil with a fork to make a "sauce", top with sambal paste.
Warm shredded lamb and in some of the roasting juices, either in the oven or in the microwave.

Warm tacos in a microwave, according to intructions on packet.

Arrange food on separate plates and platters.
To assemble and serve:
Place taco on a plate, top with greens (and cucumber if using), shredded lamb and the feta-sambal sauce. Wrap it up and enjoy.

Serve roasted olives on the side.