Autumn. Just the other day Laura came over for an afternoon puppy play date. I made a mish mash salad for lunch and she brought the most delicious cinnamon-poached pears for dessert. This gave me an idea.
I was going to roast some chestnuts and combine them with some Autumn fruits into a raw fruit salad, savoury for the best part, but then I remembered the amazing combination of chestnuts and fresh cream from the Mont Blanc and it all made much better sense. The fruits, pears and plums were luscious and the tartness of the plums was beautifully balanced by the sweetness of the chestnut cream. Very moreish indeed.
As for the puppy play date, it went a little pear-shaped, excuse the pun, because just as you wouldn't expect a 70 year old man to play with a needy 3 year old, you shouldn't expect a 10 year old dog to play with a 6 month old pup. After about 20 minutes of what looked like fun, they had to be separated. Next time we might meet without them.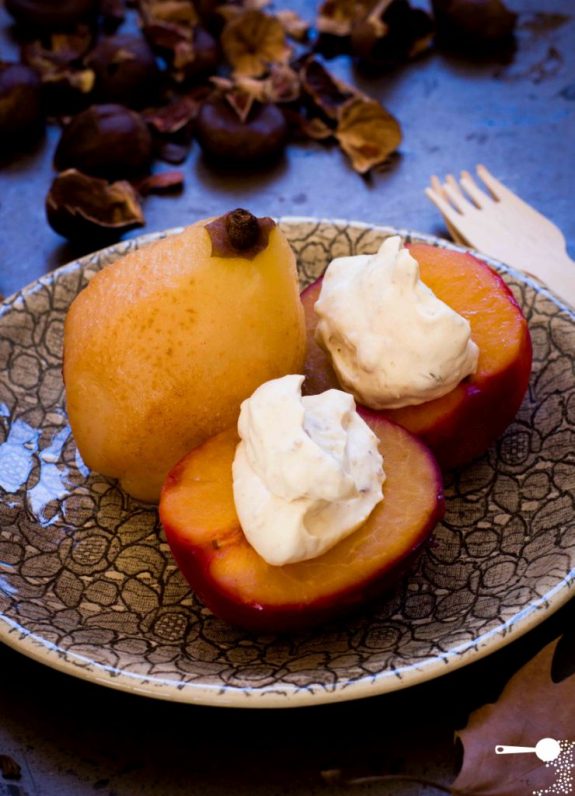 Poached Autumn Fruits with Chestnut Cream
I used Red D'Anjou pears but William or Buerre Bosc pears would be just as good. You could use canned chestnut puree for this instead of freshly roasted chestnuts, but if you do, omit the honey from the recipe - most purees are already sweetened.
Ingredients
For the poached fruits:
2

pears

peeled

2

black plums

cut in half and stone removed

1

tsp

cinnamon

4

cups

water
For the chestnut cream:
10-12

fresh chestnuts

1/2

cup

milk

100

ml

fresh or thickened cream

1

tbsp

honey
Instructions
To roast chestnuts:
Using a sharp knife, cut a X on each chestnut's shell.

Place chestnuts in a small roasting tin, X-side up and pour in 1/4 cup water.

Roast for 8-10 minutes.

Remove from oven, wrap in a kitchen towel - this will help the skin and inner membranes come off more easily, and allow to cool.

Peel the shells and inner skin off and discard.

Chop chestnuts roughly into smaller chunks.
To make chestnut puree:
Place peeled, roasted and chopped chestnuts and milk in a small saucepan.

Bring to a boil, then simmer gently for 8-10 minutes.

Once the chestnuts have softened, add honey and puree using a stick blender. Set aside to cool.
To poach the fruits:
Place whole pears in a saucepan filled with water, add cinnamon.

Bring to a boil, then simmer on medium heat for 10 minutes.

Add plum halves and simmer for another 2-3 minutes, just long enough for the plums to soften.
To make the chestnut cream:
Whisk cream until soft peaks form, then fold through the chestnut puree.
To serve:
Serve poached fruits with a good dollop of the chestnut cream.