A wintry take on the classic Caprese salad served with pickled beetroot slices and basil pesto. Only 5 ingredients.
I used to think that beetroots were my favourite vegetable, and speaking strictly botanically, they still are because tomatoes are a fruit. And while I'm still head over heels in love with the classic flavours of the tomato and buffalo mozarella Caprese, this version suits me much better in Winter. It's almost hearty and big on flavours.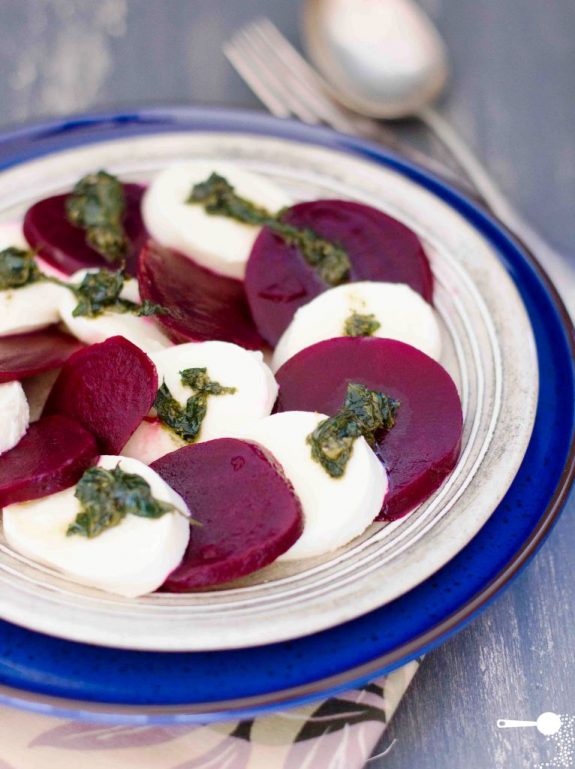 Now, you could use fresh roasted beets here as well, but I find them a little bland against the backdrop of the milky flavour of mozarella. Canned beets pack a lot more punch and are closer in acidity to the original tomatoes.
Beetroot and Basil Pesto Insalata Caprese
I used full size bocconcini for this recipe, but a buffalo mozarella ball of about the same total weight would be just fine. Basil pesto from a jar is fine, or you could make your own using this quick pesto recipe, just omit the cheese. Leftovers are great for mixing through pasta or as a topping for steak.
Ingredients
225

g

can of sliced beetroot

200

g

tub of buffalo mozzarella or bocconcini cheese

2

tbsp

basil pesto

1

tsp

chopped pine nuts

pepper to taste
Instructions
Drain cheese and canned sliced beetroots.

Slice bocconcini into 0.5cm thick slices.

Layer on a platter, interchanging with slices of beetroot.

Mix pesto with a little pepper and drizzle over the salad.