How much do you know about Polish cuisine, customs and vodka? If you are living outside of Poland, the answer is: probably not much.
Benny Roff's Borsch, Vodka and Tears – Food to Drink With (Hardie Grant, A$36.95) is a truly unique book that tries to answer these questions, and no doubt will take you on an adventurous journey through Polish cuisine, customs and of course the now world-famed drink, vodka. It's not quite a story book, nor a full cookbook….it's in between and it starts with the Tears.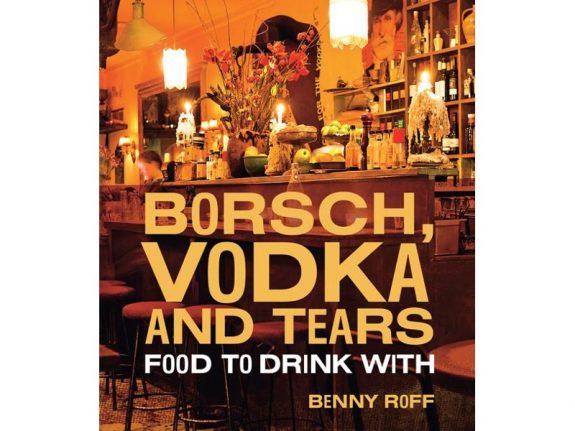 There is only a small handful of Polish restaurants here in Australia, and even a smaller number of them are good enough to visit twice. Borsch, Vodka and Tears is one of those few happy places. Established by Andrzej Kaczmarski and his business partners in 2006 on the grounds of the first Polish restaurant in Windsor in Melbourne's South, this cafe-turn-bar-turn-restaurant has been popular not only with the Polish community but with many non-Polish locals. And rightly so. The food is as authentic as they come, and the bar now imports and stocks over 100 varieties of, mostly Polish, vodka. It is now wonder then that the book devotes almost 100 pages to the drink's history, distillation process and suggests a range of tasting notes and vodka-based cocktails. You could say that in part it is a vodka appreciation class.
So you see it is not so much a cookbook, although recipes for home-cooked comfort foods take up half of the volume,  as it is a history lesson in everything from customs, culture, food and above all the traditions of making and using vodka in the East. Having said that the latter part of the book is filled with recipes that are true to the Polish traditions. Being Polish, I surely knew my good pierogi from bad, recognised the differences in regional naming of potato pancakes – more about that below, and could name at least 3 brand names of Polish vodka.
Yet, eversince getting my hands on a copy of Borsch, Vodka and Tears (courtesy of Hardie Grant), I have not been able to put the book down. It is a thrilling read, recommended for anyone into food history. It is a unique story of connectedness of migrants through their food and custom, and a story of intermingling passions, fate and of course the most interesting insight into vodka, its etymology, history both in the East and West, completed with a list of the most notable Polish vodkas, 16 pages in total. And while the release may not settle the quarrel between the Poles and the Russians on who first invented the drink, the book paints a very clear picture of what vodka is. In Poland "vodka goes with food, it is medicine, entertainment and psychotherapy; it will warm you in winter, disinfect, clean, preserve and generally cannot be lived without." And it's true.
In both parts, Bonnie Savage's photography matches the ambience of the stories told and recipes shared with dark, moody undertones in the beautifully styled shots. Inspiration for these coming just as much from the nation's history as it surely did from restaurant's Polish country-folk decor.
If you are passing through Melbourne and get a chance, do visit Borsch – it is a truly unique experience of the Polish culture and food. Otherwise, grab a copy of this fascinating book and immerse your self in a different world while you much on a serve of these Polish Potato Pancakes.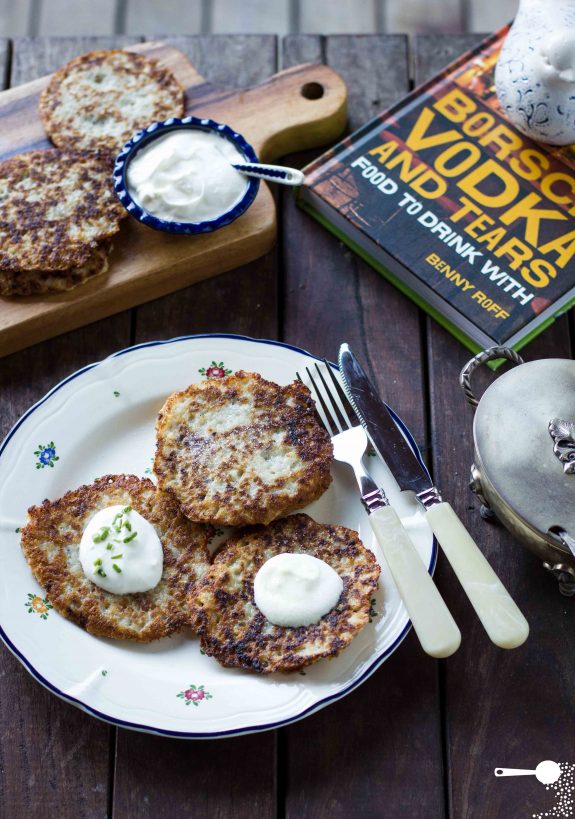 Adapted from Borsch Vodka and Tears (Hardie Grant, A$36.95).
Polish Potato Pancakes
Known as placki zieminaczane in the South, and placki kartoflane in the North (obviously from German Kartoffeln for potato), or Latke if you're Jewish, these used to be my Dad's signature dish, although I never got his original recipe. But this 5 ingredient version is just as good as I remember. Served with sugar or sour cream they are a declicious treat, and I can imagine them being tasty with eggs, salmon or served with a Goulash stew or even a Bolognese.
Ingredients
For the potato pancakes:
500

g

potatoes with the skin on

coarsely chopped

1/2

onion

sliced

1

egg

45

g

potato flour or corn flour

1

tsp

salt

1/2

tsp

freshly ground black pepper
Instructions
To make the batter:
Place all of the potato pancake ingredients into a food processor and process until the mixture is slightly liquid but still coarse. This will ensure a crispy finish to the pancakes.
To fry:
Heat 2 tbsp oil in a large, heavy-based or non-stick fry pan over medium heat (the pan should be able to hold 4 egg-ring sized or slightly larger pancakes).

Spoon 1/4 cup of batter into the hot pan at a time, spreading it gently into a round, repeat with 3 more pancakes.

Cook for 3-5 minutes, or until the bottom is lightly browned and crisp and the batter on top has begun to set.

Flip and cook for 3-5 minutes on the other side.

Remove from pan and set aside.
To reheat:
Heat another 2 tablespoons of oil in a pan over medium-high heat.

Add pancakes and cook for a minute on each side, so that they crisp up and brown a little further.
To serve:
Serve the pancakes hot with a dollop of sour cream (or natural yoghurt for less calories) plus a sprinkling of chives; with sour cream and sugar or just with a generous sprinkling of white sugar
Notes
No other liquid ingredient is required as the potatoes and onions will run "juice" once processed which will make the mixture batter-like.