Barbecue (Rotisserie) Chicken is one of my favourite pre-cooked store-bought ingredients to cook with when I'm stuck for time.
Barbecue (Rotisserie) Chicken is extremely versatile because it can be used in almost any dish, and once shredded and frozen, it can keep in the freezer for 3-4 months. Not that it lasts that long – I use it on a weekly basis. My only suggestion for choosing the right barbecue chook is to go at least free range or organic if you know where to find it. It's not because I'm a snob or anything, I just think it's a more ethical and healthier choice.
To prep bought roasted chicken for use (and freezing): remove skin and set aside. Take all the brown meat off the thighs and drumsticks, and shred with your fingers. Now remove the breast meat and slice into 1/4 inch slices. Divide brown meat and breast meat between sandwich-size freezer bags and freeze. You can keep the carcass, bones and skin to make a lightly flavoured chicken and vegetable stock straight away or freeze them to use later to add extra flavour to soups, sauces and stocks.
Soups
This is probably the my most favourite use for barbecue chicken meat. I add about 2 legs worth of meat to a 4 person serving of Laksa, Mushroom Noodle Soup, Straciatella and, of course, Chicken Vegetable Soup.
Sandwiches
Defrosted barbecue chicken breast goes oh so well in a grilled chicken and avocado toastie, and is a great filling for lunch sandwiches. My favourite is a Waldorf-inspired filling but when I'm out of turkey, I use chicken instead with the addition of walnuts, celery and mayo. Or a Vietnamese home-made Bahn Mi.
Salads
Whether it's a grilled vegetable salad that needs a little padding, a pesto pasta salad or a an Asian coleslaw, barbecue chicken can be a great addition to these.
Rice + Risottos + Grains
Diced chicken breast goes extremely well in risottos, or even with steamed rice itself, drizzled with some soy sauce for extra flavour. It's also a great way to boost the flavour and add some protein to fried rice or roasted buckwheat.
Pasta + Pizza
When I make my carbonara, I always add a little chicken to the sauce and use it for a yummy pizza toppings. My favourite? Chicken with avocado, rocket and pesto aioli.
Dumplings
Now, this one may come as a surprise, because most dumplings call for raw mince. But these delicious chicken, goat's cheese and herbed chanterelle mushrooms dumplings use shredded barbecue chicken meat and are one of Mr Chipconnoisseur's favourites. And rightly so, they were picked as one of the top 5 recipes in a recent blogger recipe competition, with a chance to be featured in Australia's first crowd-sourced cookbook, The Melting Pot.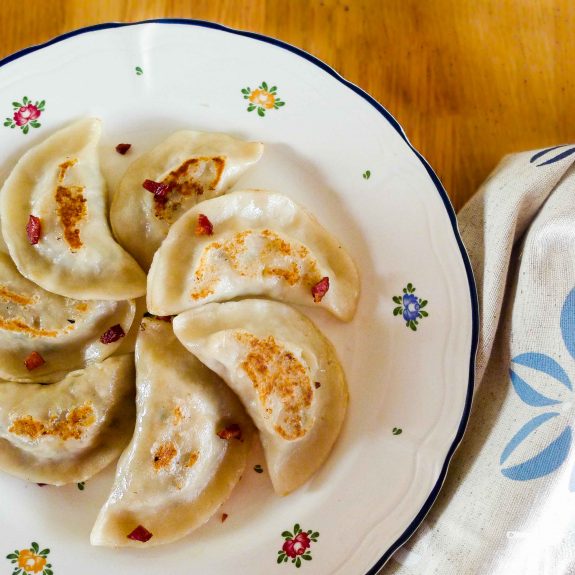 Pies
There's nothing more comforting in winter than a steamy, delicious pot pie. A packet of frozen barbecue chicken breast, mixed with some frozen veggies, stock or your favourite relish, and voila. You have a tasty pie filling in no time!