Question: How many ingredients would you expect to find in a bowl of macaroni and cheese?

Two, maybe three, four including some pepper and salt? Erm…wrong. I've counted a mere 25 in the most popular brand of the convenient packet-stuff mac & cheese… Keep reading to find out a few good ways to avoid most of them. 
What I'm loving at the moment:
1. Portable charcoal grilling… September. In Australia, it means only one thing: Spring! It has finally arrived, and with it though a tad late, Wholesome Cook's new look. Have a look and let me know what you think…
It also meant that on Father's Day we got to road test our brand new Bodum FYRKAT charcoal grill – small enough to fit on the tabletop, portable and oh so pretty in red. Smoky burger perfection, great for grilling veggies too.
And, I should mention this if you are heading into Fall as well, it's perfect for toasting the occasional marshmallow on a stick! For more Fall recipe inspiration click here.
2. Online Food Photography Series. I absolutely loved reading through Sylvie's Summer Food Photography Series. Naomi Robinson of Bakers Royale kicked off the series with a fantastic post on Prop Hunting. So many fab tips!
3. Gluten-free cereal discovery! My breakfasts been made a whole lot better thanks to Brookfarm's delicious Gluten Free Macadamia Muesli with Cranberries which is also completely preservative free. Brookfarm also make a super tasty Gluten Free Porrij made with the goodness of millet, amaranth, quinoa and flaxseed. What's not to love?
4. Speaking of quinoa…
Sherilyn of Whole Promise posted a delicious recipe for a Pumpkin Quinoa Bread – I am yet to bake it, but I can already see it will be gone in no time. Stay tuned as Sherilyn will be guest posting on Wholesome Cook in October… grain-free bread anyone?
How to stay away from food additives and these sometimes toxic ingredients.

As the days are getting longer and the weather starts to warm up we begin to think of spending more time outdoors, having picnics in the park and lazy Sunday barbecues at home. This means plenty of snack foods such as dips, chips and other additive-laden "inventions" are going to be making their way onto our tables. 

But do not be fooled by health-claims made by food companies (how many ingredients do you  ingredients in a packet "mac & cheese" earlier). Instead, go organic. Organic products are the quickest way of ensuring there are no artificial or harmful ingredients in your food. Otherwise, read labels and check out My Healthy Food Guide for a snapshot overview of food additives to look out for or have a look at this in-depth article on other ways you can do to reduce unnecessary and harmful food additives.
5. I mentioned chips above. While I do not condone eating them by the packetfuls every night in front of the telly, I do sometimes crave them. And there is good news for regular-flavour chip lovers out there. The Natural Chip Company is now making chips in regular flavours like original, salt & vinegar and chicken that are preservative and flavour enhancer-free. They are also supposed to be artificial colour-free but a quick scan of the Chicken flavour reveals it contains Caramel1. If you are more adventurous with your flavour selection, from what I've read, Red Rock Deli Chips are similarly mostly additive-free too. To avoid excess additives in most regular-brand chips, stick with original (aka plain, salted).
6. Six Additive-Free Dip Ideas for Spring Summer and All Year Round. Oh yes; tasty, so quick to make and much more additive-free than their store-bought counterparts. Did I say quick to make? You'll be able to entertain in no time.
5 Ingredients: Roasted Avocado Guacamole | Wholesome Cook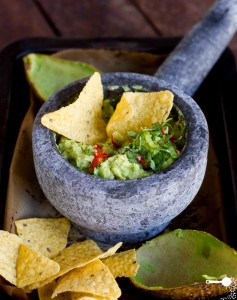 Basic Red Salsa | Local Kitchen Blog
Thai Chilli and Lime Hommus | Wholesome Cook
Vegan Tzatziki (Dairy Free) | Cajunlicious
Smoked Salmon Dip | Wholesome Cook
Baba Ganoush | The Healthy Foodie
Subscribe to receive Recipes to your Inbox: