With only three simple ingredients you can turn leftover ribs (or roasts) into moist and flavourful Pork Rib Pies. Make ahead and freeze or pack for lunch the next day.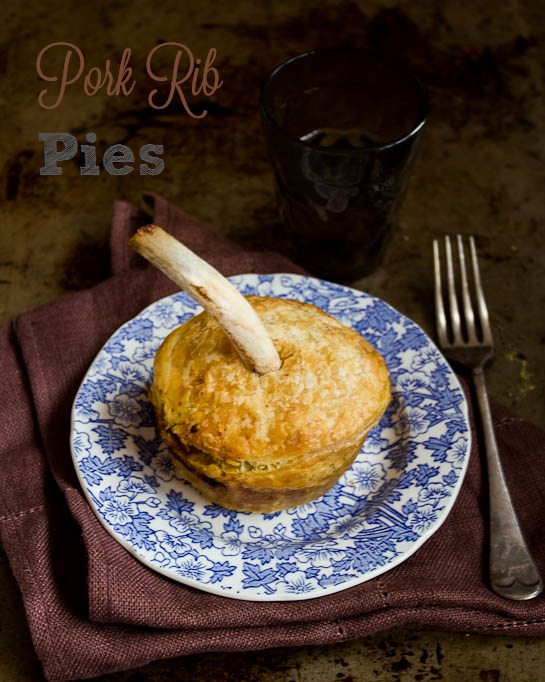 Most days when I'm cooking I add an extra serving to the set to cater for Mr Chipconnoisseur's work lunchbox as well. He's told he's quite lucky in that regard and I often get recipe requests from his work colleagues; the 5 ingredient chicken pot pie using Anathoth's Farmstyle Pickle seems to be the most popular. The light curry aroma is irresistible!
And so, just the other day, when I realised dinner was only going to serve four instead of the ususal 4-plus-lunchbox, I remembered I had half a pottle of the relish in the fridge and some pork ribs that could be quickly cooked up in the chilli and beer marinade from the other week and used in the pies instead.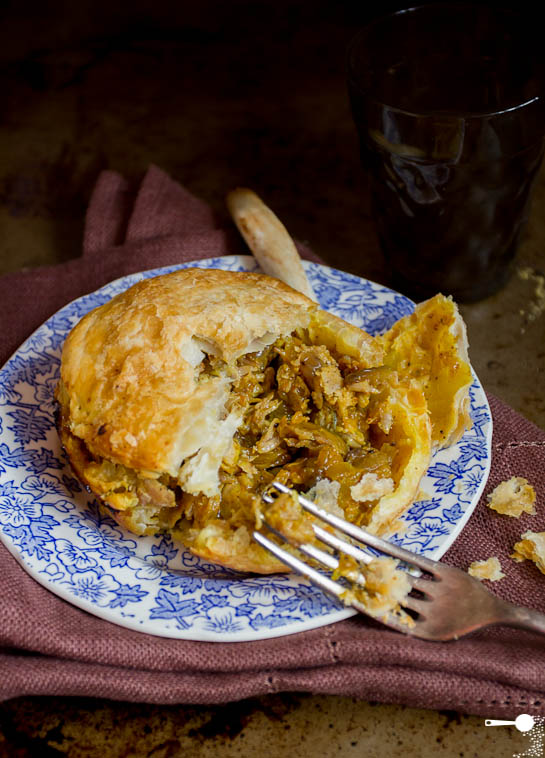 I put the ribs on, which gave me a good half hour to focus more of my attention on times tables, syllable work and whatever else that needed to be done… Quite fuss-free, really.
So, if you love ribs or have a rack leftover from a rib feast that you'd like to turn into a packed lunch or dinner the next day, I think you will thoroughly enjoy this serving idea. Roasted chicken, or slow roasted meats will work here as well, so don't feel limited by the ribs only. Even veggies are perfect if you'd like a Meatless Monday vegetarian version. If you can't get Anathoth relish where you are, any natural spiced relish could be used instead.
Pork Rib Pies
A simple Pork Rib Pie recipe that's perfect for turning leftover ribs into a scrumptious meal. Use my Chilli Beer Rib recipe as a base or go with leftover ribs or roast meats. If you can't find Anathoth relish, use any other natural relish of your choice.
Ingredients
For the Pork Rib Pies:
500

g

leftover cooked ribs or 1 serve of Chilli Beer ribs

1/2

cup

Anathoth Farmstyle Pickle

see note above

1

sheet frozen puff pastry

thawed slightly

olive oil for greasing the pie tin
Instructions
To make the Pork Rib Pies:
Scrape meat off ribs onto a cutting board and chop coarsely. (Keep 2 of the bones if you wish to make a vent in the lid using them.)

Transfer meat to a mixing bowl and add relish. Mix well to combine.

Grease pie tins with a little olive oil,

Cut sheet of thawed puff pastry into 4 even squares.

Line 2 pie tins with the puff pastry squares, ensuring there is no air trapped underneath.

Spoon stuffing into the pastry-lined tins. Cover with the remaining squares and seal tightly by pressing the pastry down all the way around.

Using a knife or a glass cut off excess pastry. (If using, stick a rib bone into each pie lid to make a vent).

Bake in a preheated oven for 15 minutes or until the pastry is puffed and golden brown.
Subscribe to receive Recipes to your Inbox: