A hand blender is one of the most used appliances in our home. So, when I received an email from Kitchenware Direct to review the KitchenAid Artisan Deluxe Hand Blender I jumped at the opportunity, because of the well-known quality of the KitchenAid brand and because my old stick blender was at the end of its useful life. Now, thanks to KitchenAid Australia you have a chance to win your very own valued at $249!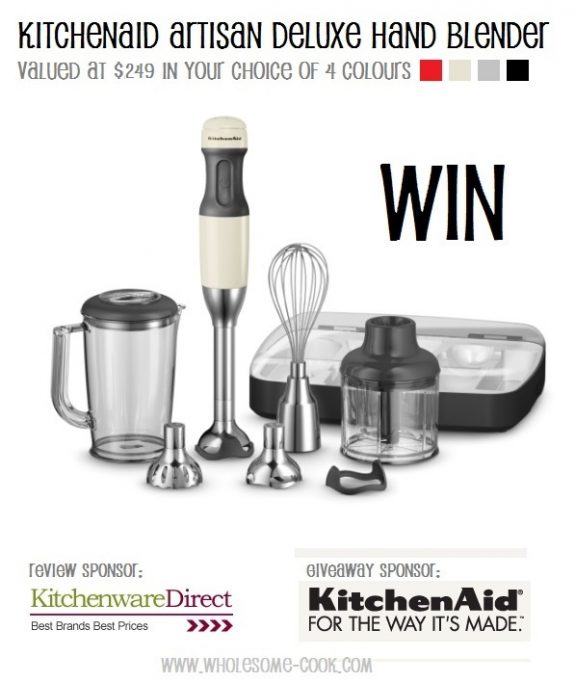 When you own the KitchenAid Artisan Deluxe Hand Blender, you'll be looking for any excuse to blend! The benefit of the Deluxe range is the fact that you don't just get a single appliance – you get a whole range of attachments which make the blender that much more useful in the kitchen. It combines the ability to blend, whisk, chop, whip, mince, shred and puree. It is just so versatile for making anything from small batch smoothies, soups, salsas, whipped cream and even crushed ice for your favourite cocktail or slushie, without the need for dragging your big benchtop mixer out, or crying when chopping up onion. 
The best thing about the KitchenAid brand of products is their attention to detail. The hand blender comes with a range of three stainless steel bell-blade attachments which are safer to use in hot liquids than other brands' plastic ones. As an added benefit, the patented pan guard system which easily clips onto each attachment, prevents scratching of cookware when pureeing soups and protects blades when not in use. Perfect if you have non-stick pans! While made out of plastic, it's BPA-free which means it can be used safely at high temperatures. The blender also provides precision by incorporating a 5 speed dial on the handle – great for when you need more precise results.
I honestly cannot live without mine (here's proof) and having used other brands before I am completely satisfied with the quality of this particular product.
The bell-blade attachments are great for:
blending soups, hot and cold

smoothies, ice pops and 

instant ice creams like this
dips like hommus

making puree for baby food or to add to soups, sauces and stews for fussy eaters
The BPA-free 1 litre beaker is great for making whole fruit and veg smoothies, and storing them in the fridge for easy access anytime.
The 2-cup capacity BPA-free chopper is fantastic for:
mincing fish for Healthy Fish Fingers and Fish Burgers
crushing ice for slushies and your favourite cocktails
making your own natural Nut Butter
making salsas, bruschetta-style toppings and, of course, chopping up onion
chopping nuts
The whisk attachment is great for:
whipping up small batches of whipped cream

fluffing up eggs for an omelette

blending pancake batter

and because it detaches and because it is metal, you can use it to whisk hot sauces, custard, etc directly in the pan!
WIN your very own KitchenAid Artisan Deluxe Hand Blender
Thanks to KitchenAid Australia you have a chance to win one of the KitchenAid Artisan Deluxe Hand Blenders valued at A$249, in your choice of colours: Almond Cream, Empire Red, Onyx Black or Stainless Steel, guaranteed to compliment any kitchen!
To enter, you MUST:  1) register your entry via the Rafflecopter form or link below; 2) leave a comment on this post telling me what you will make first using your new blender. Bonus entries can also be earned once you've registered.
Terms: Giveaway is open to readers with an Australian delivery address only and will close at 11:59pm Sydney time on Sunday, 16th June 2013. Winner will be chosen at random, announced on this post and notified by email on Monday 17th June.