This silky smooth Sugar-Free Yoghurt Cheesecake with a hint of lime is absolutely amazing. Gluten-free, sugar-free, nutrient-rich and totally guilt-free! 
Last Wednesday we had our datenight. I spent most of the day running between the shops and the kitchen, prepping for dinner and brainstorming various dessert ideas as such. I settled on the Crunchynut Yoghurt Cheesecake from her IQS Cookbook instead. And I am so glad I did!
Wow, I seriously had trouble stopping at just one slice. Actually, I might have saved a couple of slices for breakfast *grin* and to be honest, there's nothing wrong with having this cheesecake to start your day.  In fact, if thrown together into a bowl, majority of the ingredients would make a nutritionally balanced breakfast indeed. And yes, sugar-free, too! Even our dog quickly worked out this was a tasty number for sure!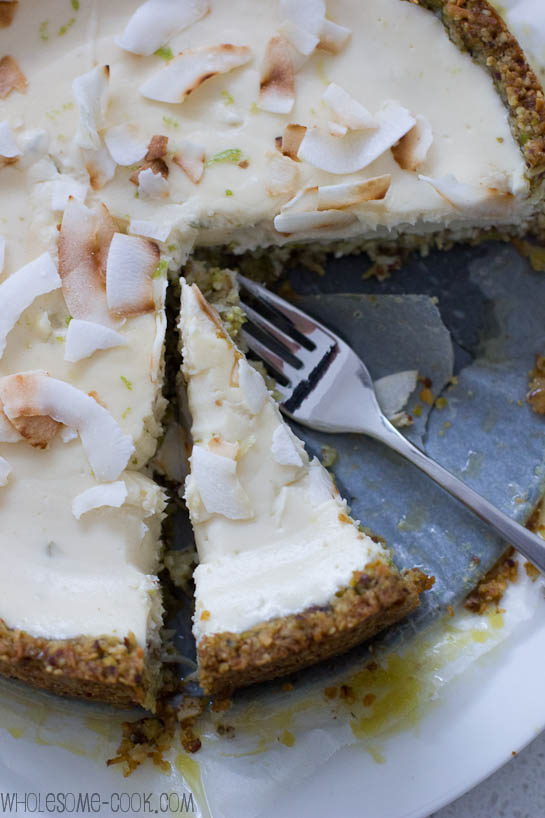 I changed the recipe up a little since I didn't have the required 24 hours to hang the yoghurt to make it into cheese, nor did I actually have the required amount. Instead I used a tub of cream cheese mixed with natural yoghurt that I hung for about an hour, while I ran back to the shops to get eggs which I had forgotten to buy during my first and second trips there. What did I tell you.
Since I wanted to make the cheesecake a little more refreshing, it made perfect sense to add some lime juice and zest to the mixture. As for the crust, I used the recommended amounts of pistachios and coconut, but substituted some of the almond meal for LSA (linseed, sunflower and almond mix) and… hemp seed. Now, hemp seed is something I have recently discovered and love – they come hulled so that you are not running the risk of mature plants growing in your compost bin. The seeds have a slight nutty flavour and contain not only all 10 essential amino acids, but are also rich in essential fatty acids (the omegas). Perfect nutrient boost for the cheesecake.
For more sugar-free or low sugar inspiration check out:
– my debut cookbook, The Wholesome Cook,  featuring 180 refined sugar-free recipes all with gluten-free options. Plus detailed additive-free shopping guides, wholefood kitchen tips and my take on sugar, fat, gluten and legumes, soy and dairy.
If you're really serious about busting sugar for good, check out also Sarah Wilson's cookbooks.
Sarah's Sugar-Free Yoghurt Cheesecake with a Lime Twist
Adapted from Sarah Wilson's
I Quit Sugar Cookbook
. *If you can't find hemp seeds, just use 1/2 cup almond meal and 1/2 cup LSA.
Ingredients
For the base:
1

cup

shelled pistachios

1

cup

shredded coconut

1/3

cup

almond meal

1/3

cup

LSA*

1/3

cup

hemp seeds*

120

g

unsalted butter

at room temperature, cubed
For the Yoghurt filling:
250

g

cream cheese

500

g

Greek yoghurt

5

tbsp

coconut cream

1/4

cup

rice malt syrup

1

egg

lightly beaten

2

limes, zested

1

tbsp

freshly squeezed lime juice
To serve:
1

tbsp

lightly toasted coconut chips

extra lime zest
Instructions
Preheat oven to 180C (160C fan-forced, 325F, gas mark 3).

Line the sides and base of a 23cm spring form tin with baking paper.
To strain the yoghurt:
Pour yoghurt into a fine mesh sieve suspended over a bowl and allow the whey to separate from the solids for about 30 minutes. Discard the whey.
To make the base:
Grind pistachios in a food processor or chopper until semi-fine. Transfer to a bowl and add the coconut, almond meal, LSA, hemp seeds and cubed butter. Rub with your fingers to make a dough - it will be ready when it forms a ball.

Press dough into the base and sides of the tin to an even thickness.

Bake for 5-8 minutes or until the edges are starting to turn golden. Remove from oven and allow to cool completely.
To make the cheesecake filling:
Combine the cream cheese, strained yoghurt, coconut cream, rice syrup, lime juice and zest in another bowl. Whisk together. Add egg and fold it in gently, but making sure it's well incorporated.

Pour mixture into the cooled base and return to the oven for around 30 minutes until the mixture pulls away from the base but is still custard-like in the middle. Remove from the oven, cool to to room temperature before placing in the fridge for couple of hours to set.

Serve with a sprinkling of coconut chips and extra lime zest. The cheesecake will keep in the fridge for upto 5 days as long as you keep it covered with cling wrap.