Streeeechy Homemade Mozzarella is one of the easiest and most fun types of cheese to make from scratch. PLUS, discover 6 things to do with leftover whey, save $20 on a pizza making class and get a sneak peek at a cheesemaking giveaway.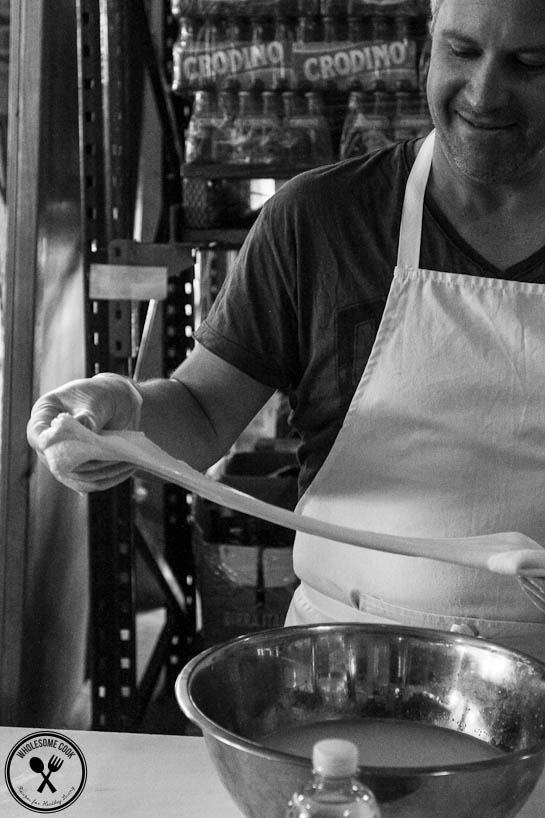 The weekend before last, I attended a Mozzarella making class at Salt Meats Cheese, an amazing deli warehouse tucked into the side of an industrial complex come hip food Mecca in Sydney's Alexandria. I have previously experimented with making homemade cheeses in the comfort of my own kitchen: farm cheese and haloumi being my two success stories, but for a while now I wanted to try making my own stretchy Italian pizza cheese. Luck had it I was checking my Facebook when I saw that Salt Meats Cheese were running a class that weekend!
Marly from Mad Millie, who ran the class for us on Saturday was a fantastic facilitator and a wealth of knowledge on cheeses, the process and methods. While much of the process requires precision in measurements and ingredients, it's quite easy really. Especially if you can get your hands on one of Mad Millie's fabulous make at home cheese kits, complete with everything you'll need to make your own curd goodness at home.
One of the best things about making your own cheese, apart from of course the cool factor and loads of satisfaction, is the fact that you can use the best ingredients to make your cheese. Think organic milk and the ability to add herbs, spices and natural flavourings straight into the cheese… While at SMC, I picked up some natural liquid smoke – herbed or smoked mozzarella, anyone?! And there were plenty of other tips to be learnt from both Marly, our cheese guru and Stefano, who being an authentic Italian shared a few tips on making shortcut burrata using stretched mozzarella "skin" and full fat ricotta as filling.
The other great thing about making your own cheese at home is the fact that you get to keep the whey. Whey is the by-product of cheesemaking. It's the slightly milky liquid left after the curds are lifted, up to 80 percent of the milk can actually be left over as whey. Despite being a by-product, whey is highly nutritious, low fat and easy to store for use later.
6 Things to Do with Leftover Whey:
Freeze into ice cubes for use later
Use whey for fermenting veggies – thanks to Shannon, one of my readers, for this tip!
Use whey in baking instead of water
Add whey to smoothies (whey frozen in ice cube is great)
Use whey for salad dressing base
Freeze into ice cubes – instant ice blocks for your pooch!
As for serving suggestion, it's hard to beat fresh simplicity of this salad. Torn Mozzarella and chunky vine-ripened tomato, sprinkling of sea salt and pepper, and of course a drizzle of good olive oil and a splash of vinegar. Bed of greens optional but they kind of complete the Italian look, don't you think?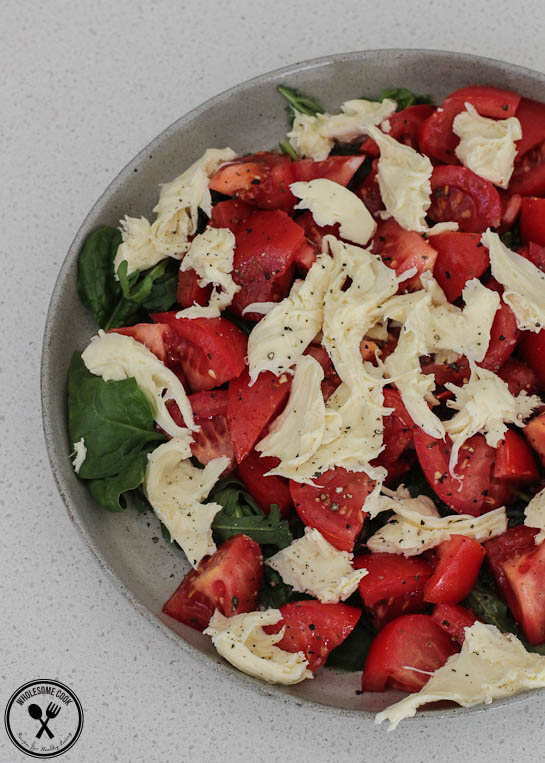 MAD MILLIE GIVEAWAY ALERT & SALT MEATS CHEESE PIZZA CLASS DISCOUNT
Stay tuned for a Mad Millie Beginner's Italian Cheesemaking Kit giveaway on Friday! For a full list of events and classes at Salt Meats Cheese see here. Plus, mention "wholesome cook" for a $20 saving on the Pizza Party Class on 23 Nov. Discount applies to phone bookings only.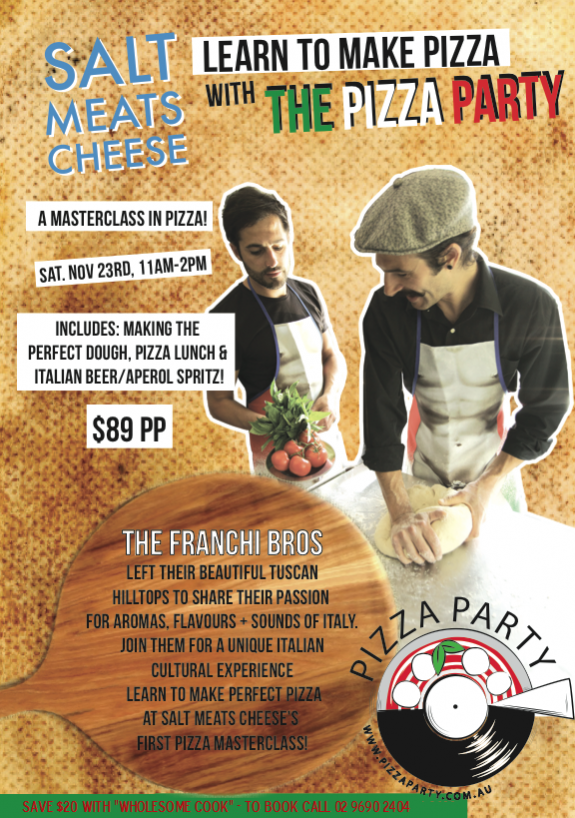 Homemade Mozarella Cheese and 7 Things to Do with Leftover Whey
Mozzarella tastes best when it's freshly made. For best quality results use organic, full cream unhomogenised milk. There are at least two brands widely available from the supermarkets nowadays. Use filtered water as chlorine can interfere with the cheesemaking process. Recipe comes from the Mad Millie Beginner's Italian Cheese Kit. Store leftover whey in ice cube containers in the freezer and add to smoothies or baking. Liquid smoke can be added to the brining liquid for extra dimension in flavour.
Ingredients
4

litres

full cream organic unhomogenised milk

2

ml

calcium chloride

a type of salt that strengthens the calcium content of the curds

2

tsp

citric acid

1/4

cup

cool filtered water

non-chlorinated

1

rennet tablet

1/4

cup

cool filtered water

non-chlorinated

100

g

sea salt flakes or non-iodised salt

to taste

5-10

ice cubes

1

litre

cool water

1

litre

70C 158F hot water
Instructions
Sterilize all equipment using a liquid steriliser or boiling hot water.

Pour milk into a large pot. Add calcium chloride and citric acid diluted in 1/4 cup water to the milk. Stir well.

Dilute rennet in the other 1/4 cup water, set aside. Stir just before using to lift any sediment.

Heat milk to 32C (89F), while constantly stirring to prevent milk overheating at the bottom. Once at the required temperature, remove milk from heat and add diluted rennet and stir twice. Cover the pot with a lid and set aside in a warm place for 25-30 minutes.

After this time, check the curd. It should be set firm at the top and when stabbed with a knife it should yield a clean break - the slit should be clean with whey coming up through the slit. Cut the curd with a knife into 3cm (just over 1inch) cubes.

Place the pot back on the stove and slowely heat the curds to 42C (108F) - do not overheat. Transfer curds into a cheesecloth lined colander set over a bowl if you are planning on keeping the whey and strain the curds and whey. Leave to drain for 5 minutes.

In the meantime, in a large bowl mix salt with cooled water and ice to create a salt bath. Place hot water in another bowl.

Add a ladleful of the drained curds to the hot water bowl and after about 20 seconds, gather as much of the curds as possible and strart stretching the cheese. Do not squeeze as that will squeeze moisture out of the cheese. Simply pull then fold over and stretch in another direction. Place the cheese back in the hot water if it becomes less pliable but is not yet smooth.

Once smooth, mould into a ball and plunge into the iced water. Repeat with the rest of the curds.

After 10 minutes in the bath, the mozzarella is ready to eat. Store in the salted brine mixed with a little whey (add a dash of liquid smoke if desired here). Consume within a day of making or slice and freeze.