Eclairs, profiteroles, Paris-Brest, cream puffs… whatever you like to call them and whatever shape, they are my go-to indulgence every time. Not too sweet and with opulent waves of fresh, whipped coffee cream in the middle and a chocolate ganache glaze on top. Did I mention they are ridiculously low in sugar?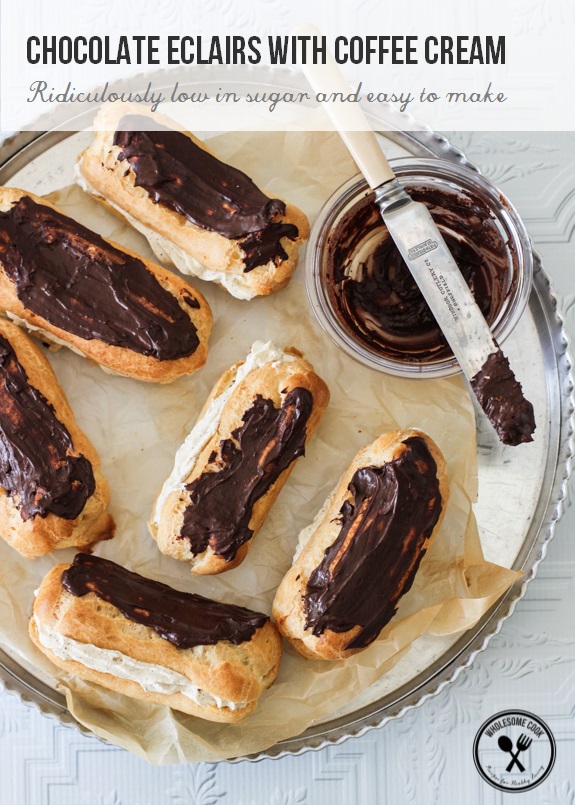 Now I have. :-)
There is a bakery in Edgecliff that makes the most perfect mini eclairs. Just like I remember from when I was a little girl.
We were quite spoilt actually. Within a short distance from our house were two artisan bakeries and three excellent patisseries specializing in Polish and French treats.
Every Friday afternoon, following ice skating training Mum would take me to the shop on the corner of Karmelicka Street and treat me to my favourites. Chocolate glazed eclair with a fresh cream filling. They were so good. Everytime I think of those moments I crave their undulating pastry, light creamy filling and that sweet chocolatey icing.
Once, I was so eager to get to my treat, I cut not only through the string tied around the tastefully wrapped box, but also the skin on my finger! Today, some 20 years on, I still have a faint little scar on my pointing finger reminding me to treat myself to a fresh cream eclair or cream puff from time to time… I simply adored them then, and still love them now.
Although now that I'm a few years older and have developed a penchant for coffee, I like to add a dash of ground coffee beans to the cream! The texture of the cream remains delicate, but the flavour is slightly more 'grown up'. This time, I thought I'd try Nespresso's new Fortissio Lungo blend. If that doesn't sound indulgent enough, the icing on the cake is actually the icing. Glossy with a crisp shell on the outside, soft and gooey underneath. Eclair perfection!
In case you don't live near Edgecliff or any other fabulous fresh cream eclair vendor in town, here is the recipe and some Choux pastry tips.
The Only Choux Pastry Recipe You'll Ever Need
Hands down, this choux pastry recipe has never failed me. I have baked it in gas and electric ovens. In Sydney and overseas. I have made it into all of the aforementioned shapes and other sizes. I've used gluten-free flour and fried it as churros!
The secret to this choux lies in simplicity. All that's needed is water, butter, flour and eggs. No embellishments. No sugar. No anything else. I just have to remind myself from time to time that when an indulgent treat like this forms part of a fail-proof cooking repertoire, it must remain an occasional indulgence instead of daily dessert. The word occasional demystifies the French Paradox, doesn't it? Best shared with friends.
PS Since the pastry is savoury, you can use the pastry with savoury fillings or to make puff pastry "croutons" for soups.
Coffee Cream Eclairs and the Only Choux Pastry Recipe You'll Ever Need
Okay. So it might look like a bit of a long recipe but it's quite simple. It's my go-to recipe when unexpected guests pop in because it's so quick. Since the pastry is savoury, you can use the pastry with savoury fillings or to make mini croutons for soups or fill the shells with savoury toppings. The ratio is also easy to make 3-4 eclairs with half the ingredients. For an even lower sugar version and If you don't want to glaze these with chocolate, you can simply dust them with cacao powder and add extra sweetener to the cream.
Ingredients
For the Choux Pastry:

1/2

cup

water

40

g

butter

chopped

1/2

cup

plain flour

2

eggs

For the Coffee Cream Filling:

1

cup

fresh cream

2

tablespoons

tbsp unrefined icing sugar

10 stevia drops or 2Natvia

1/4

tsp

vanilla powder or essence

1

tsp

finely ground coffee

I used Nespresso's new Fortissio Lungo blend
For the chocolate glaze icing:
3

tbsp

milk

40

g

dark 85% cocoa chocolate

chopped finely
Instructions
Preheat oven to 220C (425F, gas mark 7).

In a small saucepan set over medium heat bring water and butter to a boil. Add flour and mix vigorously with a wooden spoon until the mixture comes away from the sides and forms a ball. This should only take a few seconds.Transfer dough to a mixing bowl and flatten to cool slightly. Add eggs and beat with an electric mixer or whisk until glossy and smooth (I use my Braun stick blender with a whisk attachment for single egg quantity like this).

Using a 2cm round piping tip or a zip lock bag with a 1.5cm hole cut in it pipe dough into 4 inch long logs about 1 inch apart.

Bake at 220C (425F, gas mark 7) for 8 minutes, 180C (350F, gas mark 4) for 10 minutes, plus 5 minutes standing with the oven off and door slightly ajar. Transfer to a cooling rack to cool completely before filling,
In the meantime prepare the glaze and cream filling.
For the glaze, place milk and chocolate in a small bowl and heat on medium high setting in the microwave for 20 seconds. Mix gently to melt and form a ganache.

For the filling, beat cream with sugar (stevia or Natvia), vanilla and freshly ground coffee until firm peaks form. Store in the fridge until needed.

Cut cooled eclairs in half horizontally. Fill each half with whipped cream, sandwich together and spread the top in chocolate icing. Place on a cool cookie tray and chill in the fridge for the icing to set. The eclairs should keep in the fridge for 2-3 days un-iced, or a day when iced.