Homemade Goat's Cheese, also referred to as Chèvre in Australia (French for goat), is easy to make and tastes deliciously sweet and creamy. It's also a fun project to keep in mind for the school holidays and festive soirees. The kind I happened to host a couple of weeks ago for a couple of blogging and foodie friends.
No matter whom I have spoken to recently, everyone shares the same sentiment – the year has gone by too quickly. We all seem to have more to do and less time to do it in. My story is not much different… And then my dear readers, there is you.
I feel like I have moved my digital existence onto Facebook and Instagram in the last month and a bit. In fact, I mostly have. My silence has not been a case of writer's block or a much needed time off. It's a result of an enormous workload I have committed to in the past few months. A workload that has seen me developing and writing over 220 recipes for various cookbooks – many of which I would have loved to have shared with you, but I can't for a while yet. I promise to let you know all the details as soon as I can. I've been shooting for other projects as well as, you know, having a life with my family.
I'm sorry for being quiet – I hope that this has given you a little time to browse through the recipe archives, there are some real gems there and cook from my eBooks. I hope to return to more regular recipe updates from January. My focus will continue to be on bioindividuality with an occasional full-blown (okay, somewhat out there) indulgence. I also have a few exciting things planned for the second part of next year, so stay tuned.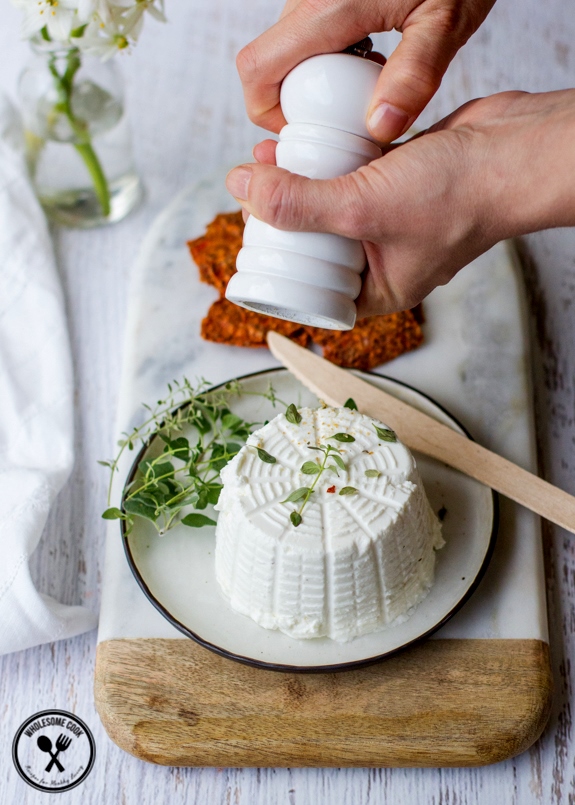 To break the cycle of being stuck in the kitchen testing, or in the studio shooting and editing, back in November I decided to throw a little festive soiree for a handful of blogger and foodie friends. Everyone brought a plate of their favourite recipe or samples of some of the things they make and sell – I've even included Sally's Fit Mixes and Cindy's Luk Beautifood natural make up in the gift guide coming your way next week.  We chatted about  real food, exchanged Kris Kringle gifts and had a fabulous time, face to face!
To make things a little more exciting Arlo from Om Nom Cheese Making came along to teach us how to make homemade halloumi and goat's cheese and she was fantastic! Such a bright and knowledgeable tutor. The halloumi was brilliant, but the goat's cheese, my gosh, it was something else!
The cheese was similar in texture to a creamy and smooth chevre, but with a mild flavour of ricotta. We served it fresh with a little seasoning of fresh oregano and thyme from the garden and a good sprinkling of smoked salt. A side of Fine Fettle Flats (how cool are these?) was all that was needed to scoop up its creamy deliciousness. Amazing and so simple to make. Jars of leftover whey were handed out too – they are great for baking and adding substance to smoothies.
As part of our class each of us received a cheese making kit to take home (they are available from Arlo's website and she can ship them Australia wide). I was lucky enough to be left with a second batch coagulating in my pantry overnight. I strained it in a cheesecloth-lined sieve and pressed into a ricotta basket. It made it a little more fancy.
If one of your new year's resolutions is to make something from scratch, I would wholeheartedly encourage you to make this cheese. Impressive, easy  – truly simple despite the BIG head note there and so, so good!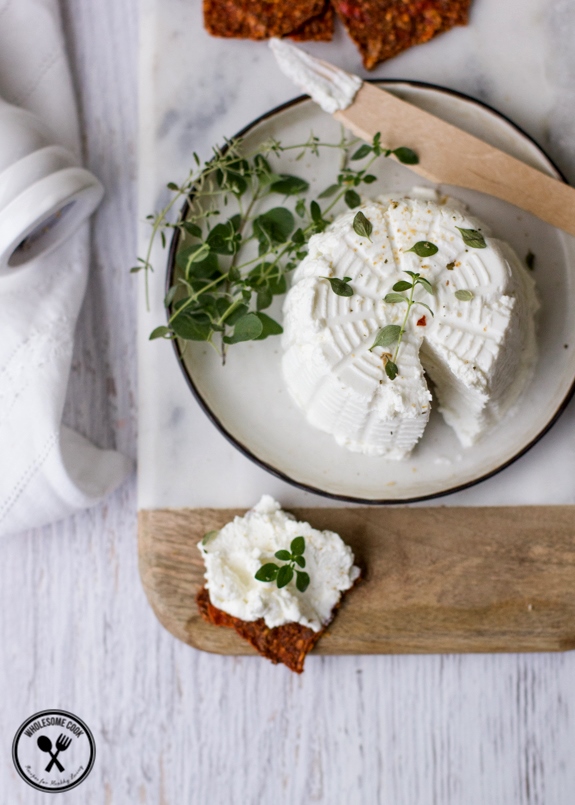 Homemade Goat's Cheese
This particular recipe is for soft (cream) goat's cheese and makes about 1 cup. Specific cheese making ingredients can be found online (in Australia you can get them from
Om Nom Cheese Making
) or good gourmet delis and cheese making stores. Calcium Chloride is added to rebalance the calcium content of milk as the manufacturing processes of pasteurization, heating and rapidly cooling the milk, and homogenization decreases the amount of calcium in the milk and can affect the clotting properties.You can purchase grass-fed milk powders online, I like to use the
Organic Times
brand.
Note on equipment and measures
: You will need a digital kitchen thermometer, a 1m-capacity syringe, cheesecloth or a large suqare of sterile gauze (available from pharmacies).
Measurement conversions
: If you don't have a 1ml syringe, use regular kitchen measuring spoons where 1 teaspoon is 5ml. For 0.3ml calcium chloride use a quarter of an 1/8 (5ml) teaspoon, for 0.5ml rennet use just under half of an 1/8 teaspoon. For 1/4 drop spoon (1/64th of a teaspoon) use the amount equivalent to about 2 sesame seeds.
Ingredients
1

litre

goat's milk

2

tablespoons

skim milk powder

optional

0.3

ml

calcium chloride

see note above if you don't have a 1ml-capacity syringe

1/4

drop spoon

mesophilic culture

see notes above if you don't have a drop spoon

0.5

ml

liquid rennet or 1/16th tablet rennet (diluted in 1 tablespoon cool non-chlorinated water), see note above if you don't have a 1ml-capacity syringe

Flavoured salt and herbs

to taste, optional
Instructions
Place milk and skim milk powder, if using, in a heavy-based saucepan. Stir in calcium chloride.

Heat the milk, stirring, to 22C (71.5F). Add the mesophilic culrure, rennet and stir through the milk for 30-60 seconds. Set aside at room temperature for 16-24 hours until the curds have visibly separated from the whey into a block.

Line a sieve with the cheesecloth and strain the mixture into the cloth. Add flavoured salt and herbs, if using. Gather the edges and hang to strain over a bowl, in the fridge, for 6-12 hours (similar to

this method here

).

Transfer to a cheese basket if using, pressing in and unmould before serving. Store the cheese in an air-tight container in the fridge for 5-7 days.