Now that we are back, I am keen to share this John Dory recipe with you. It is really simple and one of the most popular ways to serve fish in the Mediterranean.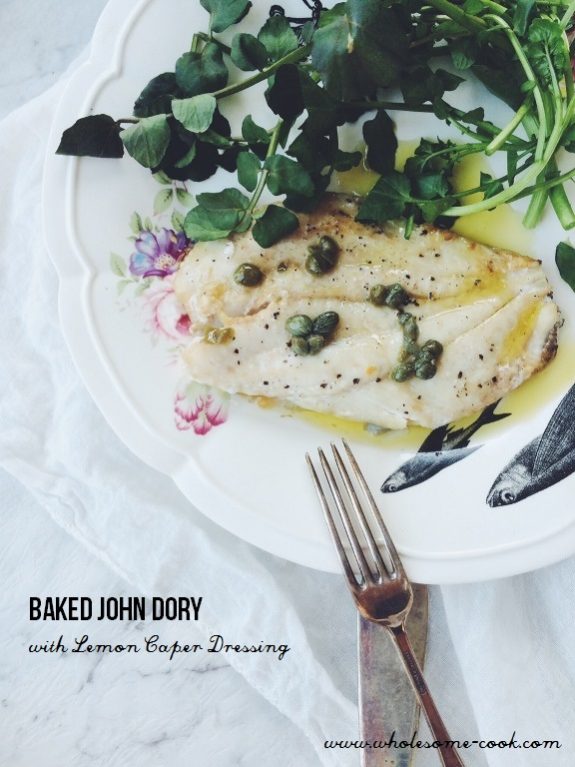 Inspiration for the John Dory recipe
During the two weeks we spent in Rome, Venice and the south of France I quickly discovered that it was almost impossible to eat badly – locally wild-caught fish, seafood and freshly prepared salads and vegetables featured heavily on menus.
The Mediterranean style of eating suited me well. Sea bass and John Dory prepared in various ways as well as ripe ox heart tomato salads became my daily nourishment of choice. First-pressing olive oil flowed freely. 
The beauty of taking a European holiday in August is the abundance of fresh produce. It sits right in that sweet spot of Indian summer, the changing of seasons. Ripe stone fruit, currants with their tart twang I remember fondly from my childhood days. Plump ox heart tomatoes lining every grocer's stall and, of course, just coming into season wild-foraged mushrooms: girolles, chanterelles and ceps, especially popular in France.
Surprisingly, perhaps, we also found that there were plenty of gluten-free restaurants in Italy. Some recommended by Portrait Roma, our wonderful hotel, others found by chance and quite affordable. On a couple of occasions, we dined with Matt's parents and it was great to see him enjoy gluten-free pizza here and pasta here. Breads in France came in the form of fermented sourdough. They sit better on the gut and plenty of gluten-free options were also available in most places. And the seafood story continued – finally I got to like Sardines!
Baked John Dory
My only regret was that I did not get to have my own kitchen. It was a momentary feeling though. The benefit of eating out was that we got to try local cuisines and had extra time for sightseeing.
However, now that we are back home I am keen to share this recipe with you. It is really simple and one of the most popular ways to serve fish in the Mediterranean.
John Dory fillets are baked in butter, with lemon and capers. This makes for a delicious dressing for the fish. It also helps keep it moist.
Baked John Dory with Lemon Caper Dressing
I was smitten by the simple way of preparing fish in Italy and France. Baked whole or as fillets then dressed simply in own juices with olive oil, lemon juice and capers. Perfection.
Ingredients
2

tablespoons

olive oil

plus 2-3 extra to serve

2

John Dory fillets with skin on

2

teaspoons

capers in brine

1/2

lemon, juiced

freshly ground black pepper
To serve:
handful per serve

watercress or other salad greens
Instructions
Preheat oven to 180C (350F).

Grease an oven-proof dish or skillet with olive oil and place fish, skin side down, in the dish. Bake for 10 minutes (you will need to a little longer for thicker fillets). Test your fish by pushing a skewer into the flesh – if there is resistance, it will need to cook a little longer. If the skewer pushes in and comes out easily it means the fish is flaky and ready.

Remove from oven and transfer to serving plates. Add extra olive oil, lemon juice and capers to the pan and mix well. Drizzle over the fish and season with pepper.

Serve with a mixed green salad or watercress.