I'm interested to hear your opinion on the whole kids party food thing. Should it be healthy or all-out indulgent? Should there be balance? Do you watch out for additives or excess sugar, or perhaps when it comes to parties it's just whatever goes? Here are my thoughts, tips and some real life examples of party foods that are that little bit healthier. 
Last year, at one of the parties I hosted and catered for the kids, I received a somewhat upsetting comment about there being no "real" party food because, I suppose, I refuse to make fairy bread, serve excess sugar in soft drinks and brightly-coloured snacks to young party goers. Mind you, I wasn't all kale chips and coconut water either! I still served crisps, popcorn, homemade sausage rolls with dips, veggie sticks and fruit platters – we might have even ordered pizzas, I can't recall which party it was. I did get a little upset, because I didn't think that in this day and age it was really that super extreme to opt for healthier food options.
I must admit, after sitting on the comment for a bit, I succumbed to a touch of peer pressure and ended up giving Matt some marshmallows to toast which, to cut a long story short, ended up setting our back deck on fire. It kind of reinforced my stance that some foods are just trouble. Thankfully, no one was hurt and I received a number of messages from some of the mums saying how great it was to see a spread of healthier, real food options at a kids' party. That and the fact that the kids happily ate most of the food served made me feel a whole lot better.
This year I wanted to avoid fires, and jazz up the food a little more, while still serving up some of the healthier options. It was a disco party so the kids were going to spend 3 hours dancing and "burning off" the food they ate. We needed food for energy and hydration. And cake, which looked great and thanks to all the healthier alternatives served earlier, I was happy with it being a little bit more indulgent. And I think that's my take on the whole kids' party food conundrum. Leave the indulgence for something that's truly special – like a cool birthday cake!
My 8 simple rules to serving healthier food at a birthday party 
Avoid additives, artificial sweeteners and preservatives where possible – It goes for both sweet and savoury items. Store-bought snacks are fine as long as you check the ingredients list and pick the ones with no or the least amount of additives such as colours, preservatives and artificial sweeteners, etc. It might not always be possible to avoid them entirely or only pick foods that are completely additive-free, so remember that while zero is better than 20%, 20% is better than 100%.
Serve plain or FYO water – plain water is best for rehydrating, but if your guests prefer a little zing in theirs Flavour Your Own (FYO) with a few slices of lemon, a sprig of fresh mint, a good splash of peppermint tea, strawberries and cucumber slices or raspberries and raspberry kombucha – a fermented organic drink – great for aiding digestion. A 330ml bottle of kombucha (I like Mojo's raspberry, Buchi's hibiscus galangal and lime and Remedy's Hibiscus one) will flavour 3-4 litres of water. You can also make your own. I also made some Better than OJ Orange Juice (recipe in the book) but accidentally used grapefruit from the freezer so the reviews of the otherwise family favourite were mixed.
I'd definitely avoid things like Mio water enhancers, LQD+ flavour drink concentrates (I think their tagline of Just Flavour is utterly misleading) or Soda Stream syrups (some people think they are healthier because they are homemade…), especially the sugar-free ones – most are filled with fake sweeteners and fake ingredients, it's beyond me how they can be sold as food fit for human consumption.
Savoury snacks – Vegie sticks and veggie-ful dips are great. Try a pumpkin hommus or plain yoghurt tzatziki. Salt-flavoured crisps are generally the best because they tend to contain just 3 ingredients – potato, salt and oil. I love these avocado oil-cooked crisps and olive oil-cooked kettle crisps! Some sweet potato chips are also okay as an indulgence. Lentil chips are also a novelty snack item and the salted variety is pretty good.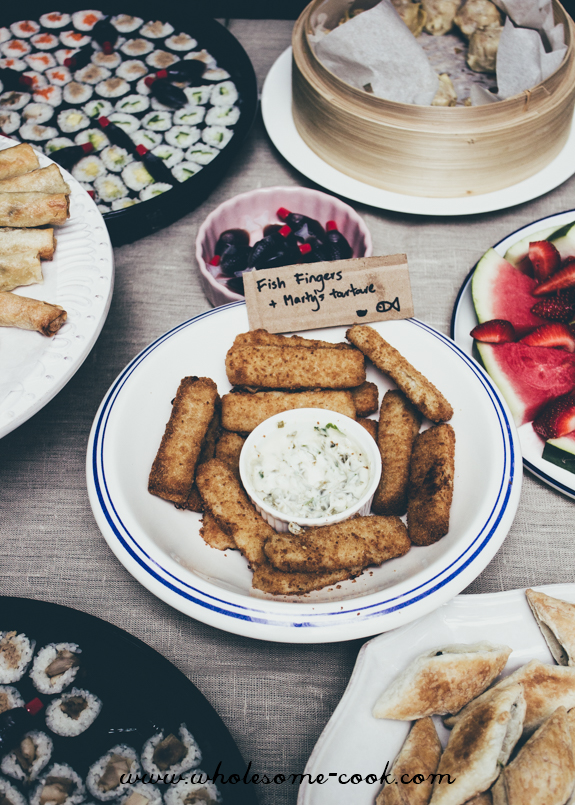 Hot food – we got some of Jamie Oliver's Fish Fingers – the ingredient list reads better than most, and served them with Blender Mayo (page 53 of The Wholesome Cook book) Tartare style with fermented dill pickles (page 66), spring onion and capers.
While I've refused to buy frankfurts and hot dogs for years now, a chance discovery of these grass-fed beef natural Viennas (well, franks) with no preservatives or additives might have me reconsider to perhaps include these on party menus in the future – they'd definitely count as a real party food, right? Great served with homemade tomato sauce.  The sausage rolls and mini pies (pages 247 and 248 The Wholesome Cook book) are also fab as finger food for parties.
Spring rolls can also be easily made at home using this recipe and dumplings are always popular, too. As for the pork buns, they were store-bought ones of some slightly dubious brand and not many were eaten. That's perhaps for the best. Cheese and spinach-filled pastries came from a local bakery.
Sushi rolls and sandwiches – you can make baby sushi rolls yourself, but I prefer to make my own sandwiches and simply order a sushi platter from a shop. Carrot, cucumber, avocado, chicken and apparently, tuna are the most popular fillings. As for the sandwiches, I like an all veggie filling, cheese pate and pickle – again fab for the gut, and turmeric, hard-boiled egg and pea salad with blender mayo (page 53 in the book). Here are some other filling ideas you might like. Oh, and I try to opt for organic sandwich sourdough rye or other more wholegrain variety bread such as Bills.
Sweet snacks – again, store-bought snacks are fine as long as you check the ingredients list. Avoid anything with excess processed sugar like lollies – leave the indulgence for cake. As are the Rice and Quinoa Krispie Squares (page 273 of the book). I also made some "Reindeer Poo" using Fit Mixes Chocolate Chia Protein Balls and bought some xylitol-sweetened chocolate snowmen (picked up from a health food store). Stick to the 90/10 rule when it comes to excess sugar. I'd rather leave a little more room for an indulgence in birthday cake, for instance. You can also make your own jelly using raspberry water and grass-fed gelatin (tips for this are, again, in the book) – you'll be avoiding colour additives and excess sugar.
Serve fruit and veg – give them the option. Have a few chilled fruit platters around (kids love fruit) and mix up savoury snacks with veggies when serving. You'll be surprised how quickly you'll have to top these up. Fruit skewers and fruit salad cups are okay, but you might end up with half-eaten half-wasted lots because kids' tastes vary.
Do not feed the pets – xylitol, avocado, excess sugar and salt can be harmful to pets so ask your friends to ask a grown up before they feed your pet.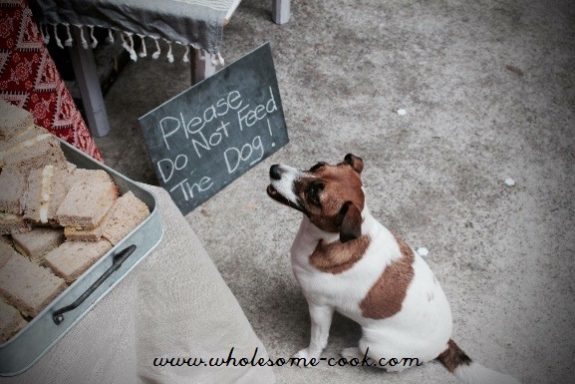 For more healthy living inspiration check out my debut cookbook, The Wholesome Cook, featuring 180 refined sugar-free recipes all with gluten-free options. Plus detailed additive-free shopping guides, wholefood kitchen tips and my take on sugar, fat, gluten and legumes, soy and dairy.