Last time I wrote I was having what can only be described as a pregnancy induced semi-craving for wintry crumble and cheesecake and then I blinked and it's spring! My belly has well and truly popped and I've been busy creating some mouthwatering recipes behind the scenes. Here is one of them.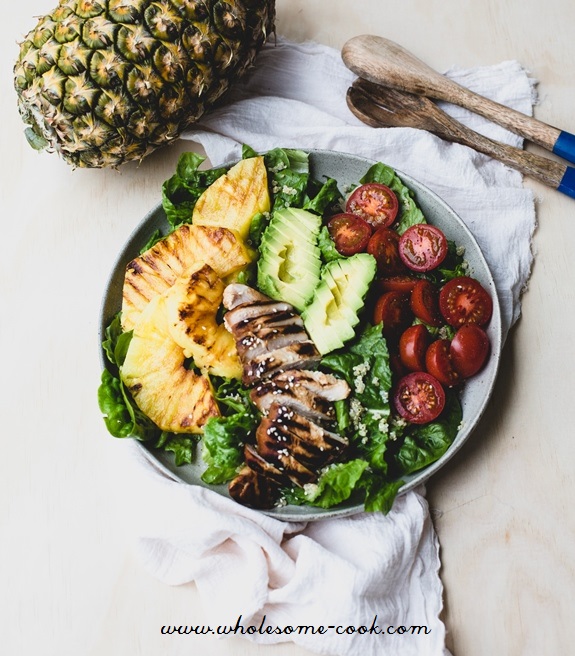 Well, to be honest, a lot has gone on since my last post.
We've been busy preparing the house and ourselves for the new arrival who is only around 5 weeks away from being here.
The construction of the nursery and guest room split went way over time so while I was trying to manage up to 8 tradies a day because we thought it was a good idea to freshen up the paint in the entire house at the same time, I wasn't having the most productive of times. Thankfully, the nursery is now ready (sans the custom rug which we are still waiting on because of the shape of the room) and my belly has well and truly popped – see!
In amongst all the chaos, I have been able to continue to write for Nourish so if you've picked up a copy of the now-monthly mag, you would have have a good dose of recipes to try.
In the meantime, also, I've accepted the very exciting role of becoming Australian Pineapples ambassador and over the next little while it will be my job to create mouthwatering recipes using this delicious tropical fruit, which by the way – and I did not know this before, is available year-round in Australia.
They are a great source of vitamin C which is great for boosting the immune system in winter and keeping skin nice and glowing in summer when it can help prevent sun damage. Yup, pineapples are a great all-rounder. I've read that pineapples can also help increase milk supply when breastfeeding – how very timely indeed!
I thought I'd share another pineapple recipe with you for one of my favourite salads of late.
PS Here are some interesting tips for buying and storing pineapples. And one other point to note: those topless pineapples available throughout colder months are actually much sweeter than their top-on counterparts, so don't be afraid to give them a go.
Teriyaki Chicken and Grilled Pineapple Salad
Those topless pineapples available throughout colder months are actually much sweeter than their top-on counterparts, so don't be afraid to give them a go. Oh, and I think a piece of grilled salmon, teriyaki or otherwise would go really well in this salad as well.
Ingredients
3

tablespoons

tamari

1

teaspoon

honey or rice syrup

1

teaspoon

sesame seeds

2

chicken breasts

1/2

small pineapple

1

baby cos lettuce

½

cup

cooked quinoa or rice, cooled

12

cocktail or large cherry tomatoes

2

small avocados

2

teaspoons

sesame seeds
Instructions
In a large bowl, whisk together the tamari, honey or rice syrup and sesame seeds. Add the chicken breast and mix well, marinate for 5 minutes.

Meanwhile, peel and core the pineapple, slice into 1cm-thick slices. Heat a large frying pan or grill pan on high and cook the pineapple slices for 1 minutes on each side. Remove from heat. Add the chicken to the pan, reduce heat to medium high and cook on each side for 5-6 minutes.

Meanwhile, slice cos lettuce and divide between two serving plates, sprinkle evenly with quinoa. Cut tomatoes in half, scoop the flesh out of the avocado and arrange both on top of the lettuce along with the pineapple. Slice chicken into strips and transfer to the salads, sprinkle with sesame seeds.