There is nothing more comforting on a cold wintry afternoon or evening than a good dollop of a warm, crunchy crumble. Food wise, that is.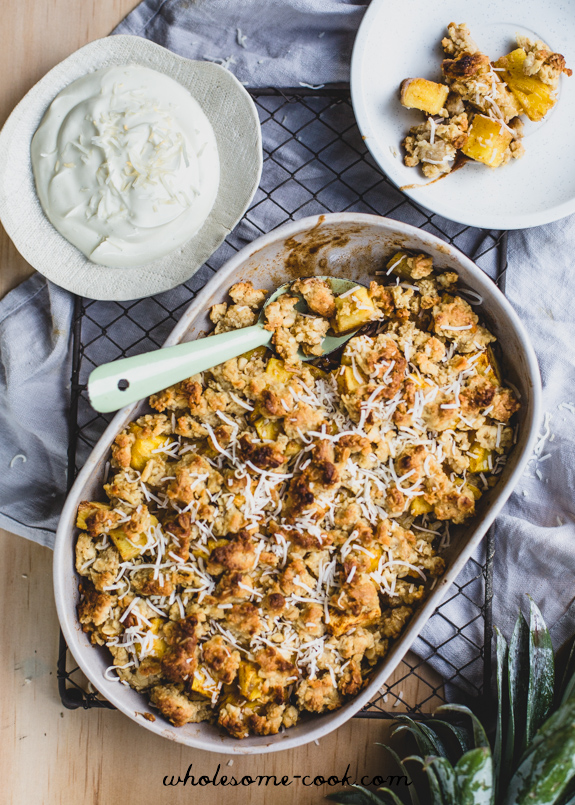 Other things, of course come more recommended for warmth and comfort this winter: a warm blanket, a pair of uggs a cup of cocoa or tea shared with a friend.
The power of human connection is one of my favourite heart warmers. I've recently come to have a handful of my mother's group friends over on Sunday afternoons and it's been FANTASTIC.
I've also come to love the hour or two before Mijka's bedtime where we dance, sing, play hide and seek, which with an almost two year old is more fun than you can imagine. The tickle time which fills the room with the most amazing waves of uncontrollable laughter, deep from within her belly. It's so infectious one can only laugh with. The cuddles on the couch as we read.
So much love.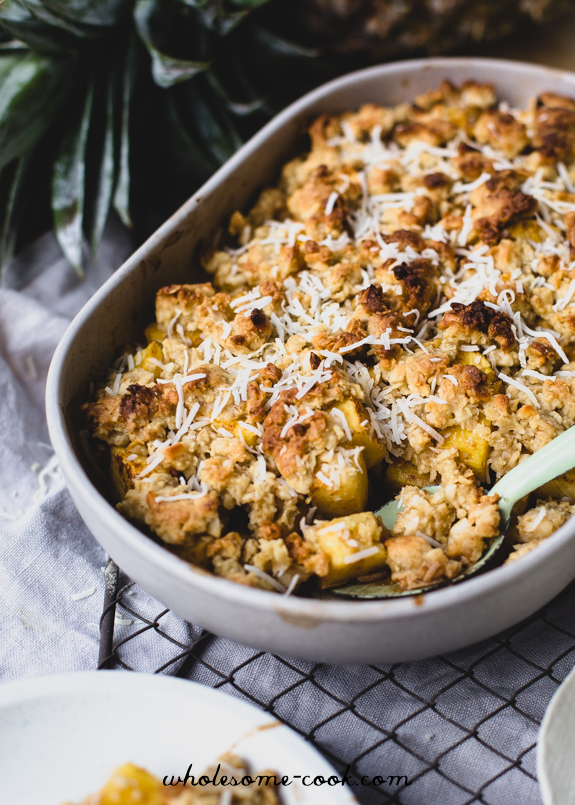 The wonderful thing about this crumble is that the house becomes filled with the sweetest smell of pineapple and baking. It makes it smell like a home. It truly does.
The juice and a touch of sugar and cinnamon caramelise into lashings if an incredibly moreish sauce that coats the golden pineapple pieces. And the crumble on top is just magic.
The bonus is that it can be easily adapted for both gluten and dairy allergies, and it is egg-free. I like it so much, I've added it to my latest cookbook, Recipes for Life's Seasons, in the desserts section.
Easy Pineapple Gingerbread Crumble
Cosy up with a bowl of this beautiful roasted pineapple crumble – the perfect way to bring a touch of endless Aussie summer to the dinner table during the colder months. Includes a gluten-free and dairy-free option.
Ingredients
3/4

cup

rolled oats or quinoa flakes

1/4

cup

wholemeal flour or gluten-free flour mixture

2

tablespoons

slivered almonds

chopped finely

75

g

cold butter or cold coconut oil

3

tablespoons

honey

1

pineapple

peeled, cored and cut into chunks

1

teaspoon

ginger powder

1/2

teaspoon

cinnamon

1/4

teaspoon

ground cloves

1/4

cup

water

2

tablespoons

shredded coconut

to serve
Instructions
Preheat oven to 180°C (160°C fan-forced).

To make the crumble, mix together the oats, flour, almonds, butter or coconut oil and honey until sticky breadcrumbs form. Place in the fridge for 5-10 minutes.

Meanwhile prepare the pineapple. Mix together the pineapple, ginger, cinnamon, cloves and water in a large baking dish.

Place coconut flakes in a small frying pan set over medium heat and toast for 1 minute.

Sprinkle the pineapple with crumble and bake for 25 minutes or until the crumble is golden and pineapple caramelised slightly. Remove from the oven and serve topped with toasted coconut flakes.
Notes
Tip: Serve with a scoop of vanilla ice cream or custard, but the crumble is just as delicious all on its own. Method