This Tuna Spread is simple to make, versatile and an all-round crowd pleaser. Add it to salads, dollop onto creamy pasta, serve with crackers or pop into toasties.
Perhaps it's one of the most understated recipes I've shared; but a total winner in my books. Make it in a sandwich press or jaffle maker – and who doesn't love a good toastie, amiright?
As a rule of thumb I keep canned of tuna in my pantry at all times. It makes for a good snack but this mixture of simple ingredients elevates it into a delicious lunch or supper and snacky dip when friends unexpectedly pop over.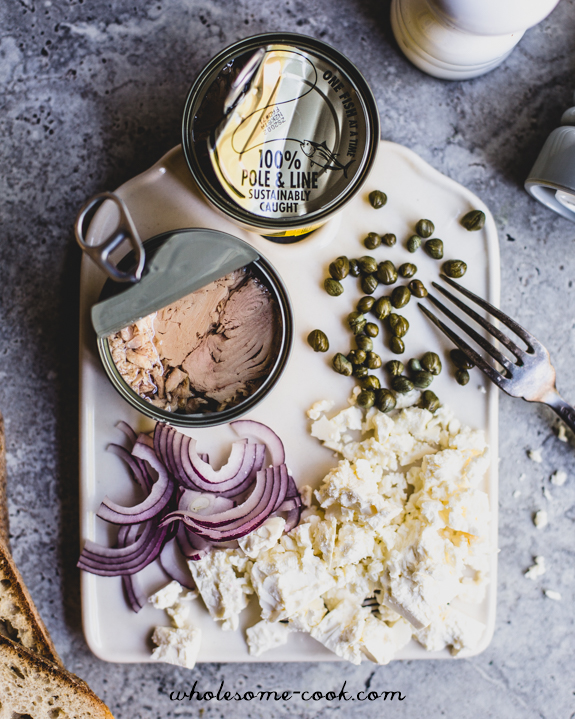 I've found this to be my favourite way to enjoy tuna. It becomes something else thanks to the chunks of tangy feta, the peppery onion and extra virgin olive oil. And little pops of vinegary capers!
RELATED: How to make Perfectly Grilled Sandwiches without a Cafe-Style Press
Most importantly, opt for quality canned tuna in olive oil – check the ingredients list. Alternatively, use tuna in springwater or brine. Then add some extra virgin oil to the fish first then mash it in with a fork. This way you will be avoiding excess processed oils.
When buying feta, opt for a soft textured variety, but again, check the ingredients list. Many soft and creamy feta cheeses are made with the addition of vegetable and other processed oils to achieve the desired texture.
I love this tuna spread in a toastie! You can also add it to salads, dollop onto creamy pasta, serve with crackers when entertaining.
Toasties with Tuna, Feta and Caper Spread
You can make a bigger batch that you can store in the fridge for 3-4 days by using one 400g can tuna and a 200g packet of feta and a small Spanish onion. If you don't have a
sandwich press or jaffle maker
you can still make toasties in a frying pan using
this method
Ingredients
2

95g

cans tuna in springwater or oil

100

g

feta

2

teaspoons

capers

1

tablepsoon

finely chopped Spanish Onion

2

tablespoons

extra virgin olive oil

freshly cracked black pepper

to taste

4

slices

Sourdough or other bread
Instructions
Drain tuna. Mash it with a fork, still in a can. Transfer to a bowl.

Finely crumble in feta. Chop capers roughly and add to the mix, followed by onion and olive oil. Mix everything well. Season with pepper to taste.

Place 2 slices of bread on the sandwich press, divide the mixture evenly between the slices, pressing down and to the edges of the bread. Top with the remaining slices.

Close the press and toast for 5 minutes or until the bread turns golden brown. Slice and serve.