These 4 ingredient Buffalo chicken wings are cheap and can make for a delicious starter or family movie night dinner. Make the yoghurt dipping sauce in a flash and add a few veggie sticks and you have a delicious meal.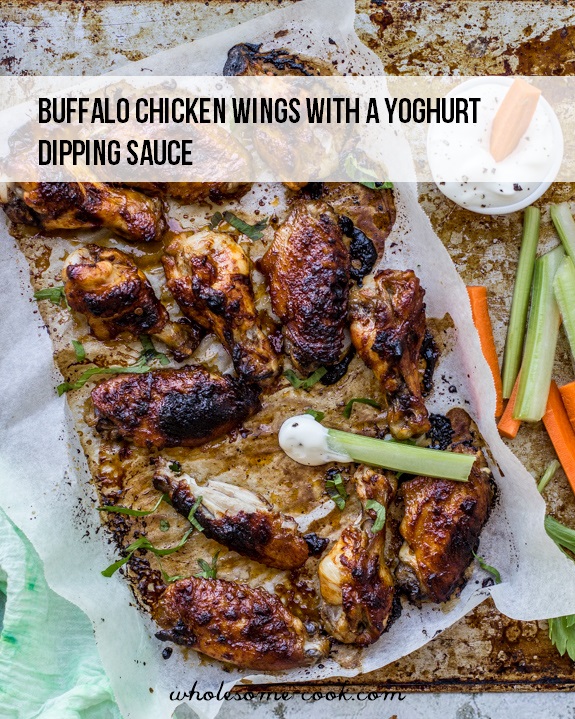 There is nothing better than sinking your teeth into a juicy and lightly spiced chicken wing. Especially when the skin is nice and crisp, with notes of sweet and sour from the honey and lime.
You can use rice malt syrup if you prefer, or are allergic to honey. It gives the wings the same sweetness and helps the skin crisp up.
I try to buy my chicken wings organic, they are cheaper than say breast or thigh meat. They are fun to eat too. And especially budget-friendly if picked up from the reduced "bargain corner". You can simply freeze them before their use by day and defrost when you need them.
While you can pop the Buffalo Chicken Wings straight in the oven after marinating, I recommend leaving them in the fridge for at least 30 minutes for the flavours to mingle and permeate through the skin and meat.
RELATED: How to Cook the Perfect Roast Chicken and 7 Ideas for Using Leftovers
The yoghurt dipping sauce is a no-brainer and easier to make than the blue cheese dip, because the ingredients are usually on hand. Use coconut yoghurt for a dairy-free version with a tropical twist, great in summer!
I bake the wings, but I have a feeling you can cook them on the barbecue as well for a delicious smokey flavour. Sear, then cook with the hood on with the burners underneath and to the side on medium heat to create an oven effect.
Buffalo Chicken Wings with a Yoghurt Dipping Sauce
Chicken wings are cheap, even the organic free-range variety, and can make for a delicious starter or game night snack. This version is baked and to cut cost, served with garlic yoghurt instead of the traditional blue cheese dip. Add a few veggie sticks and you have a delicious meal.
Ingredients
For the Chicken Wings
12

whole chicken wings

see notes

4

tablespoons

chipotle or Harissa paste

4

tablespoons

rice malt syrup or honey

4

tablespoons

lime juice
To serve:
1/2

cup

Greek-style natural yoghurt or coconut yoghurt

2

small

garlic cloves

peeled and crushed

pepper

to taste

4

handfuls

Veggie sticks: carrot

celery, cucumber or zucchini
Instructions
Cut chicken wings at the joints (see tip below), you should have 12 meatier pieces and place in a large ceramic or glass bowl. Mix together the chipotle or Harissa paste, rice malt syrup or honey and lime juice in a small bowl and pour over the chicken. Mix well, cover and place in the fridge for 30 minutes to 1 hour.

Preheat oven to 180C (160C fan-forced, 350F).

Spread chicken wings on a baking tray and bake for 20 minutes. Remove from the oven and paste the wings with the pan juices. Change the setting to grill and cook for a further 2-3 minutes for the wings to colour and skin to crisp up.

To serve, mix the yoghurt with garlic and sprinkle with pepper. Serve with the chicken wings and vegetable sticks.
Notes
Tip: whole chicken wings generally come in three parts (drumette, wingette and tip). Simply chop them at the joint and use only the meatier portions (drumette and wingette), reserving tips for flavouring homemade stock.