Pizza Bianca (also known as pizza blanca or white pizza) is topped with a white sauce instead of tomato sauce. The sauce is super simple to make and you can customise the flavours to your liking.
Bechamel or Alfredo sauces can be used or you can make a simple white sauce for pizza from scratch. I like the white sauce better because it really helps bring topping flavours to life. Unlike tomato pizza sauce, white pizza sauce is less likely to cause heartburn.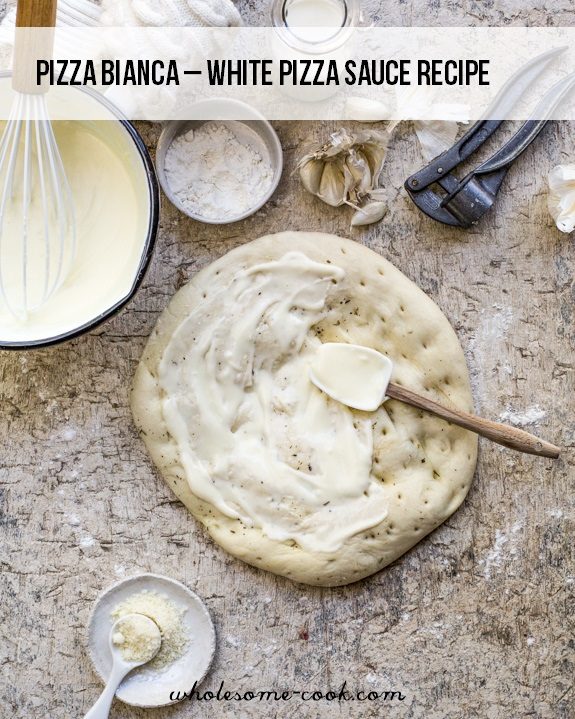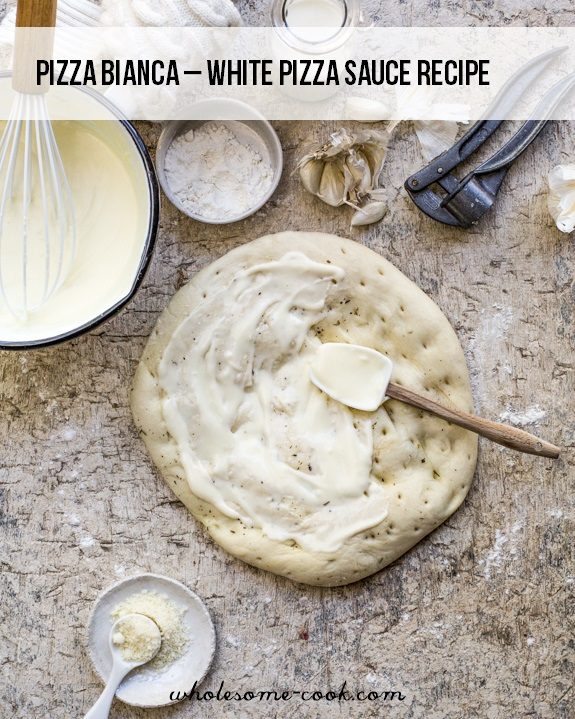 What is the white sauce on pizza made of?
To make white sauce for pizza you will only need a handful of simple ingredients you probably already have in your kitchen. Ingredients include butter, flour, milk, garlic and cheese. Parmesan is perfect for this, but pecorino or other sharp hard cheese would work well.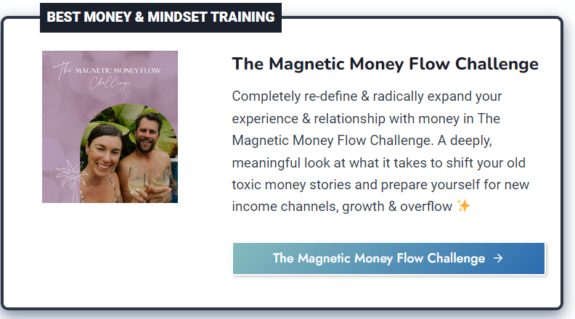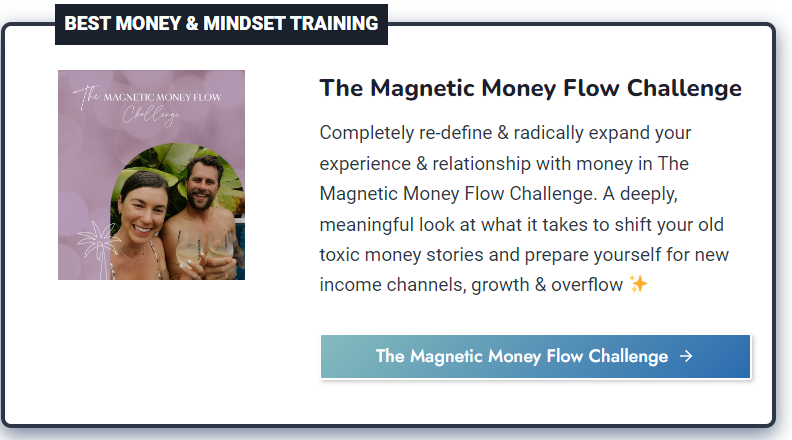 Make your white sauce for pizza super special by adding some of these:
1/2 cup mashed cauliflower (see note in recipe)
1/2 teaspoon Italian herbs
1/2 teaspoon curry powder (delicious with chicken topping)
1/2 teaspoon black truffle paste (perfect with potato and rosemary topping)
1 tablespoon green pesto
Best toppings for Pizza Bianca
Traditional Italian pizzas adhere to the principle of less is more, so scatter toppings sparingly instead of piling them sky-high. You can also make your own pizza dough if you have time. Alternatively, for a thin crust pizza use wraps or Lebanese bread.
The secret to a perfect Pizza Bianca, aside from the white sauce, is using a combination of toppings that are mild in flavour and those that pack a bit of a punch. Additional cheese is optional, but I quite like scattering Fior Di Latte, bocconcini or smoked mozzarella on mine.
Try some of the following topping ideas for the perfect white pizza:
Thinly sliced blanched potatoes, sea salt, rosemary (with truffle white sauce – see above)
Spicy salami or nduja, Spanish onion, mushrooms
Ham, artichokes, mushrooms,
Roasted chicken, avocado, Spanish onion (with curry powder in the sauce – see above)
Smoked salmon, capers, Spanish onion
Mix and match the toppings to what you like or what you have on hand. And tell me, what's your favourite pizza bianca topping combo? I absolutely LOVE the smoked salmon caper combo! You can scatter fresh rocket (arugula) on top, after baking to add some greenery to the pizza.
RELATED RECIPES: Philly cheesesteak pizza my way on Bakers Delight new pizza base OR Home-made pizza dough and healthy toppings OR Homemade Mozarella Cheese and 6 Things to Do with Leftover Whey
Pizza Bianca – White Pizza Sauce and Topping Ideas
Spread pizza base with the sauce (it should be enough to cover 2 bases). Scatter with favourite toppings and bake until the toppings and bases are turning golden.
Ingredients
50

g

butter

2

tablespoons

plain flour

1½

cups

full cream milk

¼

cup

grated Parmesan cheese

2

cloves

garlic

or 2 teaspoons garlic powder

Pinch

salt
Additional flavouring ideas for the white sauce:
1/2

cup

mashed cauliflower

1/2

teaspoon

Italian herbs

1/2

teaspoon

curry powder

1/2

teaspoon

black truffle paste
Topping ideas for Pizza Bianca:
Thinly sliced blanched potatoes, sea salt, rosemary

Spicy salami or nduja, Spanish onion, mushrooms

Ham, artichokes, mushrooms, olives

Roasted chicken, capsicum, Spanish onion

Smoked salmon, capers, Spanish onion, rocket (arugula)

Cauliflower, cheese

Pulled beef, onion, cheese
Instructions
Place a small saucepan over medium heat. Add and melt butter. Add flour and whisk until fully incorporated. Cook for a minute.

Slowly add milk, whisking continuously until fully incorporated. Bring back to the simmer, whisking.

When the sauce has thickened, whisk in garlic powder (or other flavouring ideas). Remove from heat and whisk in the cheese.

Season with salt.

Spread sauce on pizza base (as you would tomato sauce) and top with favourite toppings.