My Mum is coming over for a few months, so I'm spring cleaning. Now, I've tried the No Vac range of carpet deodorisers and spot & stain removers and this is what happened…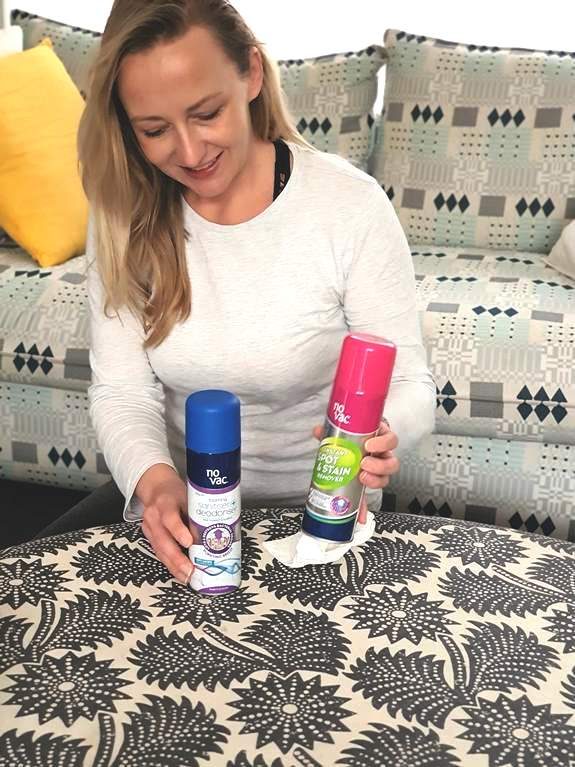 As we know life with a toddler means an ever ending wiping of faces and fingers covered in everything from yoghurt, to pasta sauce and chocolate. But you can't always prevent those faces and fingers ending up on your rug, carpet or couch… Toddlers are quick runners, especially in a pack so sometimes they end up out of the kitchen and on the rug faster than you can say stop.
There's also the occasional coffee or yoghurt spill as we play around the lounge and coffee table. And don't even get me started on dips and red wine spills on the carpet when entertaining… Accidents are bound to happen.
Removing stains with No Vac Spot & Stain Cleaner
When I spotted some chocolate finger marks on the ottoman the other day I needed to find a solution to get the dried in stain out. I picked up a can of No Vac Spot & Stain Remover (available from the Woolworths cleaning aisle) which is said to lift fresh and dried up stains without the need to vacuum or rub.
Did it work?
Well, the stains were pretty old. Although I lifted the chocolate off as quickly as I could way back when it happened, there were marks on the ottoman where it landed.
I followed the instructions on the can and gave it a few shots. The stains were pretty much gone after about 3 consecutive applications. I might have to do a once over again but I'm sure there will be more "opportunitues"!
The carpet itself has had some stubborn stains on it, too. Vacuuming alone is not always effective because even after a swift clean up of excess matter, the stains end up deeper down in the fibres. However, they were all easy to remove using the no vac Spot & Stain Remover.
The best part is that it does not contain bleach and leaves no messy residue either!
I love the No Vac carpet and upholstery deodoriser
After cleaning the spots on the carpet I went on to use the no vac Sanitiser and Deodoriser and wow, the rug had that wonderful freshly cleaned smell to it. I'm also happy because it helps sanitise the rug.
I actually think it would awesome to use it in the car as well. You know, of the floor mats and upholstered flooring areas. Especially handy, too, if you have material upholstered seats!
Now I will continue to use the no vac Spot & Stain Remover to clean up the tough spots on the rug and upholstery when they happen and the no vac Sanitiser and Deodoriser once a fortnight to keep the carpet smelling fresh.
I feel like together, the combo provides a quick and convenient way to eliminate stains and nasty odour causing bacteria, keeping my carpets fresh between big cleans.
No odours. No stains. No fuss.
This post was sponsored by No Vac. All opinions are my own.