This simple Nigella Lawson cupcake recipe is my go-to for a wonderfully delicious, soft and fluffy cupcake base. I like to use a cream cheese frosting for the topping. You can use buttercream or simply use lightly sweetened whipped cream to decorate your cupcakes if you prefer.
Nigella's Cupcake Recipe
I recall watching one of Nigella's cooking shows a while back when she made her signature cupcakes with frosting. It might have been How to be the Domestic Goddess, in fact. What caught my attention was the simple to remember ratio of ingredients for the cupcakes.
Nigella's cupcake recipe calls for a simple ratio of self-raising flour, butter and sugar, as well as eggs, milk and vanilla. You can, of course, make the cupcakes using dairy-free spread and non-dairy milk.
You can try to healthify these by using less refined flours and sugar. However, I'm of the opinion that sometimes we simply need a good old cupcake, the way it was intended to be. You know, for parties and fetes. These are perfect!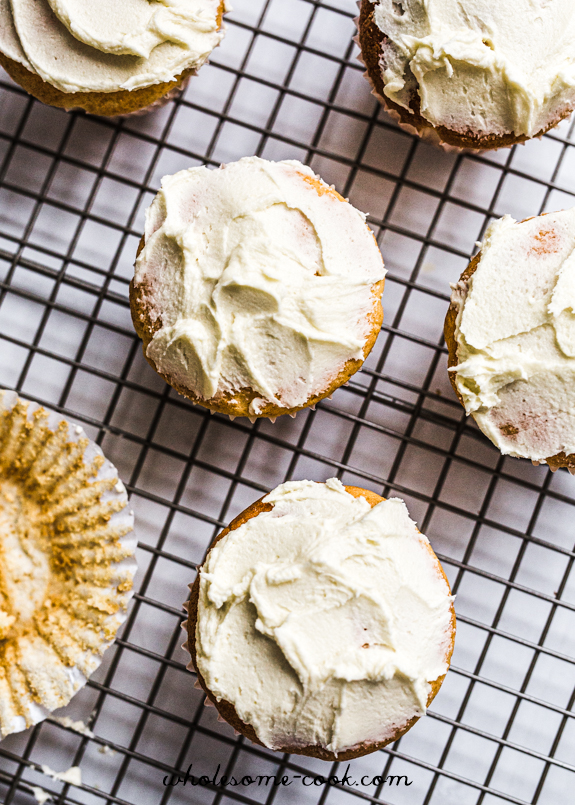 The Perfect Cheese Cream Frosting
I absolutely love this cream cheese frosting – it's perfect and a very simple recipe to make. It's my go-to and I hope it will become yours.
It's light and fluffy and has that unmistakable tang to it.
Because it uses less sugar it lends itself well to carrot cakes and Nigella's cupcakes!
Check out also this Chocolate Cake with Rocher Icing. You can actually bake it into cupcakes or donuts! Soooo tasty.
Nigella's Cupcake Recipe with Perfect Cream Cheese Frosting
This simple cupcake recipe is one of Nigella Lawson's originals. It's easy and yields light and fluffy cupcakes every time. It might just become your go-to cupcake recipe. Just like the cream cheese frosting! The cupcake base can easily be made dairy-free.
Ingredients
For Nigella's Cupcakes
125

g

self-raising flour

125

g

unsalted softened butter

(or you can use dairy-free spread)

125

g

caster sugar

2

eggs

1/2

teaspoon

vanilla extract

2

tablespoons

milk

(or dairy-free milk)
Cream Cheese Frosting
125

cream cheese

softened at room temperature

25

g

unsalted butter

softened at room temperature

1/3

cup

icing sugar

1

teaspoon

vanilla extract

1/2

tablespoon

milk
Instructions
Preheat oven to 200C (180C fan forced, 400F, gas mark 6). Line a 12-hole muffin tray with paper casings.

To make the cupcakes, place all cupcake ingredients except for milk into a mixer bowl and process until smooth and well combined. Add milk and mix for another 30 seconds or so.

Divide mixture between paper cups. Bake in the oven for 15-20 minutes, remove from oven and allow to cool in the tin for 5 minutes, then on a wire rack.

Meanwhile, prepare the cream cheese frosting. In a large bowl using a handheld or stand mixer beat the cream cheese and butter on high speed until smooth and creamy, about 2 minutes. Add icing sugar, vanilla and milk. Beat on low speed for 30 seconds, then on high speed for a further 2 minutes.

Once the cupcakes have cooled down completely, spread the icing with a palette knife or butter knife on top of the cupcakes.

To pipe, optional, spoon mixture into a medium zip lock bag, twist and push out any air. Tie the end tightly with a rubber band. Cut off the tip and pipe onto the cooled cupcakes.