This green tea soup takes 25 minutes to make and is made with green tea leaves (or tea bags) rather than the more pungent matcha powder. Add some greens, salmon, noodles and miso paste for even more healthful benefit. Perfect for both warmer and colder months.
Japanese Green Tea Soup Recipe
The following recipe was inspired by the Japanese dish called Ochazuke (ocha means tea, zuke means submerged) where a selection of rice and other savoury ingredients are served in a green tea broth.
Instead of rice, however, I make the soup with noodles. You can use ramen, somen, soba or even just stock-standard wheat angel hair spaghetti – anything thicker will take longer to cook.
I usually make the soup with a couple of green tea bags (it's easier than using loose leaf tea). Asian greens, mushrooms and salmon are also what make this soup amazingly delicious. In fact, did you know that this is one of the best ways to cook tender, juicy and non-smelly fish? Definitely a bonus.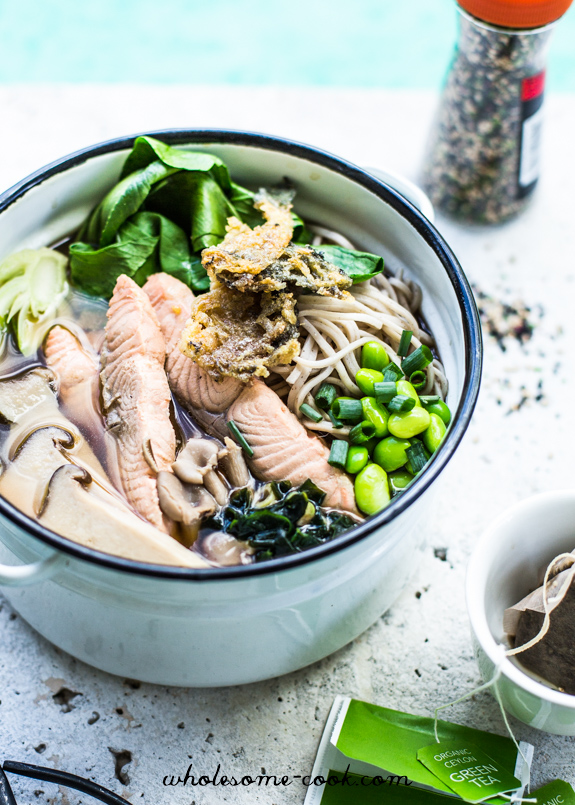 It's quick to make.
The green tea soup recipe takes about 15 minutes to make from start to finish. Perfect for a mid-week dinner both in winter and summer.
RELATED: Speedy One Pot Vegetable and Meatball Soup (with Soba noodles)
It's super nutritious
Despite being a broth this Japanese green tea soup is packed full of nutrients. Green tea itself is rich in antioxidants. Fermented miso provides good gut health benefits. Greens help feed the good bugs. Mushrooms are rich in Vitamin D. Noodles provide carbohydrates for energy, whilst the salmon is packed with protein and fats.
Other things you can add to the green tea soup
Feel free to add different veggies such as exotic mushrooms, baby spinach, baby corn or green beans. You can also make the soup with cod, gem fish or ling. Seafood could also work well here. As would shredded chicken, roasted duck or even Chinese-style barbecue pork. And why not pop a perfectly cooked soft-boiled egg on top? Yum!
The recipe comes from my book, Recipes for Life's Seasons, but has been adapted slightly. Mainly, to make it one pot and even quicker and easier to make.
Green Tea Soup with Noodles
I am a big fan of chunky broths, especially when they involve green tea, noodles and fish. This recipe is adapted from my cookbook, The Wholesome Cook, and ticks all the boxes for my perfect meal – jam-packed with antioxidants, nutrients, flavour and texture. You can use skin-on fillets. Simply fillet the skin off and pan fry until crispy, use to top the soup.
Ingredients
6

cups

water

3 160

g

skinless salmon fillets

2

sprigs spring onions

6

baby bok choy

250

g

sliced cup mushrooms or mixed Asian mushrooms

1

tablespoon

coconut or olive oil

3

green teabags

1

teaspoon

freshly grated ginger

90

g

soba noodles

ramen, somen or angel hair spaghetti

2

tablespoons

soy sauce or tamari

1/4

cup

shiro

white miso paste
Optional
1

small handful of dried wakame or other seaweed

1

large handful of edamame beans

pinch

of dried chilli flakes

1

tablespoon

sesame seeds or furikake seasoning

see note below
Instructions
Boil water in the kettle.

Meanwhile, slice salmon into logs or dice into bite-sized pieces. Finely slice spring onions. Cut bok choy in half lengthways or chop into bite-sized pieces.If using Asian mixed mushrooms, trim ends off enoki, slice larger mushrooms.

Heat oil in a large saucepan or soup pot set over medium-high heat. Add spring onions, reserving 2 tablespoons of the green parts for serving, and mushrooms. Cook stirring for 2 minutes before adding bok choy. Cook for a minute. Pour in boiled water. Reduce heat to low, add teabags, ginger and noodles simmer for 4 minutes. Remove teabags and add soy sauce or tamari.

Turn off the heat. Add salmon, mix into the soup gently and leave to poach for 2 minutes. If using, add seaweed, edamame and chilli. Meanwhile, mix miso in a bowl with 1/2 cup of broth to make a slurry. Stir miso mixture back into the soup.

Divide green tea soup between bowls. Sprinkle with sesame seeds or furikake seasoning, if using, and reserved chopped spring onions to serve.
Notes
Furikake seasoning is a Japanese toasted seaweed and sesame sprinkle used for rice and savoury dishes.