Homemade bread that's fluffy on the inside, crunchy on the outside. This rosemary and sea salt focaccia is as good as it gets. I had the pleasure of learning how to make it at Alio restaurant's pasta class almost a decade ago.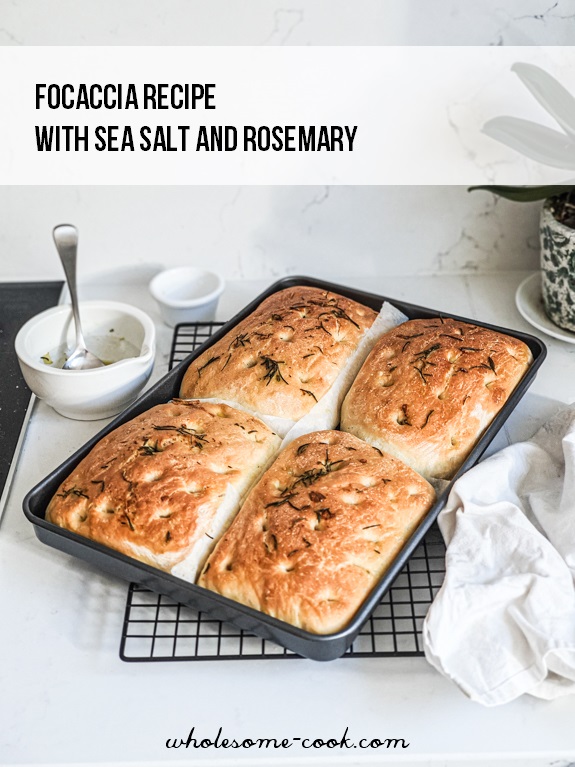 About the Homemade Focaccia Recipe
Ashley Hughes, the executive chef at now-closed Alio, generously provided the focaccia recipe in a goodie bag at the end of a class I attended almost a decade ago.
Seeing first hand how easy it was to make homemade bread, I knew I'd be surely be trying it at home. Ashley's sister Tracey was the one who got me hooked on the Mont Blanc…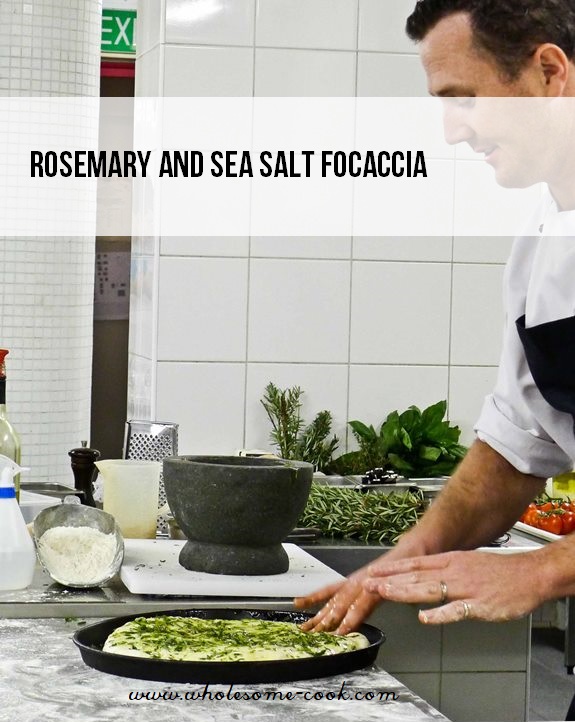 I ended up making 2/3 of a batch because I forgot to check how much plain flour I had and we fell 200g short of the 900g requirement. I'm pleased to say it worked.
I should probably mention at this point that if you can get first pressings olive oil, it has a lovely dusty sediment still reminiscent of the fruit it was pressed from, you should. It's the best. So fresh and full of fruitty flavour.
Fresh rosemary is also a must, dried sprigs just don't have the same intensity of flavour and aroma. Keep cooled, leftover rosemary and sea salt focaccia in a zip-lock plastic bag in the fridge for a few days.
RELATED: How to keep bread from going mouldy
Alternatively, freeze leftover cooked loaves to have another day. The bread the perfect starter, accompaniment to soups and saucy numbers.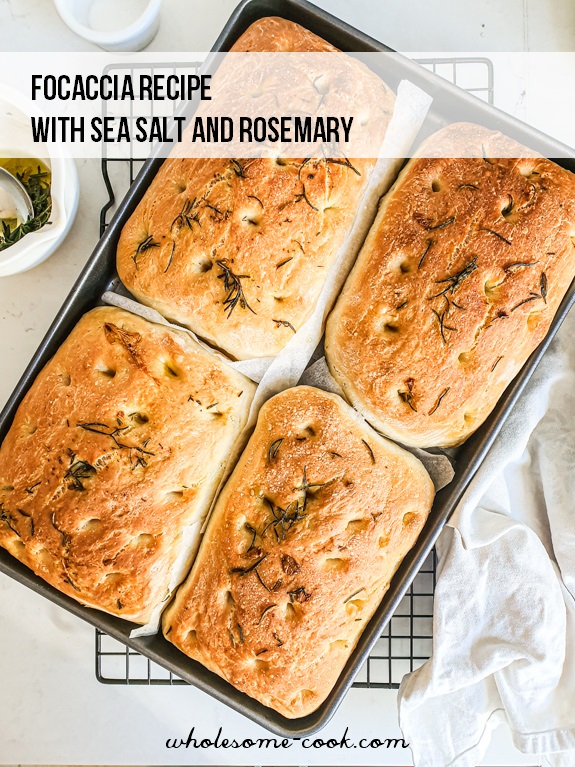 And the homemade bread?
For something as basic as homemade bread, the aroma that fills the house when the focaccia is placed in the oven is indescribably amazing. You can't stop but smile at the single thought that, in 40 minutes, you will be enjoying it. Tasting the freshly baked goodness of homemade focaccia with rosemary, garlic and all.
Crusty, fluffy, delicious homemade focaccia and… still wonderfully warm. Homemade bread perfection. My daughter absolutely loved this bread, as do I dipped in extra garlic oil.
Makes 2 larger or 4 smaller loaves. You can also bake the dough in round pastry tins (see the first image). I might also try using a 4-hole pie tin next time for generously sized rolls.
Rosemary and Sea Salt Focaccia
A fluffy on the inside, crunchy on the outside rosemary and sea salt focaccia recipe tastes great and is soooo easy to make! You can make it into 4 loaves (use strips of baking paper to separate them in a large baking tin). You can also make 2 loaves using two slice tins 28cm x 18cm. Store cooled foccacia in a plastic zip lock bag in the fridge for up to 5 days. Otherwise freeze.
Ingredients
600

ml

luke warm water

25

g

honey

25

g

fresh yeast or 7g instant yeast

900

g

plain flour

25

g

table salt

1

garlic clove

1/2

bunch rosemary

1/2

cup

extra virgin olive oil // or first pressings extra virgin olive oil

sea salt to finish
Instructions
To make the focaccia dough
In a large jug mix together the water, honey and yeast until dissolved. Set aside for a minute. Meanwhile, sift flour into a large bowl and mix in the salt. Make a well in the centre. Add the yeast mixture.

Working with your fingers, start to incoraporate the flour, a little at a time until the dough is formed.

Knead the dough for about 5 minutes until it is smooth and elastic. Form the dough into a ball shape. Rub 1 tablespoon of oil into the surface of the dough – this will stop it from drying out. Cover the bowl with cling film.
First rising
Let the dough sit in a warm spot for about 1 hour or until it has roughly doubled in size.
To make the herb oil
Place garlic, pinch of sea salt and 1-2 sprigs of rosemary, leaves only, into a mortar and pestle. Pound until the herbs and garlic are well crushed. Add the remaining oil and set aside for the oil to infuse.
Second rising in the form
Lightly grease your form(s) with extra oil. Once the dough has about doubled in size, knead it one more time but only for about 1 minute – you don't want to overwork the dough as the bread will become hard. Cut dough in half, form a ball or a log and roll out on flouur dusted bench to fit your baking tray(s).

Drizzle a tablespoon of oil over the bread and cover with cling film. Allow to rise again for 30-45 minutes in a warm spot.
To bake
Preheat oven to 180C (160C fan-forced, 350F, gas mark 4).

Pour herb oil all over your bread(s), spreading herbs evenly. Push your fingers into the dough, about 3-4 cm apart as this is what will give the dough its characteristic 'dimples'. Spray the bread with water – this stops the herbs from burning. Sprinkle with sea salt.

Bake for 35 minutes.
To serve
When ready, remove bread from oven and place on a cooling rack to stop it from steaming in the tray. Drizzle the focaccia with a little more oil and enjoy!