This Russian Potato Salad recipe – know to Poles as the Polish Potato Salad, has been in my family for generations. It's easy to make and a MUST at Christmas, Easter celebrations. It's also a big hit at barbecues and family gatherings.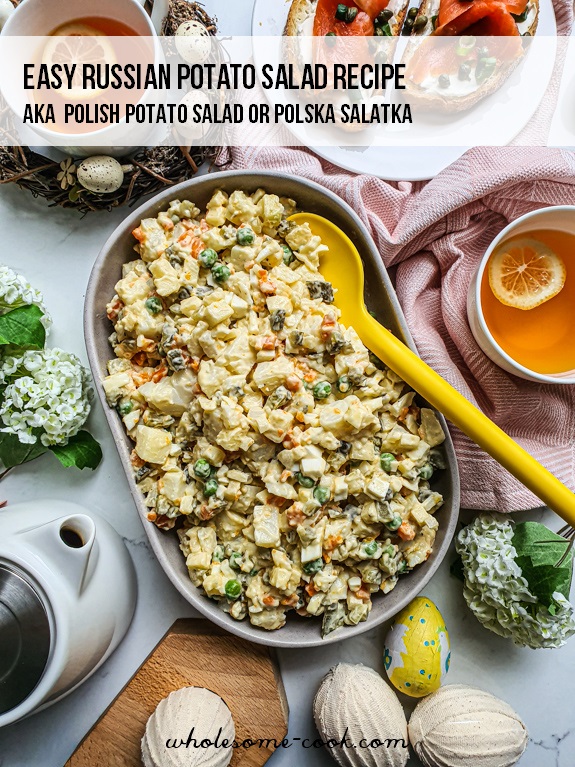 Given that everyone who has tried this Polish potato salad and begged me for the recipe, I'm sharing it here. It is no wonder that both the Poles and the Russians claim a version of this potato salad as their own!
How do you make Russian Potato Salad aka Polish Potato Salad?
Boiled ingredients
In addition to the potatoes, you will also need to cook some unpeeled carrots and eggs in the shell. I tend to pop them all in one pot and remove the eggs after 10 minutes,  cooking the carrots and potatoes until both are tender. Drain and cool all the cooked ingredients before peeling and dicing.
Peeling cooked potatoes is pretty easy. The skins gently lift off when scraped with a knife. Carrot skins can be a little more sticky… The method of peeling is much the same – scraping the skin off to the side – not longways. Alternatively, you can peel the carrots before cooking.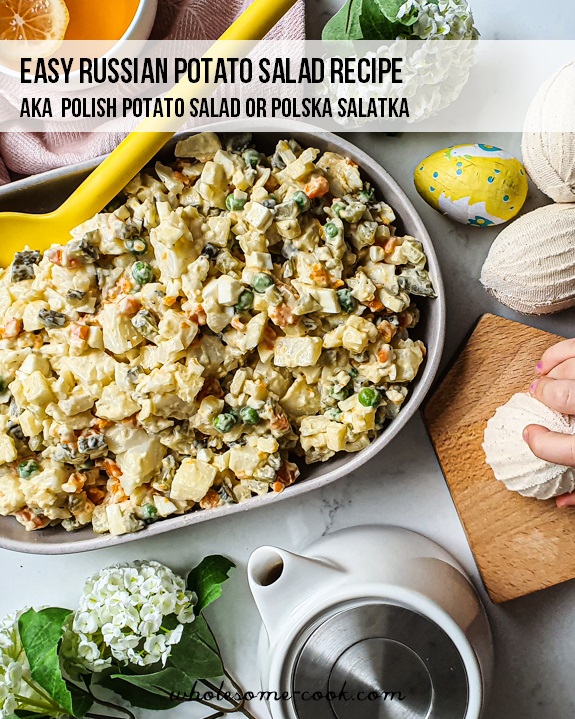 Cold ingredients
Canned peas are traditionally used in the Polish potato salad recipe, but you can use frozen thawed peas instead. Apples (green, such as Granny Smith apples, are best. Peel them and dice. Brown or red onion as well as pickled cucumbers. Try to use fermented cucumbers in brine not pickled in vinegar. Simply check the ingredient list to look for salt and water. If you can't find the fermented kind, you can use the vinegar kind, the salad will have a slightly different flavour.
RELATED: Natural Dyed Easter Eggs with Trout Mayo and Herbs
RELATED: Sugar-free Hot Cross Bun Truffles
Lastly, add a good amount of mayonnaise – both the Russian potato salad and Polish potato salad call for this. If you happen to have a Polish deli nearby, buy a jar of Winiary Majonez Dekoracyjny. Othewise you can use Thomy delikatess mayo, which is available from most supermarkets. I've also popped a simple mayo recipe below.
Lastly, season with some Dijon or wholegrain mustard, salt and pepper. Mix well and enjoy.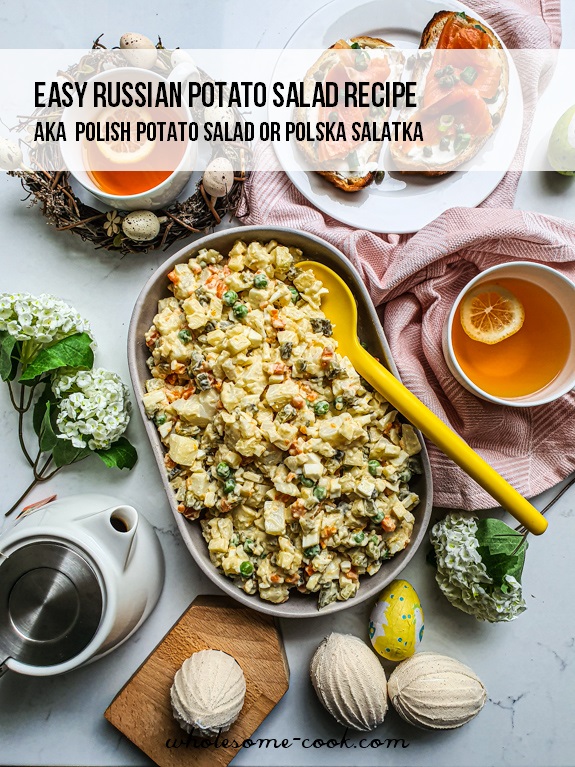 How long can you keep the Russian / Polish potato salad?
The salad is a fantastic side dish at a barbecue. Serve alongside cold meats or simply on its own. It's a big batch so there is always plenty to share around.
The potato salad will keep well in the fridge for upto 1 week, if there is any left over that is.
Russian Potato Salad (aka Polska Sałatka)
Works wonders as a side salad at barbecue, for cold meats, fish and even steak. Keeps well in the fridge too.
Ingredients
For the salad:
4

large waxy potatoes

Desiree

2

medium carrots

2

eggs

1

large apple

or 2 if small

1

large Spanish onion

5

fermented cucumbers

(check that ingredients are only water, salt and cucumbers)

420

g

can baby peas

or you can use 1 cup thawed frozen peas

salt and pepper to taste
For the mayonnaise:
3

egg yolks

100

ml

extra virgin light olive oil

squeeze of lemon juice

2

tbsp

seeded mustard
Instructions
Place unpeeled potatoes and carrots in a large stockpot, cover with water and bring to the boil. Simmer for about 20 minutes or until you are able to pierce through the potatoes with a knife. Drain and set aside to cool completely. Hard boil the eggs and set aside to cool.

In the meantime, core the apple, then dice it along with the onion and cucumbers into 0.5cm cubes. Place in a large mixing bowl. When cool, peel the eggs and cooked vegetables by gently lifting the skins and shells off. Dice the eggs and carrots into 0.5cm cubes and add to the bowl. Dice the potatoes into slightly chunkier pieces. Drain the peas and add them to the mixture. Season well with salt and pepper. Pour in your mustard mayonnaise (see below) and mix well to combine all ingredients. Chill before serving.

To make the mayonnaise; use an electric mixer or food processor to whisk the egg yolks then gradually add the oil in a thin stream. When blended in well, squeeze in some lemon juice. Add mustard and mix in well.