Fioretto served in a creamy lemony alfredo sauce with pasta and topped with crunchy olive oil breadcrumbs. Here is an easy recipe for a mid-week dinner ready in minutes.
What is Fioretto?
Fioretto (also called cauliflower blossoms) is popular in many Asian cuisines. It looks like broccolini but tastes like cauliflower. I discovered it a few years back and loved it from the first try. Why? Because both the blossoms and the stems are edible. The florets are creamy and mildly nutty in flavour and the green stems are delightfully sweet and tender.
I quite like the fact that Fioretto is less bulky than regular cauliflower. Offering the same taste without taking up a lot of room in the fridge. When storing, keep Fioretto stem-down in the fridge. This helps stop moisture from gathering in the florets.
How to cook Fioretto?
Fioretto is super easy to cook with. You can steam it, roast it, stir fry it or enjoy it raw. A great new way to add more variety to your meals! You can enjoy both the blossoms and stems which means less waste. I find they are quicker and easier to prepare than regular cauliflower when cooking.
You don't need specific Fioretto recipes – use it as you would other veggies. Try it in delicious Asian stir-fries. You can also roast the cauliflower blossoms or prepare them on a barbecue to serve alongside chicken and fish. They make a delicious addition to frittatas or as a side to a big breakfast. Simply pan-fry them in some oil or butter and season with salt and pepper. Delish!
You can also enjoy Fioretto raw in salads, slaws and with dip platters. They can make a fun and healthy addition to the lunchbox too! For more recipe inspiration check out Perfection Fresh.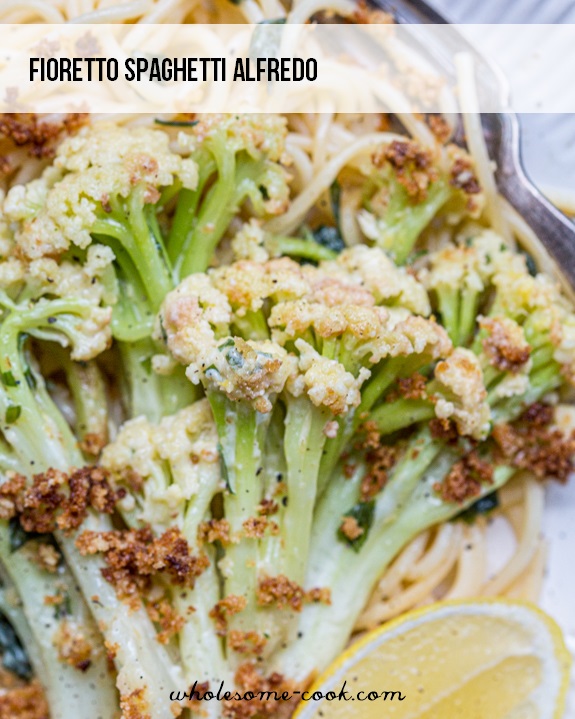 About this recipe
Love pasta? Add some Fioretto to the sauce! The following recipe is a wonderful place to start. I love the creamy sauce with a fresh squeeze of lemon because it helps cut through its richness. Whilst toasted breadcrumbs add a nice crunch, a dash of cayenne pepper brings a little depth and warmth to the sauce.
If you prefer, you can use gluten-free pasta and breadcrumbs in this recipe.
Fioretto Spaghetti Alfredo
Fancymid-week dinner ready in minutes.  MeetFioretto®, cauliflower's elegant good looking cousin.Served in a creamy lemony alfredo sauce with pasta and topped with crunch yolive oil breadcrumbs. The blossoms and stems taste exactly like cauliflowerbut I find the are quicker and easier to prepare. If you prefer, you can use gluten-free pasta and breadcrumbs in this recipe.
Ingredients
150

g

spaghetti

200

g

Fioretto

30

g

butter

2

garlic cloves

200

ml

fresh cream

2

tablespoons

freshly grated Parmesan cheese

plus extra to serve

4

tablespoons

fresh chopped parsley

pinch

salt

1/4

teaspoon

cayenne pepper

1

lemon

zested and juiced

3

tablespoons

olive oil

1/4

cup

breadcrumbs
Instructions
Cook spaghetti according to packet instructions.

Meanwhile, divide Fioretto® into single stems. Heat butter in a large frying pan over medium heat. Add Fioretto® and cook for 2 minutes on each side, until some of the flowers turn golden. Add garlic and stir until fragrant. Pour in the cream and cook for 5 minutes.

Meanwhile heat oil in a small saucepan over high heat. Add breadcrumbs and stir to toast. Turn off the heat.

Stir in Parmesan, parsley, salt and cayenne pepper into the sauce. Turn off the heat and add lemon zest and 4 tablespoons of the lemon juice.

Serve pasta topped with the Fioretto®, drizzle with the sauce and top with the toasted breadcrumbs.