Creamy plant-based cashew ice blocks, flavoured with a tasty chai spice mix. One of my favourite ways to enjoy the milky fragrant concoction in a summery treat.
What is Chai Spice made from?
Chai is a milky black tea combined with warm and fragrant spices popular in India. These include cinnamon, cardamom, ginger, cloves, star anise – sometimes also including black pepper and nutmeg.
The word chai itself means "tea" in Hindi (derived from Chinese Cha for tea). Therefore Masala Chai is another name given to the above concoction. So in fact you cold say these are Creamy Cashew Masala Chai Ice Pops.
Make sure to soak your cashews
For the ice pops to become wonderfully creamy, make sure to soak your cashews for at least 2 hours. This will help them blend to a softer consistency but also make the treat wonderfully cooler.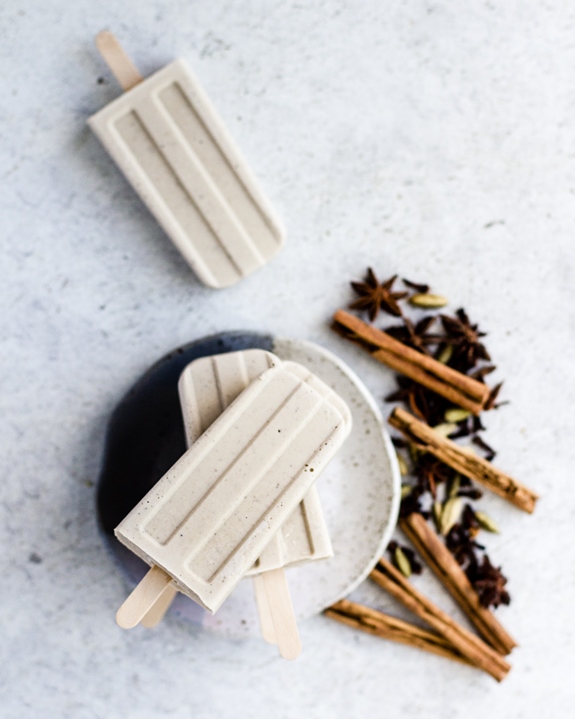 Can I use other nuts to make these Creamy Chai Spice Ice Pops?
I prefer the delicate almost vanilla-like flavour of cashews here. You want the chai spices to really stand out so stick with cashews. Coconut will also come through too strong for this recipe because we are already using some coconut milk in there. I know… I know… but it's CREAMY CASHEW for a reason.
More recipes on my Insta
[instagram-feed]
Creamy Cashew Masala Chai Ice pops
Masala combines a number of warming and grounding spices like cardamom, cloves, pepper, cinnamon and star anise which can assist in digestion, stress relief and overall well-being. Their warming properties mean that this flavour is perfect for when you're craving a cooler treat in late autumn or winter. The creaminess of soaked cashews lends itself well to icy treats that become wonderfully creamy.
Ingredients
1.5

cups

cashews

soaked in filtered water for 2 hours

1

cup

coconut milk

(canned variety)

3

tablespoons

honey or rice malt syrup

1/2

tablespoon

chai mix

for homemade see below
Chai Spice Mix
2

tablespoons

ginger powder

2

tablespoons

ground cinnamon

1

tablespoon

finely ground cardamom

1

tablespoon

finely ground cloves

1/2

tablespoon

finely ground black pepper

1/4

teaspoon

finely ground nutmeg

1/4

teaspoon

finely ground star anise
Instructions
Drain cashews. Place them in a blender.

Place coconut milk, honey or rice syrup and chai spice mix in a small saucepan set over medium heat. Heat, whisking, until smooth, aromatic, do not boil. Remove from heat and set aside for 10 minutes to cool.

Add the spiced coconut milk into the blender and process on medium high with the cashews until the mixture is smooth. Divide the mixture into ice pop moulds and freeze for at least 8 hours or overnight.