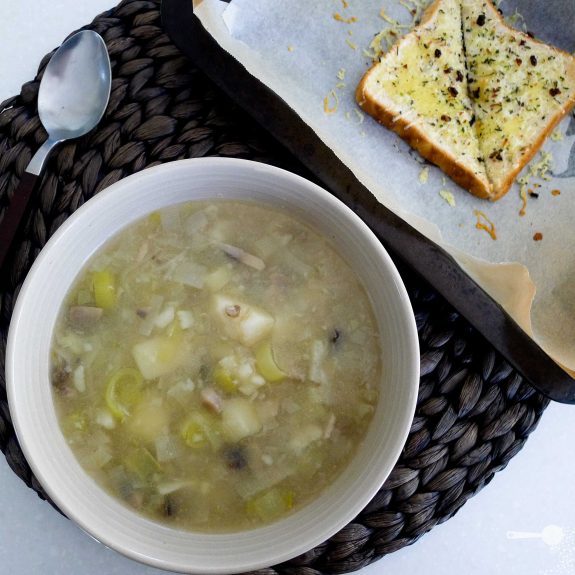 "Soup breathes reassurance, it offers consolation; after a weary day it promotes sociability…There is nothing like a bowl of hot soup, it's wisp of aromatic steam teasing the nostrils into quivering anticipation." ~ Louis P. DeGouy, The Soup Book (1949)
Ever since I can recall, soups featured on our family's menu as a starter. Even at our school diner we had soup as a prelude to the main, and as kids we were always more excited about the contents of the bowl than the contents of the plate that followed.
Soups are so entrenched in my cultural heritage that even my Dad, who generally tends to stay away from the kitchen, cooks soups. Potato and onion is his best, although my Mum makes a stunning cream of leek soup with croutons that is so delicious and smooth it would have to rank equal first. But then again – for me at least, another equal first would have to be mushroom soup, simply because I love mushrooms.
I grew up going wild mushroom picking in the woods in Autumn ever since I could walk (nice jumpsuit ↑, not). We'd stay up late cleaning, pickling, cooking and drying all the different varieties for use during Winter. My favourite 'fast food' has always been zapiekanka, which is a grilled cheese and mushroom baguette sold around my home town from those hole-in-the-wall outlets. And I always looked forward to savouring clear dried porcini soup on Christmas Eve.
It is therefore no surprise that I like to add mushrooms to the classic potato and leek soup, which combines both of my parents' best soup recipes. The flavour and texture of mushrooms brings the whole dish together. I use both button and dried porcini mushrooms, as the latter are more intense in flavour and bring back memories of fresh porcinis air-drying in my Mum's kitchen.
Considering my love of cheese and mushroom toasties, it is only adequate that I serve the soup with cheesy bread stick as the perfect accompaniament to this heart and soul-warming dish.
Smashed potato, leek and mushroom with cheesy herb bread
This soup is extremely comforting and easy to make. Perfect for autumn.
Ingredients
50

g

dried porcini

1

tbsp

butter

1

brown onion

chopped finely

250

g

sliced button mushrooms

2

leeks

white parts only, sliced

6

cups

of vegetable stock or chicken stock

3

large washed potatoes

diced into 2cm cubes

1/2

cup

milk of choice

salt and pepper to taste

2

in

white sourdough rolls

cuthalf or 4 slices sourdough bread or gluten-free bread

4

tbsp

grated pecorino cheese, cheddar or gouda

4

tsp

dried Italian herbs
Instructions
Shred porcinis into pea-sized pieces and place in a small bowl. Cover with cold water and stand while you start on the soup.

Heat butter in a large stockpot. Add onion and leeks. Cook stirring until translucent and lightly browned. Add button mushrooms and stir well. When slightly browned, add stock and bring to the boil, then add potatoes.

The poricinis should be soft now and can be added to the soup, along with the water they were soaking in. Note: there may be some sediment (sand and dust) sitting at the bottom of the soaking water, so just pour it in gently into the pot discarding any 'murky' water.

Cook until the potatoes are soft (20 minutes). Add milk and cook for further 5 minutes. Season with salt and pepper. Using a soup ladle, smash the potatoes gently ensuring that some cubes retain their shape. Turn off the heat and allow to cool slightly before serving.

To make cheesy herb bread simply mix cheese and herbs in a small bowl, layer on bread and grill until the cheese melts.