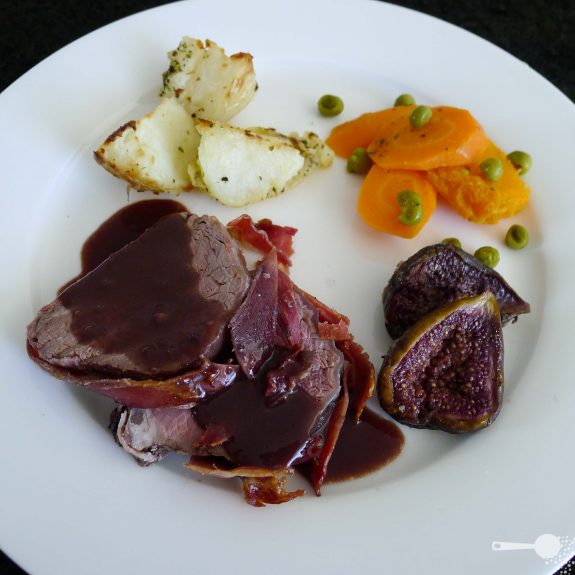 I have professed my love for beef fillet many times now, yet the cut, its flavour and juiciness no matter what, continues to amaze me every time I cook with it. For me, fillet is the no-fail cut that's great for stir-fries, as a steak or a small midweek roast for two all within 40 minutes!
To keep it moist, the fillet is wrapped in some lovely (salty and lightly fatty) prosciutto then sealed, roasted and lastly poached in a mixture of Shiraz, butter, balsamic, figs and honey which make for a to die for reduction! Just imagine the flavours!
In fact, the wine and balsamic reduction was so good I went back after dinner and had some of the sauce straight out of the saucepan!
Serves 2 (plus some left overs for lunch if you're a small dinner eater like me)
The best mid-week roast: prosciutto-wrapped beef fillet with a Shiraz and balsamic reduction
500g beef fillet (thicker piece)
5 slices prosciutto
1/2 cup Shiraz
3 tbsp butter
4-5 figs, cut in half
Italian herbs
Honey
2 medium potatoes
1 tbsp balsamic vinegar
1 tbsp plain flour
Cut potatoes in half and cook for 15 minutes or until just tender in salted boiling water. Drain and cool slightly. Toss with some olive oil and Italian herbs to taste. Transfer to a baking tin.
Preheat oven to 240C (475F, gas mark 9).
Grease another baking tin with a little oil. Arrange 4 prosciutto strips on a flat working surface, edges overlapping and 3x25cm pieces of string underneath each prosciutto 'seam'. Paper-towel dry beef and transfer onto the prosciutto. Place the last prosciutto strip along the top and wrap the other strips tightly around the beef, tying with string.
Brown the fillet in a hot pan on two sides and transfer into an oiled baking tin. Roast for 15 minutes on the middle shelf at 240C (475F, gas mark 9) along with the potatoes on the bottom shelf.
Remove beef from oven and add wine, butter and figs drizzled with honey. Place a couple of cubes of butter on top of the beef. Return to the oven for a further 10 minutes at 230C (450F, gas mark 8) for a medium result.
When ready, remove from oven, pour all the juices into a small saucepan, cover roast with foil and rest for 10 minutes. Add balsamic and flour to the juices. Whisk and cook until the sauce thickens.
Serve slices of fillet with potatoes, figs and lashings of the reduction. Add steamed carrots, pumpkin or peas for extra sustenance and a more traditional feel to the dish.