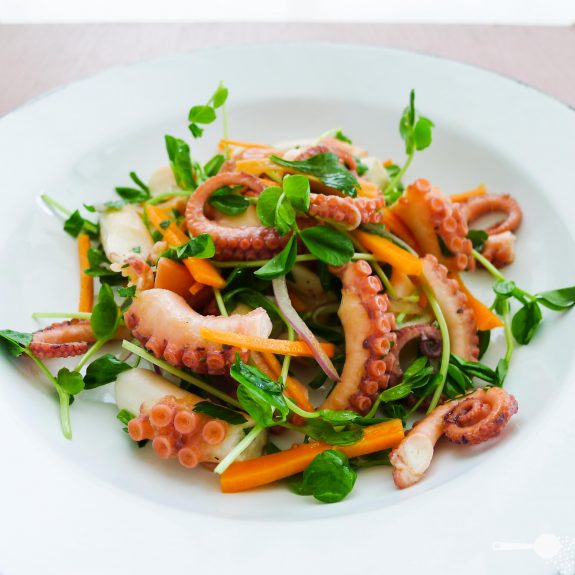 Every now and again I get a craving for octopus and until recently there were only two places I'd trust to prepare the beast to my liking. Caffe Corto, around Barrack Street in the city, which does an exceptional antipasto di mare with poached marinated octopus, and a Japanese food court eatery at Greenwood Plaza in North Sydney, which serves the best chilli octopus with soba noodles. I've been known to hop on the train and travel two stations across the Harbour to just pick up a serving!
Strangely enough, I discovered my third equal favourite octopus venue and dish by chance. The craving was by no means strong, but when I saw the Insalata di polpo [octopus salad] on the specials board at Made in Italy Trattoria, our local Italian, I knew I had to have it. Having tried their tripe before – talk about strange cravings! –  I knew the polpo would be bellissimo. And it did not disappoint.
Eventhough the entree size of the salad managed to last me for two meals, it was not enough to keep the craving at bay. I headed over to the fish markets, picked up some medium octopus and made my own, juicy, soft poached octopus and crunchy vegetable salad to go with it. It was perfect, and now I know a fourth place that does great octopus – mine!
Serves 2
Insalata di polpo [marinated octopus salad]
The secret to a well cooked octopus lies in the cooking time itself. It either has to be flash fried for literally a minute or two, or poached for at least an hour in order to achieve a soft, non-rubbery texture. While flash frying is great for baby octopus, poaching medium to large octopus is a much better choice. Cooking for this recipe should be started at least 2.5 hours before serving, and upto a day in advance.
Marinated octopus
1 medium octopus, cleaned ( approx 300g)
1 tbsp vinegar
1/4 cup light olive oil // or lemon olive oil
2 tbsp lemon juice
1 tbsp freshly chopped flat leaf parsley
Pepper to taste
Salad
1 carrot, julienned
1/2 Spanish onion, sliced thinly
handful of pea sprouts, leafy tips only
1 tbsp lemon juice
2 tbsp olive oil
Cut the octopus into quarters, removing the head and beak (hard, shell-like bit from the middle near the head).
Bring a saucepan of water and a tablespoon of vinegar to a boil and drop in the tentacles and head. Return to a boil then lower to a gentle simmer and cook for 1.5 hours or until the tentacles are soft when pierced. Drain and cool. Peel off any of the dark purple skin and slimy membranes – be careful not to remove too many of the suckers during this process, they look great and add texture to the dish.
Chop up roughly. Mix oil, lemon juice, parsley and pepper in a bowl and add octopus. Mix well.
Refrigerate until needed (up to 2 days).
To make the salad, mix all vegetables in a bowl, add octopus with some of the marinading juices, extra olive oil and lemon juice. Mix well to combine. Serve immediately.